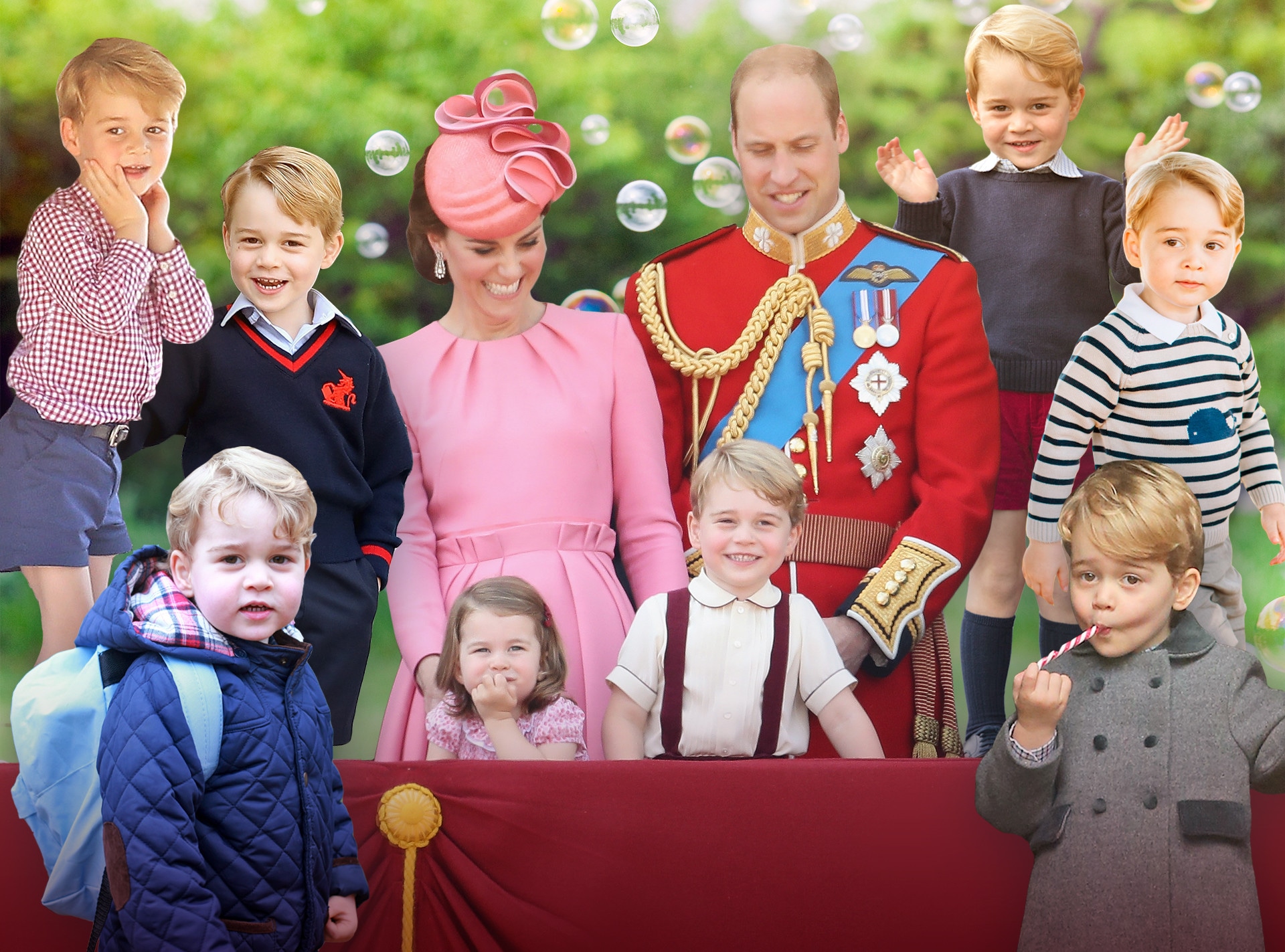 Getty Images; Melissa Herwitt/E! Illustration
From the moment he was born, on July 22, 2013, at 4:24 p.m. local time, normalcy was lacking in the life of Prince George Alexander Louis of Cambridge.
As Queen Elizabeth II herself said after hearing the news (before anybody else, of course): "The first born is very special."
A swarm of media had been camped outside St. Mary's Hospital in Paddington for weeks, during a heat wave, waiting for the happy announcement that Kate Middleton had been "safely delivered of a son"—which is what they post on the gates of Buckingham Palace by way of formal announcement—as well as what, these days, they tweet.
Dad Prince William was in the delivery room, a tradition that went back one whole generation, to Prince Charles—who unlike his own father, Prince Philip, witnessed the birth of both of his sons, William and Prince Harry. The next day, a Tuesday, Prince George's maternal grandparents, Carole and Michael Middleton, were the first visitors at the hospital, with Charles and Camilla, Duchess of Cornwall, following a few hours later, having been a ways out of town.
President Barack Obama was the first international head of state to send his family's regards. The Sun, which has an infamously tetchy relationship with the royal family, changed its masthead for a day to "The Son." Thousands of well-wishers lined up outside the palace to see the official birth notice.
And at the center of it all was a bouncing baby boy, who was first introduced to the world outside St. Mary's on the evening of July 23.
"Wait and see, wait and see..." a smiling William, who had already changed his first diaper, told a reporter who asked if the baby's name would be George.
Acknowledging that his son had arrived a few days late, William joked, "and I'll remind him of his tardiness when he's a bit older because I know how long you've all been sat out here. Hopefully the hospital and you guys can all go back to normal now and we're going to look after him."
"It's very emotional," Kate added. "It's such a special time. I think any parent will know what this feeling feels like."
"He's got her looks, fortunately," her husband cracked, to which Kate replied, "No, no, I'm not sure about that."
Today that baby boy, Prince George, is 5 years old and starting Year One—the United Kingdom's equivalent of kindergarten in the United States—at Thomas's Battersea in London. All won't be too unfamiliar for the little lad, who also attended Reception (pre-K) at the $23,000-a-year prep school, and will again be wearing the standard uniform of navy shorts and a red-trimmed navy sweater with the school's crest stitched on the front, over a button-down shirt.
Reception year provided a solid introduction to the humanities with a curriculum featuring art, dance, drama, French and computers, but now comes the math, history, P.E. and science, as well as nightly homework, including 10 minutes of reading.
Thomas's Battersea is about a 20-minute drive from Kensington Palace, where George lives with his parents, the Duke and Duchess of Cambridge; his 3-year-old sister, Princess Charlotte; and 4-month-old brother, Prince Louis, in a four-story, 20-room "apartment" that used to be Princess Margaret's home. While their slice of the 400-year-old palace was being renovated, George spent the first few weeks of his life with his mum and dad at the Middletons' new estate in Berkshire and then they moved to Anglesey, where William finished his three-year stint with the Royal Air Force.
They also have a newly renovated country estate, Anmer Hall, in Norfolk, where George went to preschool—and where Kate can actually do her own grocery shopping (which she does responsibly with reusable bags and a store loyalty card).
"I want George to grow up in a real, living environment," William told British GQ last year. "I don't want him growing up behind palace walls, he has to be out there. The media makes it harder, but I will fight for them to have a normal life."
Well, they're trying.
"We now have three generations of working royals, four altogether," William also said, "and having that movement through the generations allows for the monarchy to stay relevant and keep up with modern times. You are only as good as your last gig and it is really important you look forward, plan, have a vision."
There is only so much that William and Kate can do about the whole "normal life" thing, what with George being third in line to the British throne behind his father and grandfather, his great-grandma's face is on all the currency and there was a commemorative coin issued in honor of his fifth birthday in July. But the Cambridges are indeed modern parents.
Being full-time employees of the Firm (aka the royal family) doesn't allow for too much stepping out of line in the behavioral department, but it does allow for the sort of schedule that's conducive to taking your kids to school, eating dinner together at night and being there to tuck them in. The duke and duchess were also both at a getting-ready-for-Year-One orientation meeting at Thomas's Battersea earlier this year.
"They were there just chatting with the other parents," a source told E! News about the royal couple. "They seemed very sweet and normal. George was there as well. He met his new teacher."
Speaking in June at the unveiling of the brand new Defense and National Rehabilitation Centre in Nottinghamshire, William recalled bringing George to watch the construction crew break ground on the project.
"George was at an age at the time that he loved seeing the digger in action, so it did my street cred as a father a world of good," the prince quipped.
During George's birthday in July, the family was vacationing on the isle of Mustique in the West Indies, a favorite spot for Kate and Will, who brought their eldest son there for the first time when he was 16 months old.
In contrast with parents being chided for not spending enough time doing everyday activities with their kids, Will and Kate still get dinged in the court of public opinion for not making as many official appearances as the 92-year-old queen, who in an effort to pare back her commitments relinquished 25 of her patronages in 2016 but continued to out-hustle the younger members of the family.
William and Kate do employ one devoted nanny (in addition to various other household staffers), Maria Borrallo of Spain, who's been with them since George was 8 months old and accompanied the family of three on a tour of Australia and New Zealand in 2014. The young woman in sensible flats holding the plush kangaroo backpack in photos is a graduate of Norland, where the three-year curriculum for future child care professionals includes an array of domestic and in-case-of-emergency skills, such as CPR, self-defense and defensive driving. While George has learned some French at school, he and Charlotte understand some basic Spanish as well, thanks to Borrallo.
"Maria loves the children dearly," a source told People this summer. "She can be firm and strict, but she is very loving and soft with them too."
Moreover, while Will and Kate know that at least some access to their children is unofficially required of them—part of the traditional give-and-take between the royal family and their alternatingly voracious and dismissive public—they have limited George, Charlotte and Louis' exposure to the media, offering up photos mainly to commemorate milestones such as christenings, birthdays and first days of school.
Alas, Hello! reported that the press was not invited to document George's first day this year, unlike when he started nursery school at Westacre Montessori School in Norfolk, wearing a royal-blue quilted jacket with plaid lining and elbow patches and toting a light blue backpack, or when he first started at Thomas's Battersea a year ago. It sounds as though this year the sweet pics will start off on mom and dad's iPhones, perhaps making the rounds between royals on WhatsApp.
But George can't help it that he's impossibly adorable, and there are simply never enough photos of him available for public consumption to satisfy royal watchers.
The next big photo op is likely to be Princess Eugenie's wedding at Windsor Castle's St. George's Chapel on Oct. 12. George and Charlotte are rumored to be in the wedding as a pageboy and flower girl, as they were at Prince Harry and Meghan Markle's nuptials in May.
Mark Cuthbert/UK Press via Getty Images
Of course, there are bonus shots sometimes, such as when George joined his mum on the sidelines while his dad played in a charity polo match and Kate was raked over the coals for letting him play with a toy gun and toy knife. 
"The royals have either served in the armed forces or are married to someone who has served," Kelly Lynch, managing editor of Dailybreak and an expert on the royals, told Yahoo Lifestyle in June in response to the uproar. "They've learned to respect firearms as deadly weapons, and hopefully teach their children about gun safety from a young age." (George's father served in the Royal Air Force and Navy, and then worked part-time as an air ambulance pilot until last year; uncle Prince Harry saw two tours of duty in Afghanistan with the Army. It's more than likely that one day George will follow in their footsteps and undergo military training.)
Kate was criticized again just weeks ago when she brought George to watch William on the royal family's annual grouse hunt at the queen's Balmoral estate in Scotland. Prince Harry, in fact, missed this outing, and the family's annual Boxing Day hunt last December—reportedly at the behest of Meghan, who rescued her beagle, Guy, from a shelter and won't be wearing fur anytime soon.
"Harry loves it and has always been out there on Boxing Day. But if it means breaking with long-standing royal traditions to avoid upsetting Meghan, so be it," a source told the Express in August.
George can say yea or nay to actually hunting (he was just along for the ride this time) when he's older.
In the meantime, the youngster does like cars, trucks, planes and helicopters. He's already riding a two-wheeler. The Lion King is one of his favorite films. He enjoys the occasional piece of candy. He's an amiable world traveler, having gone with his family to Mustique, Australia, New Zealand, Canada, the French Alps, Poland and Germany, as well as all around England and Scotland.
He also takes after his mother in the style influence department—practically everything he's ever worn, from his Everyday shoes and personalized "George" sweater to the GH Hurt & Son blanket his parents swaddled him in when they took him home from the hospital and the blue cardigan he wore when Charlotte was born, sold out instantly. 
"Even some foreign leaders are looking ahead, anticipating my departure," President Obama joked in his final White House Correspondents Dinner address in 2016. "Last week, Prince George showed up to our meeting in his bathrobe. That was a slap in the face, a clear breach of protocol."
Surely other 3-year-olds' sartorial choices get shout-outs from world leaders all the time. (And My 1st Years said sales of that robe shot up 750 percent, thanks to the Prince George Effect.)
Real estate agents even reported an uptick in interest in property in the Battersea Park neighborhood when it was reported last year that George was going to attend school there.
A few years ago, George's dad indicated that the toddler was a handful, calling him "a little monkey" while baby Charlotte was "a little joy from heaven." But nowadays George just seems focused on enjoying 5-year-old-boy pursuits, not bothering to play to the cameras the way his little sister does already. (She's got the queen wave down pat.)
Meanwhile, now that he's 5, George is expected to bow when he greets the queen (and only the queen). Charlotte, in turn, has a couple of years until she's required to curtsy.
"Just because he reacts more cautiously than Charlotte when there is a camera around isn't an indication of what he is like behind closed doors," a friend of Will and Kate's told the Express recently. A lot of thought was put into where George was going to go to school, the source added, noting that Thomas's Battersea "focuses as much on helping develop the character of pupils, as what they learn. William and Kate are keen to allow George to spread his wings and make friends at this stage.
"They know there will come a time when they will have to sit down and talk to him about the implications of his royal status and why so many people are interested in him. He is becoming more aware of the cameras."
Suffice it to say, the cameras love him.