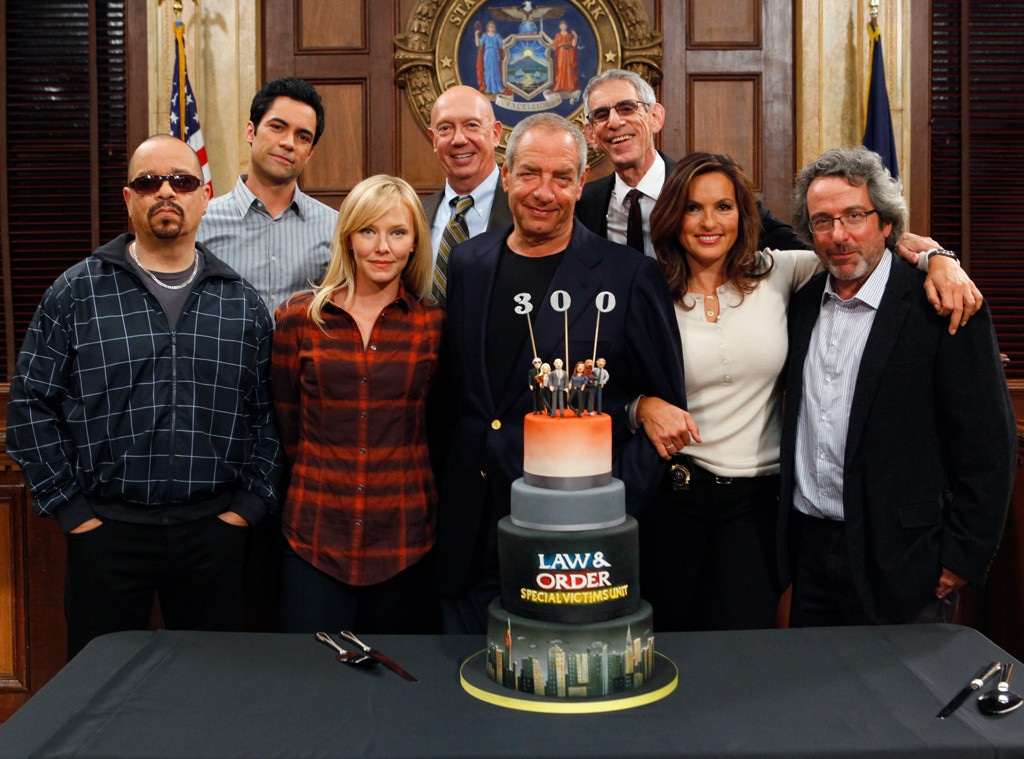 Will Hart/NBC
In the TV criminal justice system, sexually-based offenses have been fueling Law & Order: SVU for 20 years. Now in a new SVU spinoff, an elite squad of detectives known as the Hate Crimes Unit will take on just what their division name says, hate crimes. At first glance, the title Law & Order: Hate Crimes, and the content, can make a viewer wince. Do we need more violence on TV, especially violence directed at minority and marginalized groups? The answer to that is debatable, but let's take a look.
Law & Order: Hate Crimes hails from franchise mastermind Dick Wolf and former Law & Order: SVU showrunner Warren Leight. Leight shepherded SVU from season 13-17. No, he was not responsible for Christopher Meloni leaving at the end of season 12, but yes, he was responsible for the show diving deeper into the lives of the detectives and actually giving Mariska Hargitay's Olivia Benson some character growth. There's no reason that won't happen on Hate Crimes.
NBC's official description of the series, which is based on a real-life task force under the real-life SVU: Law & Order: Hate Crimes is set in New York City, where crimes motivated by discrimination are vigorously investigated by an elite, specially trained team of investigators. Going behind the headlines and viral videos, these diverse, dedicated and passionate detectives will stop at nothing to bring these criminals to justice.
Notice a word there: Diverse. That will be key to the show's success. And it's something co-creator Leight reiterated in a Twitter exchange.
Leight, as the kids say, is woke. When he took the reins of SVU, the focus wasn't just about the crime, the series began telling the stories of the survivors. He explored the emotional impact the investigations had on the detectives. He let characters grow.
Sadly, there's a reason SVU is still on the air 20 years later. Yes, sadly. Ahead of the 16th season premiere, Hargitay said the show was, "More relevant than ever in a way, and that's the thing."
"It would've been nice to be put out of business 10 years ago, before I got here," Leight said.
"It would've," Hargitay concurred.
Just like sexually-based offenses, hate crimes are still prevalent in the country. But like SVU has done, Law & Order: Hate Crimes can start dialogues among families and friends. Done right, the series can help open eyes of viewers who previously turned a blind eye to discrimination.
At SVU, Leight brought in real detectives and experts to look at the show and find out what it could do better.
"The more we talked to people and the more we talked to survivor groups and all that, we understood the big issue for detectives at SVU is that the victim is alive, the body is a crime scene and she has to prove that she didn't want the crime to have happened. That was a big shift, I think, in how we approached the show. It was about what the reality is, which is after you get assaulted, you have to go through a horrible crucible," Leight told E! News in 2016. "Nobody asks somebody, 'Are you sure you didn't want your TV stolen? Were you drunk when your TV was stolen?'"
"That was the thing I think I'm most proud of. We started to talk less about medical issues and less about weird, kinky things, weird serial killers, [and more about] the reality, the day-to-day reality of what happens to people after their assaulted and what are the hurdles people face, the obstacles, and the shaming that goes with it," he added. "The more we moved toward that, the realer the show felt to me."
With experience crafting not only SVU tales, but Law & Order: Criminal Intent stories and Tony-winning plays, Leight can do the same on Law & Order: Hate Crimes.
"As with all of my crime shows, I want to depict what's really going on in our cities and shine a light on the wide-ranging victims and show that justice can prevail," Wolf said in a statement when the show was announced. "Twenty years ago when SVU began, very few people felt comfortable coming forward and reporting these crimes, but when you bring the stories into people's living rooms—with characters as empathetic as Olivia Benson—a real dialogue can begin. That's what I hope we can do with this new show in a world where hate crimes have reached an egregious level."
Law & Order: Hate Crimes will debut in an episode of Law & Order: SVU. NBC has ordered 13 episodes, no cast has been announced.