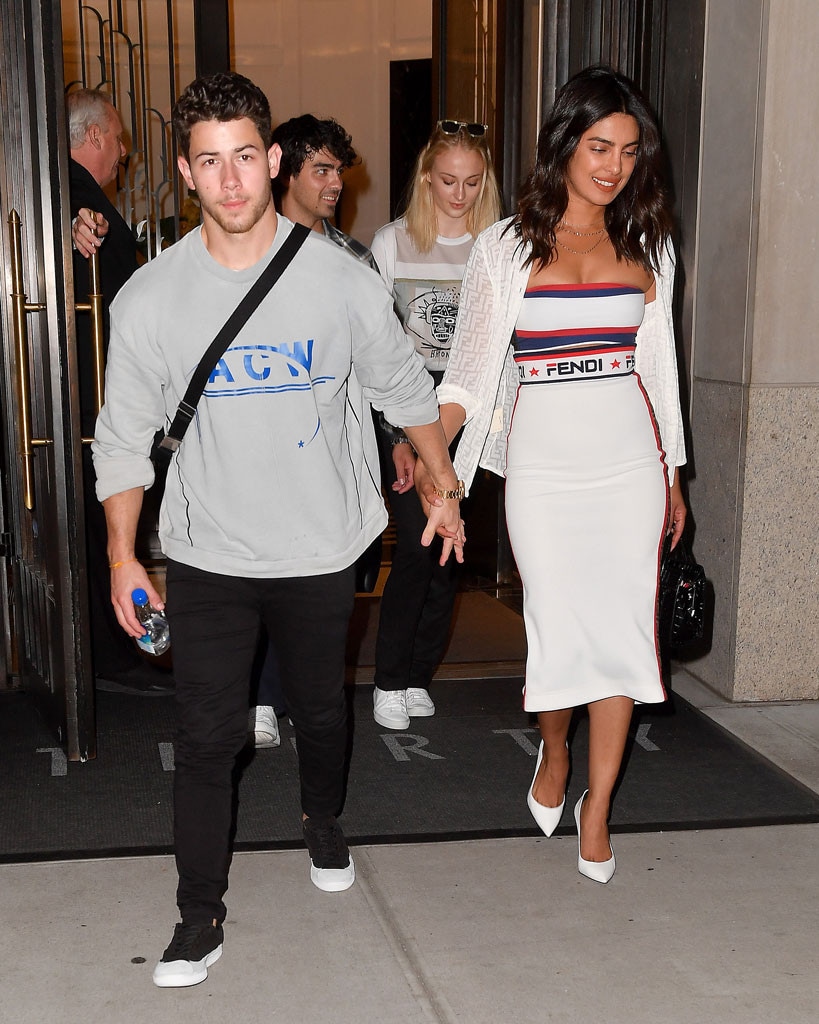 Robert O'neil / SplashNews.com
Nick Jonas and Priyanka Chopra spent their Tuesday night on a double date with Joe Jonas and his fiancée Sophie Turner.
The four of them were spotted leaving a building in New York City after spending the day at the U.S. Open cheering on tennis star Serena Williams. Nick wore black pants and a grey sweatshirt while his fiancée donned a tight white Fendi dress and white heels. Sophie and Joe took a more casual route. The Game of Thrones actress wore black pants and a white shirt and the DNCE singer wore navy pants, a white shirt and a flannel. The couple looked extra color-coordinated as they both wore white tennis shoes.
Today, the "Chains" singer posted a Boomerang video on his Instagram story of Serena getting ready to serve. He wrote "Let's go @serenawilliams" on the video. Chopra added a similar video to her own Instagram story and posted a picture of the foursome plus a picture with her mom, who was also in attendance. The tennis star defeated Karolina Pliskova to reach the quarterfinals of the Open.
Twitter user Rachael Moore saw the happy couple sitting in their prime seats focusing intently on the game. "wowwww I'm shook just spotted @nickjonas and @priyankachopra at the @usopen on my break AHHHH," she tweeted.
Older brother Joe has been giving the rest of the world major FOMO as he has the absolute time of his life at the tennis tournament. On Saturday, Joe and Sophie looked like the perfect match as they were spotted making out in their seats at Arthur Ashe Stadium. At one point, the Sansa Stark actress put a seat cushion under her jacket to mimic a baby bump, albeit a rectangular one.
On Monday, Joe and oldest JoBro Kevin Jonas challenged each other to a beer chugging contest while on screen. Joe defeated his big brother, but then the two stood up and did "The Floss" dance moves almost perfectly in sync. Kevin's wife, Danielle Jonas, recorded the dance party on her phone and was visibly amused.
@MARKMILANTHEPAPARAZZIMAN / BACKGRID
New York is just the latest stop on a non-stop jaunt for Nick and Priyanka. Over the weekend, the couple enjoyed a little getaway to Mexico where they traveled to Cabo San Lucas and Guadalajara. On Sunday, Nick posted a picture on his Instagram of himself in Mammoth, Calif. with the mountains visible in the background.
Nick and Joe proposed to their respective fiancées a little less than a year apart. Joe and Sophie announced their engagement in October when both of them shared a photo of them holding hands with her pear-shaped ring on full display.
 Deborah Villepigue from The Jewelry Appraiser Inc said the ring weighs three carats and cost between $25,000 and $30,000.
E! News learned of Nick and Priyanka's engagement in July, but the couple didn't confirm it until a few weeks later during a large family celebration in India. When Nick was looking for the perfect ring for his bride-to-be, he apparently shut down a Tiffany & Co. store in London in order to have the utmost amount of privacy. WP Diamonds president Andrew Brown told E! News at the time that her ring weighs about four carats "which, from Tiffany & Co, would have a value of around $200,000."
That double date is enough to make anyone jealous.