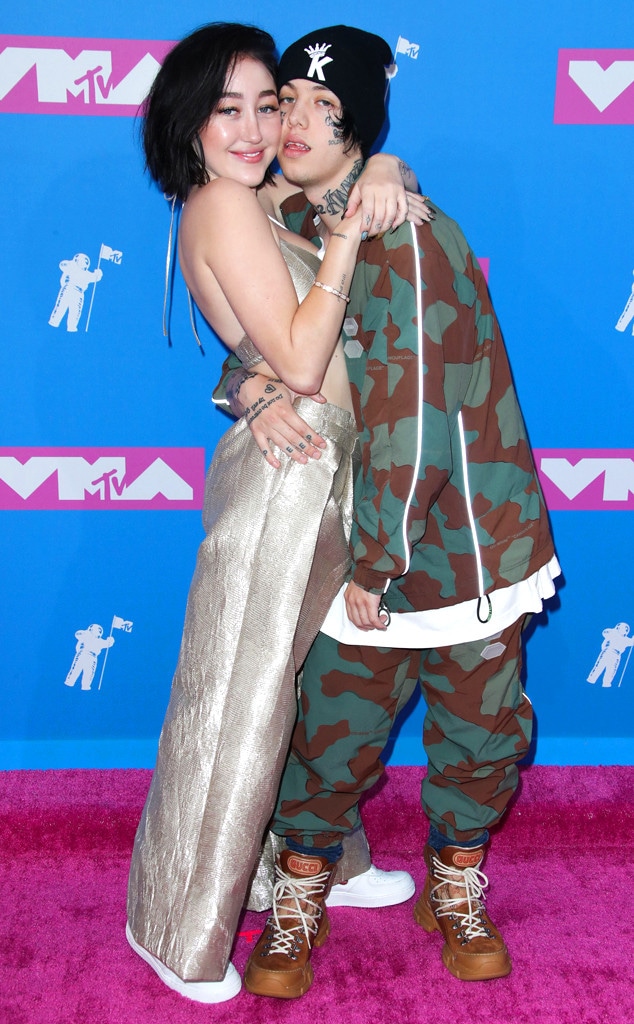 Matt Baron/REX/Shutterstock
UPDATE: Noah Cyrus and Lil Xan's breakup continues to play out on social media. 
On Wednesday afternoon, the "Make Me" singer asked her ex to please speak to her directly if there are any issues after calling it quits. "We could have done this in person or over the phone. I don't understand why you keep doing this and what changed so drastically in 24 hours," she wrote on Instagram Stories.
As for Lil Xan, he went on Instagram Live to share his perspective.
"I'm not saying she was using me for fame, I'm saying she was using me to get more popping in the music industry," he shared in the video. "I'm not going to be the f--king victim when I came into the rap game for positivity…They're always going to believe the f--king girl and of course they're going to believe the Cyrus family… what I'm saying is the truth, believe what you want."
-———
It's official: The couple we never knew we needed has broken up.
This weekend, Noah Cyrus and Lil Xan gave followers a front-row seat to their very emotional and slightly confusing breakup.
It all began on one fateful Sunday evening when Lil Xan took to his Instagram Story to report, "I feel like i'm probably being cheated on." He promptly deleted the allegations, but the damage was already done.
Hours later, a crying Noah went on her Instagram Story to assure her fans that everything would be okay. Wiping tears from her face, she said, "Guys, the truth about it all at the end of the day is things suck and that days are gonna suck and that's just okay." She also claimed he jumped to conclusions because of a meme of Charlie Puth.
However, things only escalated from there. On a live stream, Lil Xan told his followers their relationship was set up by Columbia Records as a way to "boost" her popularity. He said, "Shout-out to Columbia Records for setting up that fake relationship."
The rapper also denied breaking up with her because of the meme and added, "Noah, just stop lying. Just let it go."
To further support his claims, he shared photographic evidence of Noah hugging another artist with the caption: "This is the picture, call me whatever but if you my girl you ain't touching no dude like that sorry aha." It must be noted, however, that Noah herself shared the photo on Instagram the day before. 
The next morning, an emotional Noah went live on Instagram to vent her feelings on the matter. "I'm sorry if things are confusing right now and I will try to explain it more, like in the next couple of days, but I love you guys and I don't want to keep you in the dark. And I am sorry, I never did anything that I am getting accused of and I woke up confused, with a text from my mom asking what was going on and I didn't know," she asserted.
She added, "If you're in a relationship, never let a man make you feel like you're less of yourself—or you're the problem—when you were the one that sat around being there for somebody."
Afterwards, she further explained the complicated situation on her Instagram Story, again, and clarified that she never cheated on the artist. She then accused him of cheating on her. In equally, if not more, compelling photographic evidence taken on Sept. 1, the younger sister of Miley Cyrus identified a mark on Lil Xan's neck that looks a lot like a hickey. Noah, however, hasn't seen the artist in over a week since "something always got in the way." The rapper claimed it was just a bruise.
The artist has since come to the understanding that "cheaters like to accuse their partner of cheating to make themselves feel less guilty."
And in a statement directed towards the rapper, she said, "I've been there for you during your dark times Diego. When you felt like you were alone and no one was there for you, I was."
With their breakup now solidified, Noah made one last comment on the situation. "If this was your way of breaking up with me and breaking my heart along with it, then you've succeeded," the singer lamented. 
On the bright side of things, the singer announced the release of a new song called "Good Cry", which coincides with her breakup. She joked, "well... due to the circumstances i think i named this EP appropriately."
As the saying goes, in every cloud there's a silver lining.
(Originally published Tuesday, September 4, 2018 at 5:31 p.m. PST)