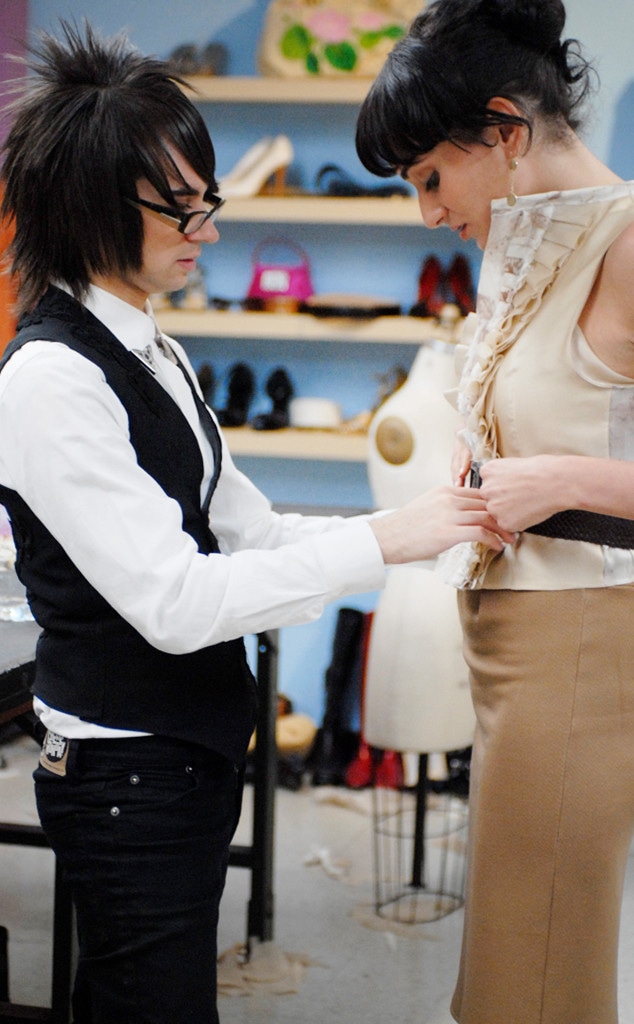 Barbara Nitke/Bravo/NBCU Photo Bank via Getty Images
When Christian Siriano first made his way on Project Runway, the judges and viewers alike immediately took notice.
"I really believe he is his generation's Marc Jacobs," host and mentor Tim Gunn shared at the 2008 GLAAD Awards. "I really do. We have found America's next great fashion designer."
Michael Kors, Nina Garcia and Heidi Klum loved the designer so much that they crowned him the winner of season four.
And close to 10 years after Christian earned the top title, the red carpet veteran will return to New York Fashion Week today to showcase what is sure to be another unforgettable collection. Oh, and did we mention Hollywood stars are lining up hoping to secure one of his dresses for the upcoming 2018 Emmy Awards?
Christian's journey from reality show contestant to fashion week staple didn't exactly happen overnight. In fact, it didn't start until the Maryland native completed a summer program at the Fashion Institute of Technology where an instructor spotted something special in his skills and encouraged the student to keep going.
Watch:
Christian Siriano Talks Inspiration, Celebs & More
Although he got rejected from the university, Christian moved to Europe where he chose to study and work his way into the offices of Vivienne Westwood and Alexander McQueen. He would later return to New York City where he casually applied to compete on Bravo's fashion-centric competition series.
"I figured, I had no money, just needed a job, so why not audition," he previously told ELLE. "People did warn me about the stigma attached to reality shows…but I also realized quickly that this wouldn't last, so I decided early on to figure this thing out for myself."
From the very beginning of his fashion brand, Christian knew he didn't want to keep his designs exclusive to a certain group of people.
In addition to collaborating with Puma, LG, Starbucks and Payless Shoes, the author of Dresses to Dream About wanted every size represented.
Dimitrios Kambouris/Getty Images for New York Fashion Week: The Shows
"We've always had customers of different sizes since day one. At the beginning of my career, I was doing things that other people would accept more, but as I went on, I was over it," he previously told Fern Mallis  during a discussion at 92Y. "It was very frustrating to hear a woman say to us, 'You don't have my size or you don't have something that I can wear.' The whole point of being a designer is making people feel good."
Christian later told Fashionista, "We wanted to dress a lot of different types of women. We always wanted to sell a lot of different types of retailers so there was never one place that I was like, 'I have to be here.' I just knew I wanted a lot of people to have something of my world."
Many people, particularly in Hollywood, have fallen in love with the designer's point of view, style and looks.
Gilbert Carrasquillo/GC Images
During Oscar weekend last year, Christian and his team dressed 17 women including Kerry Washington, Whoopi Goldberg and Kelly Ripa. Heidi went from judge to consumer when she asked Christian to design one of her Emmy dresses.
And yes, the Project Runway alum was responsible for designing Michelle Obama's 2016 Democratic National Convention dress where she repeated the lines: When they go low, we go high.
"It was such a big moment, such a big night, which is why the dress is quite simple," he shared on Watch What Happens Live with Andy Cohen. "It was a great moment."
As Christian gets ready to showcase another collection at New York Fashion Week later today, the designer is more than grateful for all the support and praise he has received from consumers and critics alike.
Dimitrios Kambouris/Getty Images
Unlike some designers, the 32-year-old is committed to showcasing at Fashion Week for the immediate future.
"I love it and I think it still has a lot of spirit and relevance and also our consumer is still really there," he explained to Women's Wear Daily. "I've been filling my shows with people that have been shopping a really long time and I remember CFDA sent this e-mail like, 'OK, we need to focus on the customer and what are we doing for them' and I was like, 'Guys, most brands should be doing that from day one' because it's important to have a balance. We are all here to support each other—editors, customers, buyers—we're all in the same business."
And even though trends and styles may change season after season, Christian is focused on keeping the customer happy and comfortable in the fashion department.
"I really listened to our women for a long time and I think that showed in the collections," he told Fashionista. "I wasn't really designing for what everybody thought I should be doing. I was designing for what the women wanted and what they were looking for. If that was beautiful evening wear and great dresses, whatever it was, I'm glad that we kept to that."