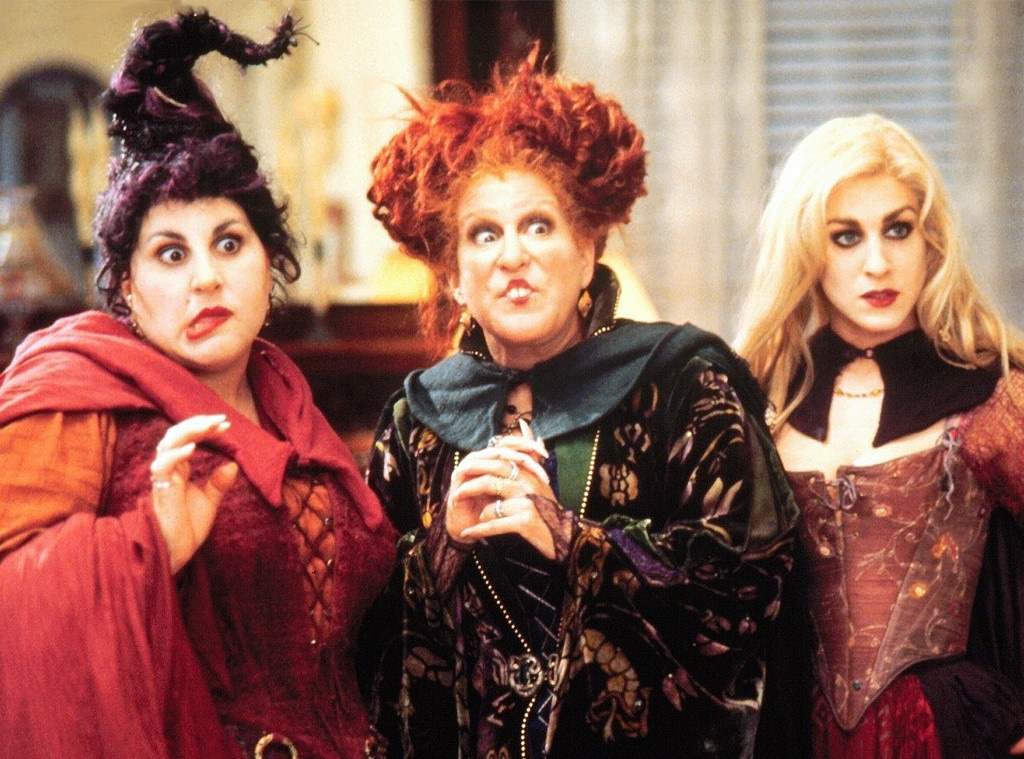 Disney
Something wicked this way comes to Freeform. Yep, we're talking about the 13 Nights of Halloween, the annual programming block of specials and beloved movies, but this year there's a big twist: It's 31 Nights of Halloween. More spooky, more scary, more Hocus Pocus.
The network will launch 31 Nights of Halloween on October 1 (duh), and will celebrate the 25th anniversaries of both Hocus Pocus and Tim Burton's The Nightmare Before Christmas. The 31 nights will end with an all-day Hocus Pocus marathon. You can never get too much of the Sanderson sisters. New programming this year includes Decorating Disney: Halloween Magic, premiering Sunday, Oct. 14. The special will take viewers behind the scenes with a tour of Disney parks.
See the full schedule below.
Monday, Oct. 1
5:00 p.m. ParaNorman
7:10 p.m. Tim Burton's The Nightmare Before Christmas
8:50 p.m. Hocus Pocus
12:00 a.m. ParaNorman
Tuesday, Oct. 2
5:00 p.m. Tim Burton's The Nightmare Before Christmas
6:30 p.m. Hocus Pocus
8:30 p.m. Disney - Pixar's Monsters University
12:00 a.m. Willy Wonka & the Chocolate Factory
Wednesday, Oct. 3
4:00 p.m. Willy Wonka & the Chocolate Factory
6:30 p.m. Disney - Pixar's Monsters University
9:00 p.m. Monster House
12:00 a.m. The Final Girls
Thursday, Oct. 4
5:00 p.m. ParaNorman
7:00 p.m. Monster House
9:00 p.m. The Addams Family (1991)
12:00 a.m. Teen Spirit
Friday, Oct. 5
12:30 p.m. The Parent Trap (1998)
3:30 p.m. Charlie and the Chocolate Factory
6:10 p.m. The Addams Family (1991)
8:20 p.m. The Goonies
12:00 a.m. The Breakfast Club
Saturday, Oct. 6
7:00 a.m. The Parent Trap (1998)
10:10 a.m. Monster House
12:20 p.m. Willy Wonka & the Chocolate Factory
2:50 p.m. The Haunted Mansion (2003)
4:55 p.m. The Goonies
7:35 p.m. Hocus Pocus
9:45 p.m. Maleficent (Freeform premiere)
11:50 p.m. Warm Bodies (Freeform premiere)
Sunday, Oct. 7
7:00 a.m. Monster House
9:10 a.m. Willy Wonka & the Chocolate Factory
11:40 a.m. The Haunted Mansion (2003)
1:50 p.m. Alice in Wonderland (2010, live action)
4:25 p.m. Hocus Pocus
6:35 p.m. Maleficent
8:40 p.m. Sweeney Todd: The Demon Barber of Fleet Street (2007, Freeform premiere)
11:20 p.m. Dark Shadows (2012)
Monday, Oct. 8
4:00 p.m. Sweeney Todd: The Demon Barber of Fleet Street (2007)
6:30 p.m. Dark Shadows (2012)
9:00 p.m. The Addams Family (1991)
12:00 a.m. Clue
Tuesday, Oct. 9
3:00 p.m. Jurassic Park (1993)
6:00 p.m. The Addams Family (1991)
8:00 p.m. Mrs. Doubtfire
12:00 a.m. Warm Bodies
Wednesday, Oct. 10
3:00 p.m. The Lost World: Jurassic Park
6:00 p.m. Mrs. Doubtfire
9:00 p.m. Hocus Pocus
12:00 a.m. ParaNorman
Thursday, Oct. 11
4:30 p.m. ParaNorman
6:40 p.m. Hocus Pocus
8:50 p.m. Despicable Me
12:00 a.m. Boxtrolls
Friday, Oct. 12
2:00 p.m. Boxtrolls
4:10 p.m. Disney's Bolt
6:20 p.m. Despicable Me
8:30 p.m. Disney's Frozen
12:00 a.m. Disney's The Hunchback of Notre Dame
Saturday, Oct. 13
7:00 a.m. ParaNorman
9:05 a.m. Disney's The Hunchback of Notre Dame
11:10 a.m. Disney's Bolt
1:15 p.m. Tim Burton's The Nightmare Before Christmas
2:50 p.m. Hocus Pocus
5:00 p.m. Disney's Frozen
7:25 p.m. Disney-Pixar's Monsters, Inc.
9:30 p.m. Disney-Pixar's Monsters University
12:00 a.m. The Addams Family (1991)
Sunday, Oct. 14
7:00 a.m. Sweeney Todd: The Demon Barber of Fleet Street (2007)
9:30 a.m. Tim Burton's The Nightmare Before Christmas
11:10 a.m. The Addams Family (1991)
1:15 p.m. Hocus Pocus
3:25 p.m. Disney-Pixar's Monsters, Inc.
5:30 p.m. Disney-Pixar's Monsters University
8:00 p.m. Decorating Disney: Halloween Magic  (Freeform premiere)
9:00 p.m. Hotel Transylvania  (Freeform premiere)
11:00 p.m. The Parent Trap (1998)
Monday, Oct. 15
4:00 p.m. ParaNorman
6:00 p.m. Hotel Transylvania
8:00 p.m. The Parent Trap (1998)
12:00 a.m. Monster House
Tuesday, Oct. 16
3:30 p.m. Decorating Disney: Halloween Magic
4:30 p.m. Monster House
6:30 p.m. Willy Wonka & the Chocolate Factory
8:55 p.m. Hocus Pocus
12:00 a.m. Disney's Mulan
Wednesday, Oct. 17
2:00 p.m. Willy Wonka & the Chocolate Factory
4:30 p.m. Disney's Mulan
6:30 p.m. Hocus Pocus
8:30 p.m. Sweeney Todd: The Demon Barber of Fleet Street (2007)
12:00 a.m. The Addams Family (1991)
Thursday, Oct. 18
4:00 p.m. Sweeney Todd: The Demon Barber of Fleet Street (2007)
6:30 p.m. Dark Shadows (2012)
9:00 p.m. The Addams Family (1991)
12:00 a.m. Maggie (Freeform premiere)
Friday, Oct. 19
3:30 p.m. Dark Shadows (2012)
6:10 p.m. The Goonies
8:50 p.m. Hotel Transylvania
12:00 a.m. Monster House
Saturday, Oct. 20
7:00 a.m. Monster House
9:05 a.m. ParaNorman
11:10 a.m. Hocus Pocus
1:20 p.m. The Goonies
4:00 p.m. Tim Burton's The Nightmare Before Christmas
5:35 p.m. Hotel Transylvania
7:40 p.m. Hocus Pocus
9:50 p.m. The Addams Family (1991)
11:55 p.m. The Haunted Mansion (2003)
Sunday, Oct. 21
7:00 a.m. ParaNorman
9:00 a.m. Spooky Buddies
11:05 a.m. Hocus Pocus
1:15 p.m. The Haunted Mansion (2003)
3:20 p.m. Tim Burton's The Nightmare Before Christmas
5:00 p.m. The Addams Family (1991)
7:05 p.m. Hocus Pocus
9:15 p.m. Maleficent
11:20 p.m. Sweeney Todd: The Demon Barber of Fleet Street (2007)
Monday, Oct. 22
4:00 p.m. Maleficent
6:10 p.m. Hocus Pocus
8:20 p.m. The Witches of Eastwick (Freeform premiere)
12:00 a.m. Warm Bodies
Tuesday, Oct. 23
4:00 p.m. Hocus Pocus
6:10 p.m. The Witches of Eastwick
8:50 p.m. The Addams Family (1991)
12:00 a.m. Monster House
Wednesday, Oct. 24
4:00 p.m. Decorating Disney: Halloween Magic
5:00 p.m. Monster House
7:00 p.m. The Addams Family (1991)
9:00 p.m. Hotel Transylvania
12:00 a.m. Spooky Buddies
Thursday, Oct. 25
4:00 p.m. Jurassic Park (1993)
7:00 p.m. Hotel Transylvania
9:00 p.m. The Haunted Mansion (2003)
12:00 a.m. The Final Girls
Friday, Oct. 26
12:30 p.m. Jurassic Park (1993)
3:35 p.m. The Lost World: Jurassic Park
6:40 p.m. The Haunted Mansion (2003)
8:50 p.m. Hocus Pocus
12:00 a.m. Teen Spirit
Saturday, Oct. 27
7:00 a.m. Dark Shadows (2012)
9:40 a.m. Charlie and the Chocolate Factory
12:20 p.m. The Addams Family (1991)
2:30 p.m. Hocus Pocus
4:40 p.m. Disney-Pixar's Monsters, Inc.
6:50 p.m. Disney-Pixar's Monsters University
9:20 p.m. Hotel Transylvania
11:25 p.m. Disney-Pixar's Toy Story of TERROR!
11:55 p.m. ParaNorman
Sunday, Oct. 28
7:00 a.m. Charlie and the Chocolate Factory
9:40 a.m. The Addams Family (1991)
11:50 a.m. Hocus Pocus
2:00 p.m. Disney-Pixar's Toy Story of TERROR!
2:30 p.m. Disney-Pixar's Monsters, Inc.
4:35 p.m. Disney-Pixar's Monsters University
7:05 p.m. Hotel Transylvania
9:10 p.m. Hocus Pocus
11:20 p.m. The Goonies
Monday, Oct. 29
4:30 p.m. The Goonies
7:10 p.m. Disney's Big Hero 6
9:20 p.m. Tim Burton's The Nightmare Before Christmas  (25th Anniversary)
12:00 a.m. The Addams Family (1991)
Tuesday, Oct. 30
2:30 p.m. Disney's Big Hero 6
4:40 p.m. Hocus Pocus
6:45 p.m. Tim Burton's The Nightmare Before Christmas
8:25 p.m. Disney-Pixar's Toy Story of TERROR!
8:55 p.m. The Addams Family (1991)
12:00 a.m. Warm Bodies
Wednesday, Oct. 31—Hocus Pocus Marathon!
7:30 a.m. Hocus Pocus
11:00 a.m. Disney-Pixar's Toy Story of TERROR!
11:30 a.m. Decorating Disney: Halloween Magic
12:30 p.m. Hocus Pocus
2:40 p.m. Hocus Pocus
4:45 p.m. Hocus Pocus
6:50 p.m. Hocus Pocus
8:55 p.m. Hocus Pocus
12:00 a.m. Hocus Pocus