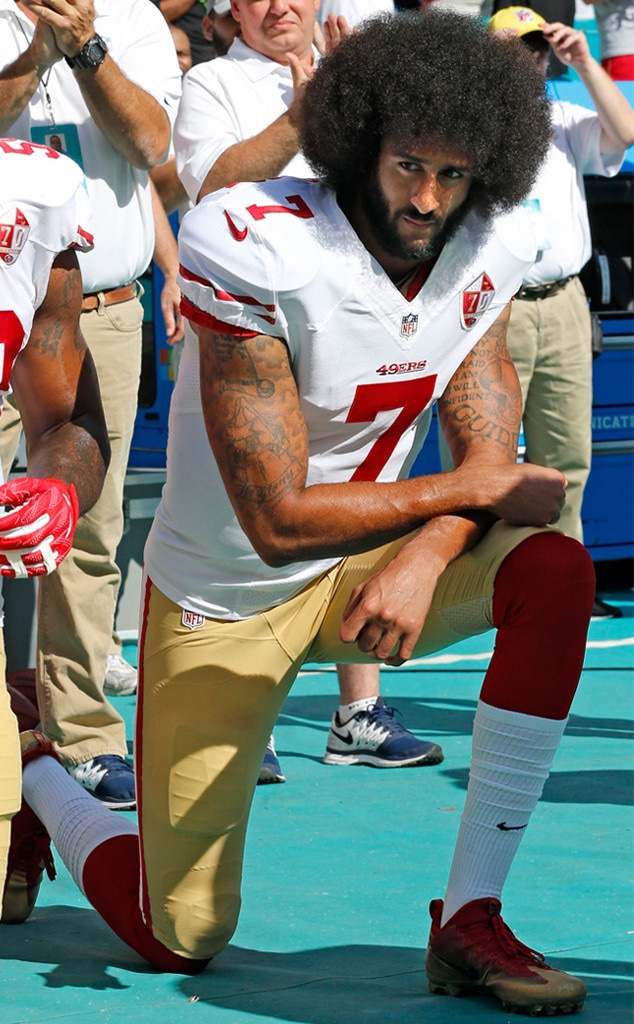 Al Diaz/Miami Herald/TNS via Getty Images
Colin Kaepernick's latest pose has not gone unnoticed. 
While he's spent years on the field as a pro quarterback, the 30-year-old athlete became a different kind of national figure in 2016, when he famously ignited a national political and social firestorm after he elected to kneel at games during the National Anthem in protest of racial injustice. 
"I am not going to stand up to show pride in a flag for a country that oppresses black people and people of color," he said at the time. "To me, this is bigger than football and it would be selfish on my part to look the other way. There are bodies in the street and people getting paid leave and getting away with murder."
Over the weekend, his message came full circle as the star was revealed as a face of Nike's newest advertisement for the 30th anniversary of the "Just Do It" campaign. "Believe in something. Even if it means sacrificing everything," the ad strikingly notes along with a portrait of Kaepernick staring into the camera. 
The slogan is undoubtedly inspired by Kaepernick's story as he faced public backlash from prominent figures including President Donald Trump and death threats as a result of taking a knee. Kaepernick, currently a free agent, filed a grievance against NFL owners in October 2017, arguing that the NFL and its owners "have colluded to deprive Mr. Kaepernick of employment rights in retaliation for Mr. Kaepernick's leadership and advocacy for equality and social justice and his bringing awareness to peculiar institutions still undermining racial equality in the United States."
Much like his initial protest, Nike, which remains an official sponsor of the NFL, has also sparked digital debate with one side applauding the new advertisement while the other side has gone as far as to burn their Nike products. 
Stars like Serena Williams, Alicia Keys and Ava DuVernay have publicly praised the ad on social media. "Powerful," Steve Aoki called it. "Proud," Williams, a fellow Nike ambassador, wrote on the portrait of Kaepernick on Instagram. 
However, not everyone shares that same sentiment. Others have taken to their social media accounts to call for a boycott of Nike in response to the new ad, posting photos of their sneakers on fire and the Nike logos cut off of their socks. #NikeBoycott and #BurnYourNikes have become prominent hashtags in the debate. 
Meanwhile, some have offered a more productive option for those who oppose the ad. 
"If you're over your Nike shoes because you're soooooo much more American than the rest of us... my gym is doing a gently worn athletic shoes drive for the homeless," one woman tweeted. "I'd be happy to take them off your hands (/feet)."