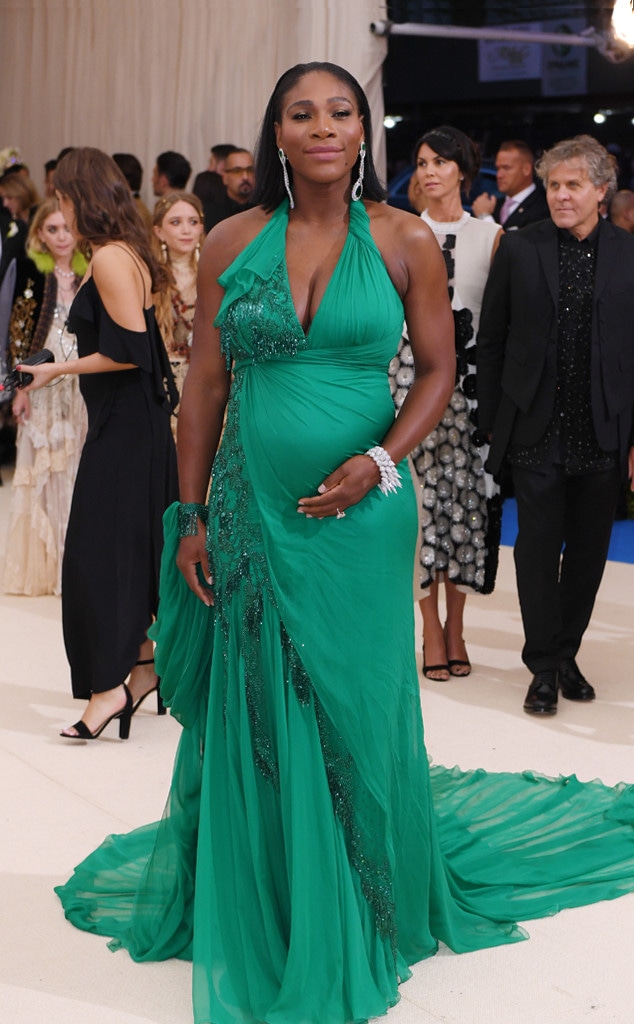 David Fisher/REX/Shutterstock
One year ago, Serena Williams and Alexis Ohanian's worlds transformed when Alexis Olympia Ohanian Jr.  was born. 
The tennis star went full Flashback Friday and shared videos of herself on Instagram the day she and Ohanian headed to the hospital to give birth to their daughter. In the string of videos, Williams stands in a sports bra and shorts with her 9-month pregnant belly on full display. "Today's the day we are going to the hospital," she said. 
In her video, Serena spoke to an unborn Alexis Olympia and told her, "I have to get induced because you didn't come."
The Reddit co-founder chimed it and said, "You're so comfortable in there."
Later video shows the tired couple at the hospital and Williams provides an update: "We're just getting started. It's Friday morning now. This is a production."
Alexis Olympia's birth took a grueling toll on her mother's body. The baby was born via emergency C-section, but then the Grand Slam champion later suffered from blood clots in her lungs and had yet another surgery to remove an abdominal hematoma. She was bed-ridden for six weeks afterwards. 
Her resilience and strength seems to grow every day. Yesterday, Serena defeated her older sister, Venus Williams, at the U.S. Open. Venus said of her sister, "I think it's the best match she's ever played against me. I don't think I did a lot wrong. But she just did everything right."
Today marks Alexis Olympia's first birthday, but the family won't be celebrating due to religious reasons. Maybe as a birthday present to her mother, Alexis Olympia will trade in her new favorite sport, soccer, for a tennis racket.
Williams and her daughter were featured on the cover of Vogue's February issue, where the new mom spoke about parenting and the assortment of adjustments. "No one talks about the low moments—the pressure you feel, the incredible letdown every time you hear the baby cry. I've broken down I don't know how many times. Or I'll get angry about the crying, then sad about being angry, and then guilty, like, Why do I feel so sad when I have a beautiful baby? The emotions are insane," she told the magazine.
The clothing designer has made remarkable strides since giving birth one year ago. In July, she made it to the finals at Wimbledon, but lost to Angelique Kerber. She dedicated her loss to fellow moms. "But for all the moms out there, I was playing for you today and I tried," she said in a post-match interview.
Williams constantly praises working moms and recently told E! News before the U.S. Open, "It's not easy being a working mom, but that's what we do. Women are strong and we are continuing to be, so I'm really proud of that."
Happy birthday to Alexis Olympia and congrats on the victory, Serena!