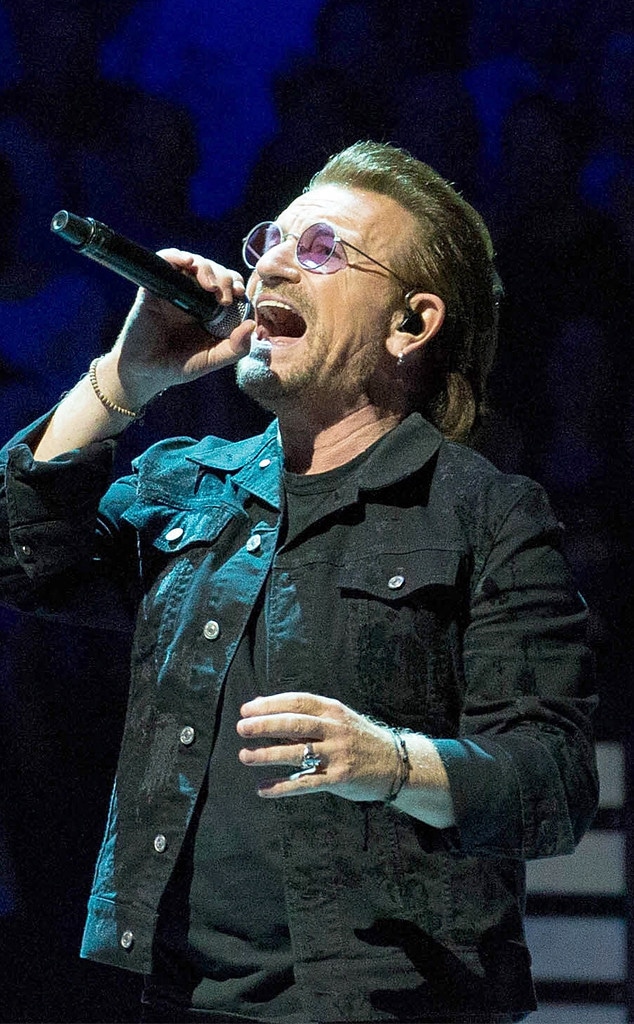 Paul Zimmerman/Getty Images
UPDATE on Sunday, September 2 at 1:30 p.m. PT: Bono offered a health update on U2's website, saying "I've seen a great doctor and with his care I'll be back to full voice for the rest of the tour. So happy and relieved that anything serious has been ruled out. My relief is tempered by the knowledge that the Berlin audience were so inconvenienced. There was an amazing atmosphere in the house, it was going to be one of those unforgettable nights but not for this reason… We can't wait to get back there on November 13th."
_______________________
U2 cut short an Experience & Innocence 2018 tour concert in Berlin on Saturday after Bono lost his voice onstage.
The 58-year-old frontman had performed a few songs over the course of 20 minutes and was heard struggling to sing "Red Flag Day." He and the band then stopped the music so he could address the audience. He speculated that stage smoke in the Mercedes-Benz Arena had affected his voice.
"I can promise you I have not been smoking," he told the crowd, as seen in videos fans posted online. "But this is like a giant cigar. I've lost my voice and I don't know what to do...it was singing like a bird about 10 minutes ago."
He asked for the stage smoke machines to be turned off and the air conditioning to be turned on higher. He then tried performing "Beautiful Day" and struggled to sing that song as well.
"I was ready to sing for you," he said. "Something's happened and I think we cannot go on. It's not right for you...I'm sure this is not a big, big problem but I'm gonna have to do something. So either, if people want to go home, that's fine. We'll play another show for you some other time. If you want to stay, we're gonna have to break for, I dunno, ten, 15 minutes. I'll go find out what's happening."
After he left the stage, many in the crowd of about 17,000 people began to sing the U2 track "40 (How Long)", which contains the lyrics "How long, how long, how long / How long to sing this song."
After about 40 minutes, the show was canceled. It marked the second time U2 has had to cancel a show mid-concert since 1989, when the band cut short a concert in Amsterdam after Bono experienced voice problems.
A venue official told the crowd in Berlin that the show would be rescheduled and that concertgoers' tickets would be honored for the new date.
The band is set to perform next in Cologne, Germany on Tuesday.
(Originally published on Saturday, September 2 at 1:47 p.m. PT)