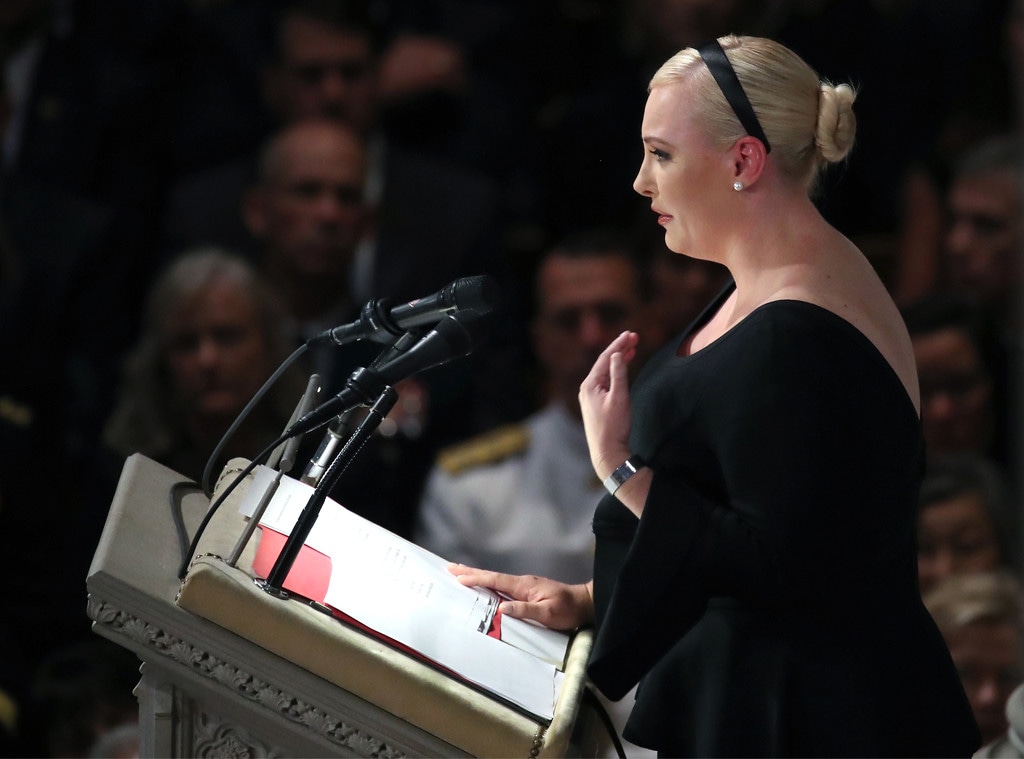 Mark Wilson/Getty Images
The View co-host Meghan McCain paid tribute to her father Senator John McCain at his funeral on Saturday with an emotional eulogy, during which she also took a dig at President Donald Trump.
The Arizona senator and Vietnam War hero died at age 81 last Saturday after battling brain cancer. He and Trump, both Republicans, had feuded publicly for more than two years.
"He was a great man," Meghan, 33, said about her father at the service at the Washington National Cathedral. "We gather here to mourn the passing of American greatness, the real thing, not cheap rhetoric from men who will never come near the sacrifice he gave so willingly, nor the opportunistic appropriation of those who live lives of comfort and privilege while he suffered and served."
Trump, who received five deferments that got him out of serving in the military, had famously mocked McCain's military service, while the senator has criticized him over many of his policies and once accused him of galvanizing a "very extreme element within our Republican Party."
Trump did not attend McCain's funeral on Saturday morning, which he spent tweeting about unrelated topics. His daughter Ivanka Trump and her husband Jared Kushner made an appearance. Former Presidents Barack Obama, George W. Bush, Bill Clinton also attended the service. 
"The America of John McCain is generous and welcoming and bold. She is resourceful and confident and secure. She meets her responsibilities, She speaks quietly because she is strong. America does not boast because she has no need to. The America of John McCain has no need to be great again because America was always great," Meghan said in her eulogy, taking a dig at Trump's 2016 "Make America Great Again" campaign slogan.
Dimitrios Kambouris/Getty Images
Meghan teared up as she recalled how when she was younger, she broke her collarbone after falling off a horse and how her father later encouraged her to ride again.
"'Megan,' he said in his quiet voice that spoke with authority and meant you had best obey. 'Get back on the horse,'" she said.
"I look back across that time and see the expression on his face when I climbed back up and rode again. and I see the pride and love in his eyes as he said, 'Nothing is going to break you,'" she recalled, sobbing. "For the rest of my life, whenever I'd fall down, I'd get back up. Whenever I am hurt, I drive on. Whenever I am brought low, I rise. That is not because I am uniquely virtuous or strong or resilient. It is simply because my father, John McCain, was."
Meghan said her father loved her and showed her what love must be.
"Dad, your greatness is woven into my life," she said. "It is woven into my mother's life. It is woven into my sister's life. It is woven into my brothers' lives. It is woven into the life and liberty of the country you sacrificed so much to defend."