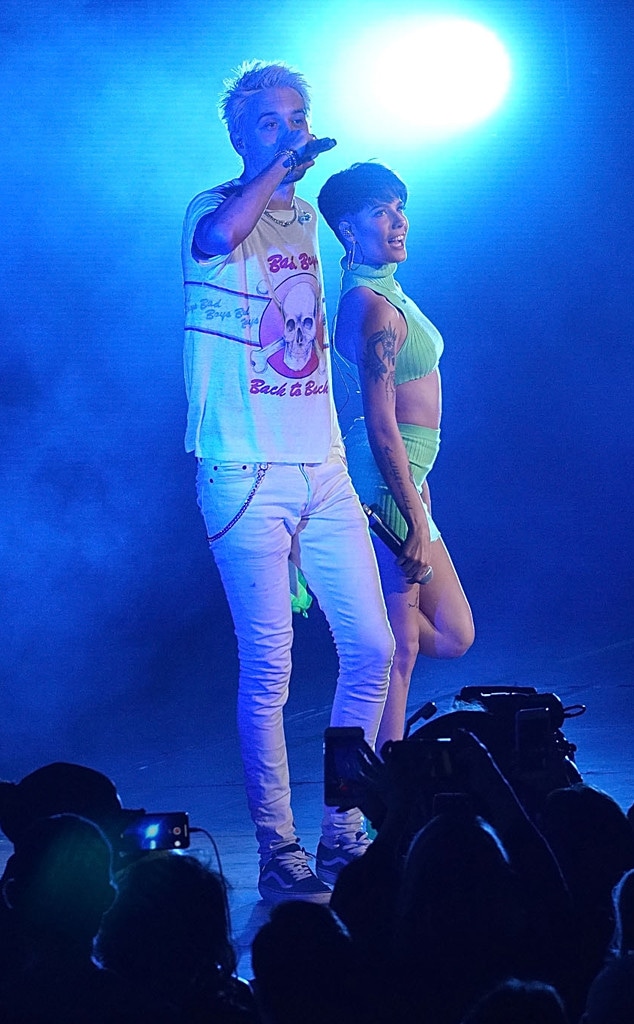 Manny Carabel/Getty Images
Halsey and G-Eazy are letting their lips do the talking without saying a word.
The singer made a surprise appearance onstage at the rapper's concert at the PNC Bank Arts Center in Holmdel, New Jersey on Friday, less than two weeks after a source told E! News that the two were "working on their relationship" following a breakup announcement in July. The performed their hit song "Him & I" and kissed passionately on the lips at the end, drawing cheers.
"Make some noise for the most beautiful woman on this planet right now," G-Eazy said during their performance, later adding, "Make some mother f--king noise for the queen, Halsey."
Halsey and have not commented on the current status of their relationship but G-Eazy posted professional photos of the pair's onstage reunion on Instagram. He did not include a pic of their kiss, which some fans also captured on-camera and posted on social media. 
The onstage PDA comes soon after G-Eazy and Machine Gun Kelly, who was photographed hanging out with Halsey before her split announcement, dissed each other in rap tracks.
"Let's just keep it G," Machine Gun Kelly rapped to Funkmaster Flex during a freestyle session on Hot 97 on Thursday. "Only Eazy I f--k with is E / I seen he dyed his hair and got a hanging earring / I f--ked his girl now he look like me, this s--t is overbearing."
Early on Friday, hours before his New Jersey concert, G-Eazy dropped a Machine Gun Kelly diss track called "Bad Boy." Sample lyrics include, "MGK please stop trolling me / get over me / You wanna be me, you're mad that you're not as big as me ; I'm everywhere, I'm your nightmare, you can't get rid of me / Call a Uber, turn on the radio, imagine hearing me / 'Him & I's on, mad you're listening to Halsey sing to me" and "Disrespect her again, I'll smack you, I'm not a boy."
In July, Halsey announced that she and G-Eazy were "taking some time apart."  They had first sparked dating rumors last year.
Last month, the two were spotted holding hands in New York City while leaving Post Malone's 2018 MTV VMAs after-party. A source later told E! News that they are "working on their relationship," adding, "They are being casual right now, but are definitely working on things."
Last week, Halsey and G-Eazy fueled the rumors of a reconciliation after another public reunion; She was seen supporting him from the DJ booth at his show at the EXPRESS LIVE! Arena in Columbus, Ohio and the two were later spotted together at a bar with friends.