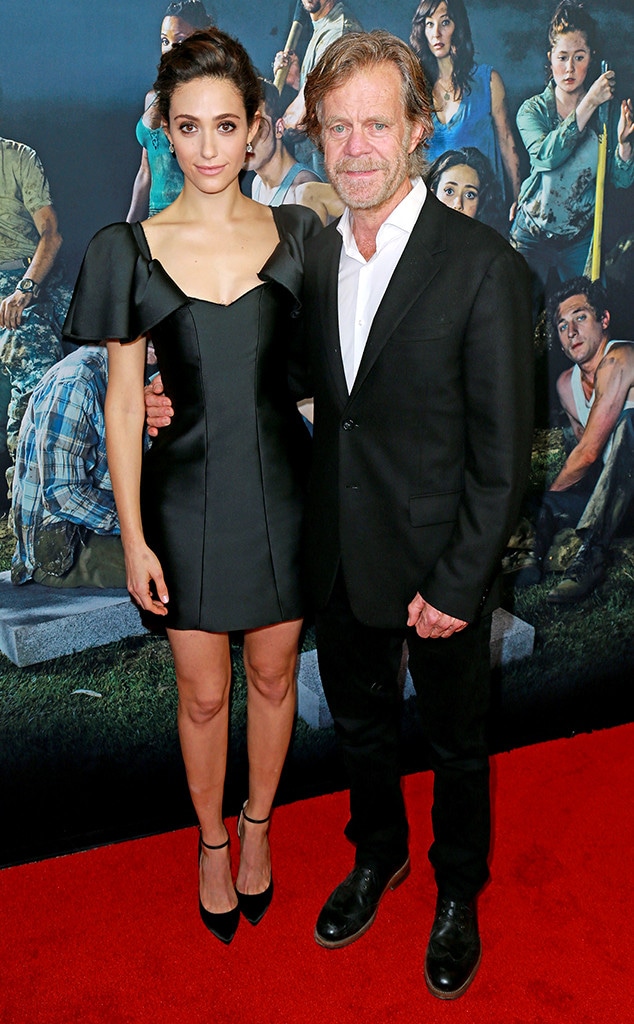 Leon Bennett/WireImage
Emmy Rossum's onscreen father stands by her decision to depart Shameless. 
The actress shocked TV lovers this week when she announced her exit from the hit Showtime series after nine seasons. Now in a new interview with Entertainment Weekly, William H. Macy says he was not surprised, but thinks Rossum "made the right choice" by bowing out now. 
As the actor explains of his longtime co-star, "We've been expecting it. I tell you, when you get to season 9 and you think of [whether] to keep going, it's daunting. It's hard not to think of: 'What would my life be post-Shameless?' And part of it is very frightening and part of it is very exciting."
Macy, who starred opposite Rossum's Fiona Gallagher as father Frank Gallagher, is certain of her bright future ahead.
"She's got another show that she's an executive producer on, so she's going right into something and she wants to branch out," he adds. "Plus, she just got married. I wish her well. I can't wait to see what she's going to do next."
Watch:
Emmy Rossum Says Goodbye to "Shameless"
In the statement announcing the next season of Shameless would be her last, Rossum reflected on the "big family" she grew to love over the years. 
"Being ensconced in that messy Gallagher family love is something I'd always dreamed of," the 31-year-old wrote. "But even off set, it feels real. We've watched the kids grow up into the strong, talented, independent human beings that they are. I taught Emma to shave her legs. I was there when Ethan learned to drive. Shanola and Jeremy and Joan and Bill danced at my wedding in New York last year. Our fearless leader John Wells thankfully held Sam and me up on those rickety chairs during the hora. I've spent the Jewish holy days in temple with David Nevins and his wonderful wife and kids. It really feels like a family."
A source shed light on Rossum's motivation for saying goodbye, telling E! News it wasn't a difficult decision for her to make but said she leaves with the utmost appreciation for the life-changing role. 
Additionally, we're told Emmy is ready for new roles that challenge her as an actress, particularly on the big screen. 
Shameless returns for season nine on Sunday, Sept. 9 at 9 p.m. on Showtime.