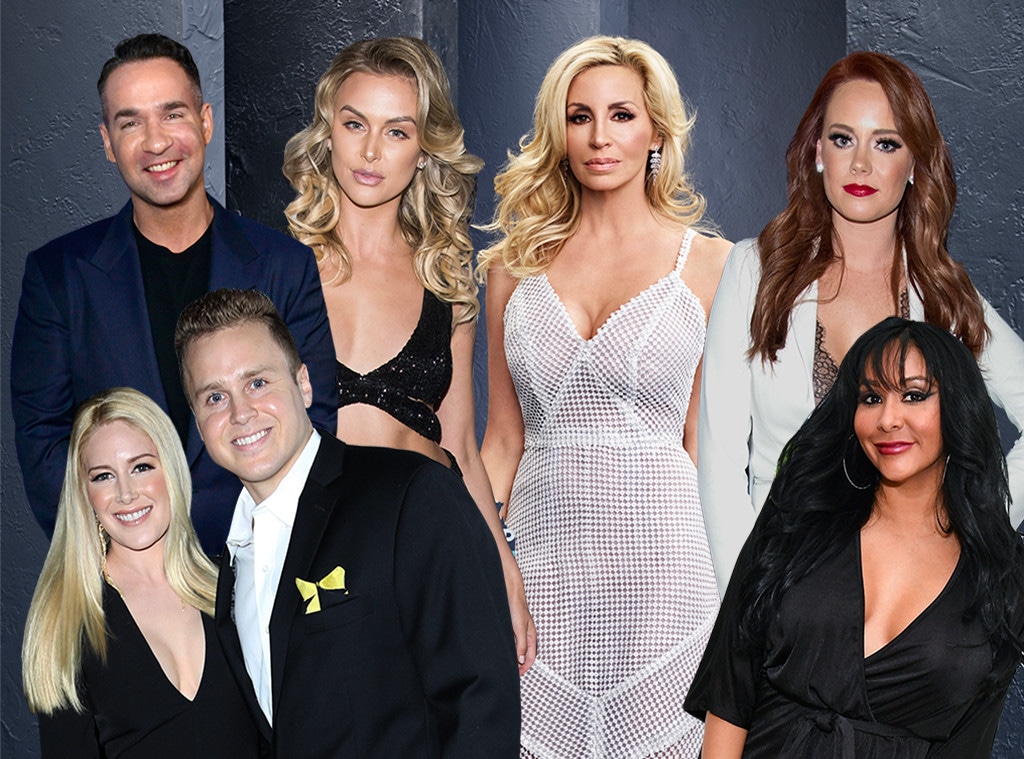 E! Illustration
They say that you only get one chance to make a good first impression. 
And while that's certainly true, whoever came up with that old adage had no idea that reality TV would come along and prove them if not wrong, then certainly inadequate. As fans of the genre have seen over the years, it is possible to overcome the initial negative impression you've made on both the audience and your co-stars and go on to become well-liked, beloved even. It takes hard work, some introspection, and maybe a bit of therapy, but the reality TV rebound is within reach, an art form unto itself.
No one those this better than Camille Grammer.
The Real Housewives of Beverly Hills star, who celebrates her 50th birthday on September 2, kicked off her tenure on the Bravo hit on rocky, if juicy, footing. She was, for all intents and purposes, the inaugural season's villain. She sparred with Kyle Richards, the show's earliest de facto audience surrogate. She sicced e-cigarette smoking medium Allison Dubois on her foes during the unforgettable Dinner Party From Hell—and then turned the sprinklers on the women as they fled her home in hasty retreat. To see that she wasn't well-liked was an understatement.
Araya Diaz/Getty Images for Project Angel Food
"I don't like the person, I can't watch her. I can't watch myself on TV. I look at the person and go, 'Who is that?' That's not me. I think I'm awful on it," she told Access Hollywood in 2011. 
With her marriage to TV icon Kelsey Grammer, who was the one who encouraged she sign on to the show despite her own reservations, falling apart thanks to his infidelity, her first season was rough—and the reaction to it—was rough. "It was so difficult. I felt like I was being kicked from all sides. My husband had abandoned me, the feedback I was getting from the show was brutal, and I felt like nobody was giving me a break," she said in an interview with fan site AllThingsRH.com in 2012. "I even had to get off Twitter for a while, because of some of the comments I was receiving."
But when she returned for season two, free from a crumbling marriage and the misery that came along with it, fans were treated to a noticeably different Grammer. Gone was the villain they loved to hate, and in her place was a kinder, calmer individual who told the truth and didn't seem to be stirring the pot for drama's sake. "In Season 1, I made a lot of rookie mistakes. Kelsey was pushing me very hard to do the show, and at the time I didn't know why. I felt like I had to pretend to be what I thought a Beverly Hills Housewife would say or do," she said. "It made me really look at myself and see that there were things I needed to change. I have had a lot of personal growth from this experience. No one is perfect!"
And it worked. She formed friendships with co-stars she'd previously come to blows with, the internet began referring to her as Saint Camille, and the transformation was complete. Though she was downgraded to Friend status for season three and MIA altogether in season four, a steady spate of guest appearances from season five on continued to endear her to fans and cast members alike, so much so that her presence in the upcoming ninth season is expected to be major.
Grammer's hardly the only Real Housewife to bounce back after a spectacularly difficult first season. Take The Real Housewives of Orange County's Kelly Dodd. She arrived on the scene in season 11 like a whirling dervish, going to battle with nearly every single one of her co-stars in explosive fashion. Seriously, it was like nothing we'd ever seen. It truly didn't seem as though she'd be able to recover from her first go-round in the eyes of fans and her fellow cast members, but slowly, but surely, she began winning folks over. Her rebound may not be as masterful as Grammer's (though it's still in progress, so give it some time), but it's been effective enough to make her seem like something like a voice of reason in the current 13th season. And it's probably no coincidence that it's happening as she's freed herself from an unhappy marriage of her own.
Elsewhere on the cable network, Vanderpump Rules' Lala Kent and Southern Charm's Kathryn Dennis has followed similar trajectories. In earlier seasons, they seemed either out of their depth (Dennis) or just plain reviled by their co-stars (Kent), leading to the sort of wounded animal combative behavior that endeared them to absolutely no one. For Dennis, it was a trip to rehab after failing a court-ordered drug test and losing custody of the children she shares with co-star Thomas Ravenel and a subsequent commitment to sobriety that's turned the tides in her favor, especially after her grace on display in the face of some rather repulsive behavior from Ravenel's then-girlfriend Ashley Jacobs.
While Kent's situation was never quite that serious, the decision to leave her job at SUR—and the show—midway through season five allowed her some much-needed time away from everything and everyone. When she returned for season six, gone was the woman who attacked co-stars for their weight and in her place was a truly feminist force who bonded with the females she'd once sparred with.
Of course, the reality TV rebounds aren't limited just to Bravo. MTV has seen its share of stars recover from some pretty terrible initial showings. For Jersey Shore's Nicole "Snooki" Polizzi, she's even rebounded more than once. After moving into the shore house way back in 2009, Snooki was the original outcast amongst her roommates, coming on way too strong and contemplating leaving early. But only days into shooting, when a violently aggressive dude punched her in the face while at a bar, it bonded her to her roommates in a way that might not have ever happened otherwise.
She quickly became the breakout star of the series and, as tends to happen when regular people get more and more famous, she faced a few challenges along the road, including an embarrassing arrest on-camera in season three for public intoxication. But with a little bit of growing up, forced along by her first pregnancy in season six, she became one of the most endearing members of the cast, something that's carried into the show's return this year with Jersey Shore: Family Vacation.
For her co-star Mike "The Situation" Sorrentino, redemption came about a bit more slowly. During the duration of Jersey Shore's original six-season run, Sorrentino was something of an ongoing villain. He was petty, he continually butted heads with Ronnie Ortiz-Magro, often times coming to actual blows, he even slammed his head into a wall while in Italy. Though he started the show's sixth and final season fresh from rehab, he still had a lot to own up to and apologize for and, though he tried, he couldn't quite pull it off completely before the show signed off in 2012.
But by the time the cast reunited earlier this year for their successful revival, the Sorrentino who showed up in Miami was a humbler, calmer, sober Situation. Humbled by his brush with the law after pleading guilty to one count of tax evasion, with sentencing due to take place later this year, Big Daddy Sitch has weaseled his way into the hearts of his roommates and the fans at home, one unbelievably enormous meal at a time.
Donato Sardella/WireImage.com
And then there's the rebound that's right around the corner. After six seasons on The Hills, during which the final episodes saw them paint themselves into a truly unlikable corner, Heidi Montag and Spencer Pratt are getting the chance to redeem themselves further than they already have in the eight years that the show has been off the air when the beloved MTV reality series returns in 2019 under its new name. The Hills: New Beginnings will let fans back into the lives of the couple, whose popularity over the years has surprising endurance, considering how negative a light they were seen in that last season of the original series, estranged from everyone in their lives. Stay tuned.
We watch and obsess over reality TV for many reasons. It's dramatic, it's raw, it's hilarious, and, every one in a while, it lets us see that people can change. Every once in a while, we get a reminder that not all causes are lost and get to witness a true redemption story unfold before our very eyes. The reality TV rebound is tricky and humbling, but when done right, it's one of the most impressive things the genre has to offer.
(E! and Bravo are both part of the NBCUniversal family.)