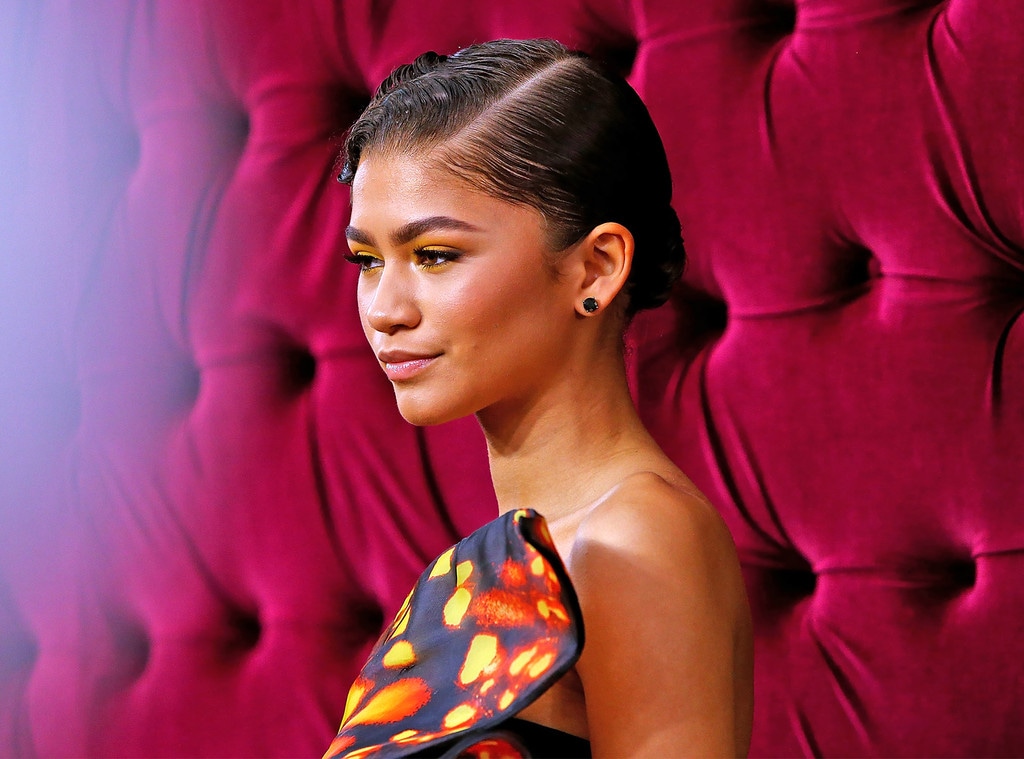 Lisa Maree Williams/Getty Images
"She's a tough one, man. She goin' all the way."
This is what Kazembe Ajamu said about his daughter Zendaya when she was on the cover of Vogue's TK 2017 cover. A little over a year later, she's done it. 
Since becoming a Disney Channel fixture when she starred on their hit series Shake It Up at just 13, Zendaya, who turns 22 today, has seamlessly made the transition from child star to one of young Hollywood's most formidable forces…and she did it on her own terms.
Making she was completely in control of her career and image after briefly trying to exude the typical image of a Disney Girl—a moment she looked back on with Vogue, saying, "I realized that was stupid. People think I'm cool when I'm Zendaya"—Zendaya laid down the law with Disney Channel executives when she was just 16 and they approached her about her future with the network.
Wanting her to sign on for K.C. Undercover after her four years on Shake It Up with Bella Thorne, Disney Channel agreed to meet her demands: they made her a producer, changed the name of  the character and the name of the show (it was originally titled Super Awesome Katy), and featured a family of color…for starters.
While Zendaya was a talented singer and dancer, she didn't want her character K.C., who was a brainy teen spy, to be able to carry a note or bust a move for a very specific reason. 
"I wanted to make sure that she wasn't good at singing or acting or dancing. That she wasn't artistically inclined. I didn't want them to all of a sudden be like, 'Oh, yeah, and then she sings this episode!' No. She can't dance; she can't sing. She can't do that stuff. There are other things that a girl can be.
"I want her to be martial arts–trained. I want her to be able to do everything that a guy can do," she continued. "I want her to be just as smart as everybody else. I want her to be a brainiac." 
Of her demands to the executives, she told Cosmopolitan magazine, "One thing that is really important to me is diversity on the channel. It's hard as a young person of a different ethnicity or background to look at the TV and not see anyone who looks like you. Representation is very important."
Disney Channel met all of her demands. 
"A lot of people don't realize their power. I have so many friends who say yes to everything or feel like they can't stand up for themselves in a situation," she told Vogue of the pivotal moment in her career path. "No: You have the power."
During this time, she also competed on Dancing With the Stars, coming in second place, and released an album...all while still working with a teacher to make sure she graduated from high school. 
"I remember doing Dancing With the Stars and literally falling asleep reading a book," she told Yara Shahidi in a Glamour interview. "I'd never been so tired in my life—there's no off time."
Niko Tavernise/20th Century Fox
However, Zendaya's career moved to the next level in 2017, when she landed a key role in Spider-Man: Homecoming opposite Tom Holland (her rumored real-life beau), one of the biggest blockbusters of the summer season. Can you imagine your film debut also being your entry into the exclusive Marvel Cinematic Universe actors' club? 
Aside from trading witticisms with Peter Parker during their lunch period, Zendaya also held her own against Hugh Jackman and wooed Zac Efron in The Greatest Showman, the musical that surprisingly became one of the biggest box office hits of all-time. 
The film's soundtrack spent weeks at No. 1, with one of the songs being nominated for an Oscar, and, more importantly, Zendaya took home Choice Drama Movie Actress and Choice Ship (with Efron) at the 2018 Teen Choice Awards. 
Looking ahead, Zendaya has Spider-Man: Far from Home coming out in 2019, will star in HBO's Euphoria (which is executive produced by Drake), and is adding film producer to her resume with A White Lie, which is about Anita Hemmings, the first black woman to graduate from Vassar College, which she will star in. (Reese Witherspoon is her co-producer.) 
Inspired by Witherspoon's producing process and media empire, Zendaya told Marie Claire, "One day I might want to have my own production company and create the material that I want to be in. Sometimes we have to create our own lane and our own opportunities when they're not handed to us."
In the same interview, Zendaya also revealed the part of Michelle (MJ) in Spider-Man: Homecoming "definitely wasn't originally written" for a black actress. 
"At first I thought I would have to because you're kind of used to the notion that, OK, even though the character is fictional and could be anybody, they probably are going to go with the standard of what they want and what they've always had. I definitely went into it like, 'Hopefully they'll'—as they call it in the industry—'go ethnic,'' she said. "I remember making the decision to straighten my hair. I didn't know that they were going to be more diverse in their casting. I didn't know that I was walking into a situation where they were already breaking the rules. You get so used to having to break the rules for people."
Beyond her on-screen ascension, Zendaya is also a style icon for the modern-age, becoming one of the most highly anticipated attendees at any major Hollywood event. (In 2016, she launched a unisex fashion line, Daya by Zendaya, that catered to both men and women up to size 22.)
From early on, she knew fashion was a major aspect of her transition away from the Disney Channel, and she found a style soul mate in Law Roach, who she has worked with for over eight years. 
"I wanted to create who I was as a person outside of my Disney character. Fashion helped with that," she told Marie Claire. "My stylist, Law Roach, and I created a world beyond what I was known as through clothes."
Zendaya made such a splash on the style scene that she inspired Celine Dion to hire Law Roach, with the superstar stylist revealing to InStyle, "The reason why she hired me was because she saw what I did with Zendaya." 
The main reason Zendaya has earned such praise for her fashion sense is that she makes it look easy; she is always wearing the clothes as they would never dare attempt to wear her. 
"Zendaya is very conscious about social media and what people have said about her. She's a millennial so that's how she grew up, but she doesn't care," Roach said of her approach to fashion. "She doesn't care about the critics, the bloggers, or her peers. She wears what we think is cool and what makes us happy."
Stefanie Keenan/Getty Images
While she might not care what social media has to say about her looks, she does care about what she has to say on social media. With over 50 million Instagram followers and an ever-growing fanbase, Zendaya 
"As my social platforms grew, I realized that my voice was so much more important than I had originally thought," she said in the Glamour conversation in 2017. "I think if every young person understood the power of their voice, things would be a lot different. And it's becoming more popular to be outspoken."
Zendaya has continued to be outspoken, becoming one of young Hollywood's most vocal activists, working with UNAIDS and Convoy of Hope, and using the platform acting has given her to sounds off on topics such as Black Lives Matter, gender equality and body positivity. 
"When I'm able to do great things in my career, and fortunately be financially blessed, and then give it away and watch the money actually do good s--t, that is the purpose," she said in her Marie Claire interview with Janet Mock. That's the reason why you do things. Supporting students in Oakland is important to me...For me, I get to do my passion and what I enjoy, and that has become a forum to do much greater things. Sometimes you build your platform to step off so others can step on, and that's honestly what motivates me."
Is it any wonder that Law Roach has nick-named her Zoprah?