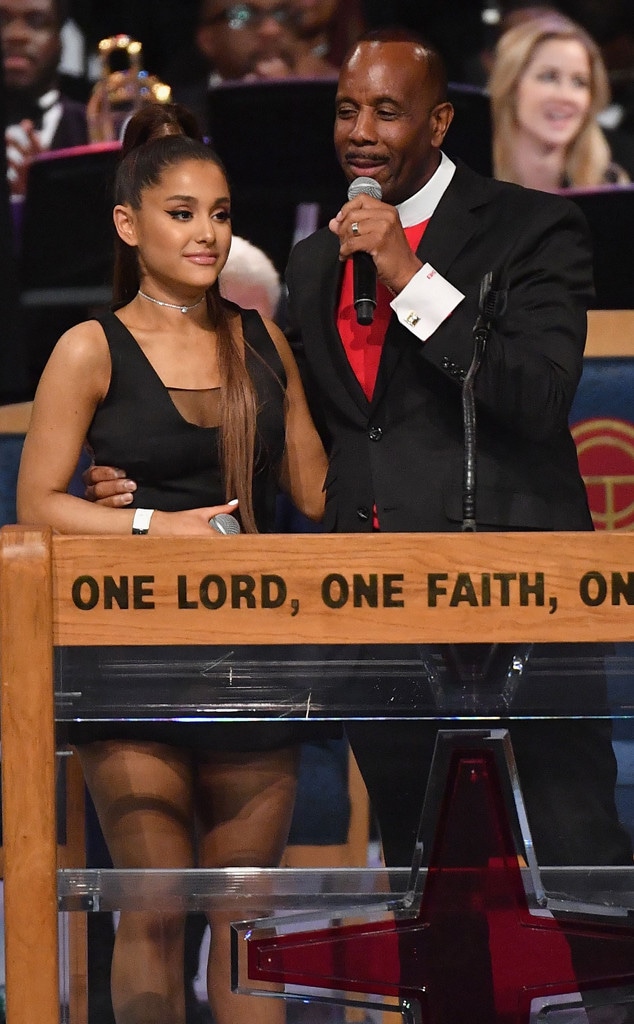 ANGELA WEISS/AFP/Getty Images
Bishop Charles H. Ellis III may need to be pop cultured.
During Friday morning's star-studded memorial for Aretha Franklin, dozens of talented musicians took to the stage and performed for the Queen of Soul.
One special artist was Ariana Grande who arrived at Greater Grace Temple in Detroit to sing "A Natural Woman."
After her musical tribute, Bishop Charles joined the singer onstage where he admitted he wasn't completely familiar with Ariana's work before the event.
"I've got to apologize because I have to brush up. My 28-year-old daughter tells me, 'Dad! You are old at 60,'" he shared. "When I saw Ariana Grande on the program, I thought that was a new something at Taco Bell."
Say what?!
"Girl, let me give you all your respect," he shared before sharing a hug with the Grammy nominated star. "Did you enjoy this icon? She is an icon herself. Come on, make her feel loved."
Ariana certainly felt the love as she laughed at Bishop Charles' joke and told the crowd, "We love you Aretha." She attended the event with fiancé Pete Davidson who was able to spend time with former President Bill Clinton and his wife Hillary Clinton before the service began.
Earlier this month, Ariana appeared on The Tonight Show Starring Jimmy Fallon where she paid tribute to the Queen of Soul by performing "Natural Woman."
"It's an honor to have met her and we're going to celebrate her," she told Jimmy Fallon.
Stevie Wonder, Faith Hill, Jennifer Hudson and more artists were expected to perform at Aretha's televised memorial this morning.
The Queen of Soul will later be entombed at Woodlawn Cemetery in her hometown of Detroit. Until then, you can watch the service online now.