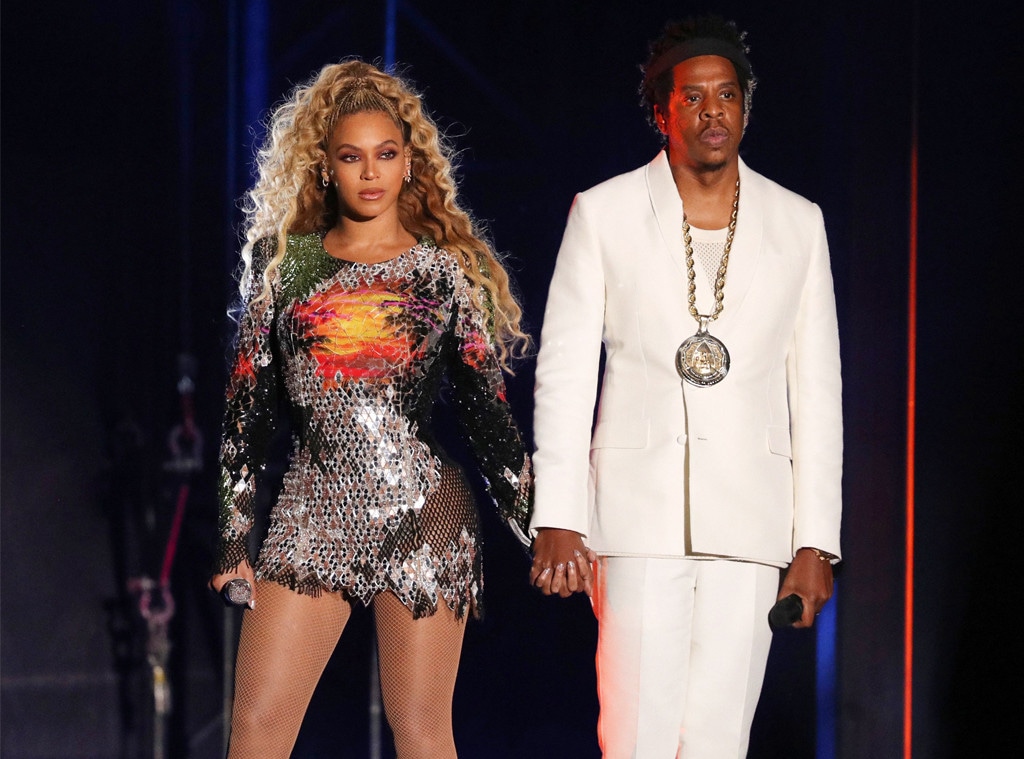 PictureGroup/Shutterstock
To describe Beyoncé and Jay-Z as rich is kind of like saying the ocean is big. Technically, it's accurate, but it doesn't even come close to conveying the scope of their wealth. That's because the Carters are more than just multimillionaires—they're bona fide billionaires, and their earning potential seems to be perpetually on the rise. 
According to Forbes' estimates, Beyoncé and Shawn "Jay-Z" Carter's combined wealth passed the $1 billion mark in 2017. They were fast-approaching billionaire status in 2016, when together they were worth around $905 million. That number grew steadily over the next year, bringing the Carters' combined wealth to an estimated $1.16 billion in 2017 and $1.25 billion in 2018. 
As Beyoncé puts it on her and Jay-Z's joint album Everything Is Love, "My great, great, grandchildren already rich"—and she's not kidding. The power couple, who are the proud parents to 6-year-old daughter Blue Ivy and 14-month-old twins Rumi and Sir, likely will remain in a position to fund future generations of the Carter family. 
But Beyoncé, who turns 37 today, and hubby Jay-Z, 48, aren't saving all that hard-earned cash for someday. They own an $88 million Bel Air compound, a $26 million Hamptons mansion and a $40 million private jet. And they vacation like royalty, enjoying the Mediterranean aboard a $50 million yacht, sailing in Cannes and making "beautiful memories" all over Europe. 
Of course, expenses that seem extravagant to us are closer to chump change for the Carters. And as Beyoncé and Jay-Z's empire continues to grow, so do their bank accounts.
As of 2018, Beyoncé alone was worth an estimated $355 million, while Jay-Z accounted for around $900 million of their collective $1.25 billion. Both superstars have proven to be exceptionally business savvy, but they've taken different approaches to making their millions (or hundreds of millions, we should say).
Curious how it all adds up? Here's a breakdown of how Beyoncé and Jay amassed their first billion dollars. Future moguls, take note! 
Music Sales: For Jay and Bey both, the road to riches began with music. And while their identities as artists are an integral part of all their moneymaking ventures, what they earn from actual music sales only makes up a fraction of their fortune. 
In 2016, for example, Beyoncé's Lemonade album sold 2.2 million copies, making it the third best-selling album in the U.S. behind Drake's Views and Adele's 25 (according to Billboard). These sales—along with royalties coming in from her other albums as a solo artist and a member of Destiny's Child—earned Beyoncé an estimated $4.3 million in 2016. 
That number is nothing to scoff at, but according to Billboard's estimates, that $4.3 million in music sales only accounted for about 6.9 percent of Beyoncé's overall earnings for the year. We'll get to where the rest of Bey's riches comes from in a moment, but we should note first that Hova's beats don't account for the bulk of his earnings, either. 
Let's look at 2017, when Jay-Z released his thirteenth studio album, 4:44. Sprint pre-purchased 1 million copies of the album, which were available as a free download for Tidal subscribers. These sales didn't count towards chart rankings, but 4:44 still debuted at No. 1 on the Billboard 200, earning 262,000 album-equivalent units. 
These sales—plus residual royalties from Jay-Z's previous albums—earned the rapper around $3 million in 2017, according to Billboard's estimates. And again, $3 million isn't an insignificant number by any means, but those album sales aren't what's bankrolling Jay-Z. In fact, according to Billboard's estimates, music sales alone only accounted for about 1.5 percent of the 19.8 million Jay made in 2017.
Streaming: Music streaming services like Spotify, Pandora, Apple Music and yes, Tidal, have changed the way we listen to music and the way artists profit from it. Essentially, artists and songwriters receive royalties based on the number of times their content is streamed, but with the pre-Tidal streaming model, even big names like Beyoncé and Jay-Z were receiving paltry payouts. 
Now with this, Jay-Z saw a business opportunity. As his famous lyric goes, "I'm not a businessman/ I'm a business, man"—and that means you've got to take some risks. So in 2015 for a reported $56 million, Jay purchased Aspiro, the Swedish parent company of Tidal. 
Within a few months, Jay-Z relaunched Tidal as a premiere subscriber-only streaming platform. He did so with the help of several other "artist-owners" including Bey, Madonna, Rihanna, Kanye West, Alicia Keys, Nicki Minaj and Chris Martin. 
Tidal pledged to offer top-quality sound and video to users, and by eliminating the free tier of membership, Jay-Z said Tidal was able to "pay the highest royalty percentage" to artists. 
Tidal wasn't exactly the instant success the Carters were hoping for, but Jay and Bey kept riding the wave they created. On April 23, 2016, Beyoncé released Lemonade exclusively on Tidal to help drive subscribers to the streaming service; the visual album was available for purchase on iTunes and Amazon Music two days later, and two weeks after its initial release, Lemonade was available for sale at physical retailers. 
She did not release the album to Tidal's streaming competitors—a fact she acknowledges in "Nice," the fourth song from her and Jay-Z's joint album Everything Is Love. As she sings it, "...[My] success can't be quantified/ If I gave two f--ks, two f--ks about streaming numbers/Would have put Lemonade up on Spotify."
Jason Miller/Getty Images
Jay-Z did a similar Tidal-only release for 4:44, which was followed by a wider release two days later. He and Beyoncé repeated this limited release model with Everything Is Love earlier this summer—although this album ultimately did make its way to Spotify Premium just two days after its Tidal-only release. 
Now you really can't fault the Carters for wanting to cash in on some of those Spotify streams. The payout isn't huge for them, but it's not totally insignificant. According to Billboard's estimates, Beyoncé made around $1.9 million from streaming in 2016, while Jay made sound $2.5 million from streaming the following year. 
The real streaming success story for the Carters, however, comes from their ownership investment in Tidal. In 2017, Sprint purchased a 33 percent stake of the company for a reported $200 million. According to those numbers, Tidal is worth somewhere in the neighborhood of $600 million. That's more than 10 times what Jay-Z reportedly paid for the streaming service back in 2015.
We don't know exactly how much of Jay's funds are tied up in Tidal, but no matter how you crunch the numbers, Hova's getting one heck of a return on his investment.
Roc Nation: Jay-Z began investing in the music industry decades before any streaming profits started pouring in. He co-founded Roc-A-Fella Records back in 1994, sold half to Def Jam in 1997 and sold the rest of his shared stake to the label for a reported 10 million in 2004. 
He took over as president of Def Jam Recordings until 2007, and the following year, the entrepreneurial rapper launched Roc Nation, "the world's preeminent entertainment company." 
In addition to housing a record label, Roc Nation is a talent agency, music publishing house and a touring and concert production company. Its impressive client list includes artists like Shakira, Big Sean and J.Cole, and its sports sub-division represents athletes including the likes of Kevin Durant and Victor Cruz. 
As of 2017, Roc Nation had 33 clients and $906 million worth of contracts under management, according to Forbes. We don't know what Jay's cut is on these earnings, but his ownership of the growing media company reportedly accounts for the largest portion of the $900 million he's said to be worth. 
Touring: Live concerts bring in big bucks for Roc Nation—and for Jay-Z and Beyoncé personally. Their current On The Run II tour has already grossed $150 million, according to Billboard, and with dates running through early October, it could easily surpass the $250 million mark. 
Both halves of this power couple make serious bank with their solo tours, too. In 2017, for example, Jay-Z's 4:44 tour grossed a reported $48.7 million. The previous year, Beyoncé's Formation tour earned an estimated $250 million. 
According to Billboard's calculations, Jay personally profited $14 million from his 4:44 world tour, and Beyoncé walked away with a staggering $54.7 million from her Formation Tour. Based on these estimates, touring accounted for around 70.7 percent of Jay-Z's earnings in 2017 and 88 percent of Beyoncé's in 2016.
Other Investments & Endorsements: Roc Nation and Tidal might be the main investments for the Carter family, but Jay and Bey haven't forgotten about the art of the side hustle—which for them comes in the form of diversified investments and endorsement deals.
For starters, Jay and Beyoncé both have some retail ownership experience under their belts: He, of course, co-founded Rocawear in 1999, selling rights to the brand in 2007 for a reported 200 million. Then in 2013 and again in 2017, Jay launched high-end clothing capsule collections sold exclusively at Barneys. 
Beyoncé's obviously no stranger to the fashion world, either. In 2005, the singer and her stylist mother Tina Knowles Lawson launched House of Deréon, a women's clothing line that later included shoes and a junior collection. It was discontinued in 2012, but just two years later, Beyoncé partnered with Topshop to launch her Ivy Park athleisure line. 
There's also Beyoncé's long running relationship with Pepsi to consider, which goes back to 2002. This partnership produced some epic commercials through the years (remember when Bey was a Pepsi gladiator alongside Britney Spears and Pink?!), and in 2012, the singer reportedly negotiated a new multi-year deal with the soda supplier worth a reported $50 million. She's also had paid partnerships with L'Oréal, American Express and Nintendo DSi, just to name a few.
www.beyonce.com/Robin Harper
Let's not forget about Beyoncé's onscreen work, either: After playing Foxxy Cleopatra in 2002's Austin Powers in Goldmember and a pop singer in 2006's The Pink Panther, she graduated to more serious roles in films like Dreamgirls (also released in 2006),  Cadillac Records (2008) and Obsessed (2009). She was the voice of Queen Tara in the 2013 animated movie Epic, and she's officially signed on as Nala for Disney's upcoming Lion King live-action remake. 
We don't have exact numbers on what Beyoncé's made from these movies, but there's no doubt those paydays are bolstering her bank account. Jay, on the other hand, doesn't have an IMDB page to rival his wife's, but his other investments more than make up for it. 
In addition to Roc Nation and Tidal, Jay-Z is the owner of Armand de Brignac, a luxury champagne company, and The 40/40 Club, a high-end sports bar with locations in Manhattan, Brooklyn and Atlanta. He also was reportedly an early investor in JetSmarter, the now billion-dollar app often described as the Uber of private jets.
That's not all, though: Earlier this year, Jay-Z filed paperwork to launch Marcy Venture Partners, a new venture fund. According to Axios, Jay-Z and Roc Nation president Jay Brown have partnered up with Silicon Valley venture capitalist Larry Marcus, whose investments include Netflix and Pandora. 
The name of Hova's new investment fund seems to be a nod to Marcy Houses, the Brooklyn housing projects where he grew up. No word yet what Mr. Carter and co. plan to invest in, but who knows? Maybe it's you.