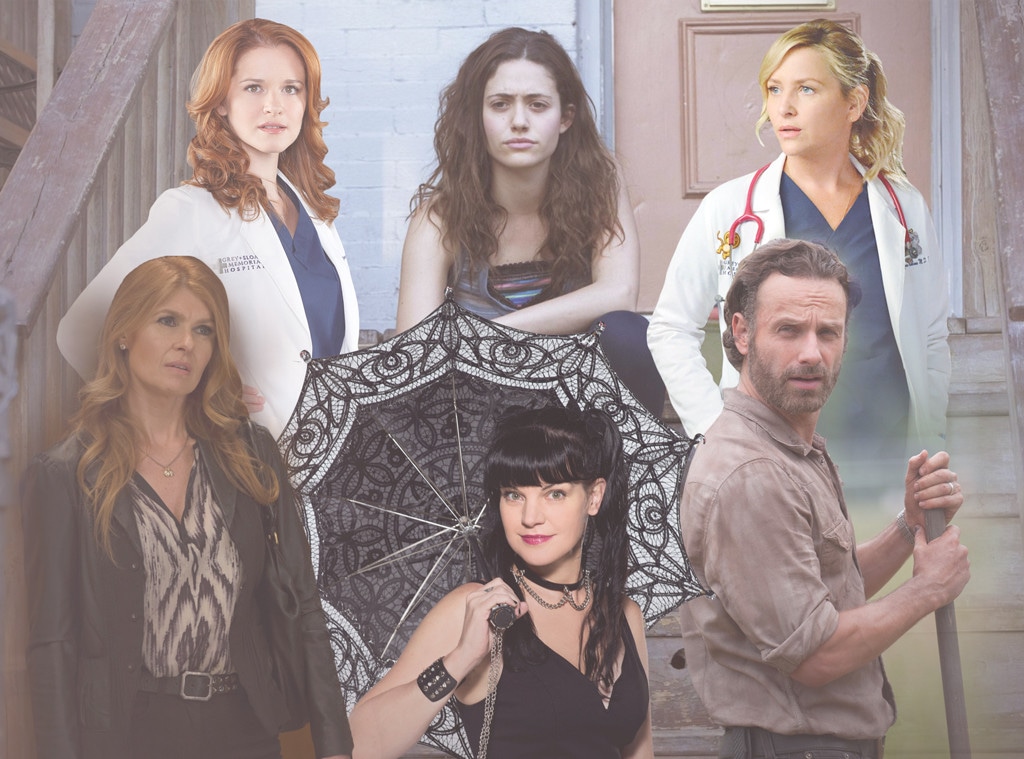 E! Illustration
TV's revolving door keeps on spinning.
As summer comes to an end and fall TV prepares to come roaring back to life, a lot of your favorite hit shows are going to look a little different with more still preparing for major changes to come.
With her shocking announcement that she'll be leaving Shameless after its upcoming ninth season, Emmy Rossum is the latest on a growing list of stars who are walking away from successful series, leaving fans and the fictional world their characters were once an important part of to find ways to move on without them. And though the reasons for each and every recent or upcoming departure are varied, one thing remains the same: Change is a'coming, whether you want it or not.
While Rossum's decision to leave behind Fiona Gallagher will certainly leave the Showtime hit with a gaping hole where such a central character once was, it's hard to argue with her reasoning.
"This business is always an adventure, full of travel and opportunities to tell stories. Usually as an actor, every few months, you travel to a new place, start a new project, build a new character, learn new rhythms, new inside jokes with your crew, make new friends," she noted in her lengthy Facebook statement on Thursday, before gushing over the continuity and family that the series has provided her for the past eight years, 100 episodes and 10,000 hours. "I know you will continue on without me, for now. There is much more Gallagher story to be told. I will always be rooting for my family. Try not to think of me as gone, just think of me as moving down the block."
Though she didn't come right out and say it in her statement, it's clear that Rossum is ready for a new place, new rhythms, new friends. As a source told E! News, the actress is ready for new roles that challenge her as an actress, particularly on the big screen. We're told she never expected the show to last as long as it has, nor did she ever plan to leave before it finished its run, but now that she is departing, she's leaving the show with nothing but positive thoughts.
Rossum's decision is one that echoes those of Jim Parsons, whose decision to explore life and work outside of The Big Bang Theory after its upcoming 12 season is bringing the extremely successful CBS sitcom to its end, and Andrew Lincoln, whose choice to hang up Rick Grimes' badge after The Walking Dead's upcoming ninth season isn't ending the show (despite some who might argue it should). "These guys have been the best surrogate family I could have hoped for. But I do have a real family and it is time for me to go home," the London-based Lincoln told fans at the end of the AMC hit's panel at this summer's San Diego Comic Con.
There's no denying that series regular TV work, however lucrative and stable it may be, is a real grind. It can keep you away from your family, as in Lincoln's case, or even sometimes prevent you from being able to start a family. The work requires the actor to commit much of their year to one single role, often times precluding them from other opportunities, other avenues of character exploration. For some actors, you can reach a point where you feel as though you've done all you can do. It certainly seems to be the case here.
Of course, that's not the only reason some of the most recent exits have happened. For some, it's just the way the contract crumbles. Take Connie Britton, for instance. As one of the boldfaced names attached to Ryan Murphy's breakout Fox hit 9-1-1, which only debuted in January, fans were surprised when it was revealed that she wouldn't be returning after the show's first season, signing on to star in Bravo's upcoming anthology adaptation of the L.A. Times podcast Dirty John instead. But it turned out that she was only ever signed on for a single year, rather than the industry-standard seven seasons, so off she went.
For others, they didn't have much of a choice. Grey's Anatomy said goodbye to two fan favorites earlier this year in the season 14 finale when Jessica Capshaw and Sarah Drew were written out. "As writers, our job is to follow the stories where they want to go and sometimes that means saying goodbye to characters we love," showrunner Krista Vernoff said in her March statement announcing the axings. "It has been a joy and a privilege to work with these phenomenally talented actresses."
As Drew later told The Hollywood Reporter, she was told the show had too many characters and "they needed to downsize because they couldn't service all of the characters effectively. They didn't want any of us to be left in the background and not getting much of a story." So, off Drs. Arizona Robbins and April Kepner went, into the most-coveted of endings in Shondaland: a happy one.
And then there are those exits that, frankly, we're still not sure we understand. When Pauley Perrette announced that she'd be leaving NCIS after 15 successful seasons, it seemed like it was something on par with Rossum's decision. "I believe in God and the universe so firmly, and it just suddenly became blindingly apparent that now was the time," she told TV Guide Magazine in April. "After a lot of thought, I decided to announce it myself on Twitter because I didn't want it to be turned into anything 'shocking. Abby leaving is more than a cheap TV ploy."
But days after her final episode aired in May, she took to social media to allude to something deeper having influenced her decision to hang up Abby's lab coat. "I refused to go low, that's why I've never told publicly what happened," Perrette tweeted. "But there are tabloid articles out there that are telling total lies about me. If you believe them? Please leave me alone. You clearly don't know me. (Sorry guys, had to be said)."
"There is a 'machine' keeping me silent, and feeding FALSE stories about me. A very rich, very powerful publicity 'machine'. No morals, no obligation to truth, and I'm just left here, reading the lies, trying to protect my crew. Trying to remain calm. He did it," she continued. "I've been supporting ant-bullying programs forever. But now I KNOW because it was ME! If it's school or work, that you're required to go to? It's horrifying. I left. Multiple Physical Assaults. I REALLY get it now. Stay safe. Nothing is worth your safety. Tell someone."
The following day, CBS Television Studios issued the following statement to E! News: "Pauley Perrette had a terrific run on NCIS and we are all going to miss her. Over a year ago, Pauley came to us with a workplace concern. We took the matter seriously and worked with her to find a resolution. We are committed to a safe work environment on all our shows."
We might never know the whole story here.
As we look ahead to the 2018-19 season, beginning in mere weeks, there's plenty of big changes coming our way. And as we ready ourselves for new episodes of our favorite shows missing some of our favorite actors—or prepare for that reality in the very near future—we do so looking forward to seeing where our faves pop up next. Because one thing's for sure: TV just won't be the same without them.