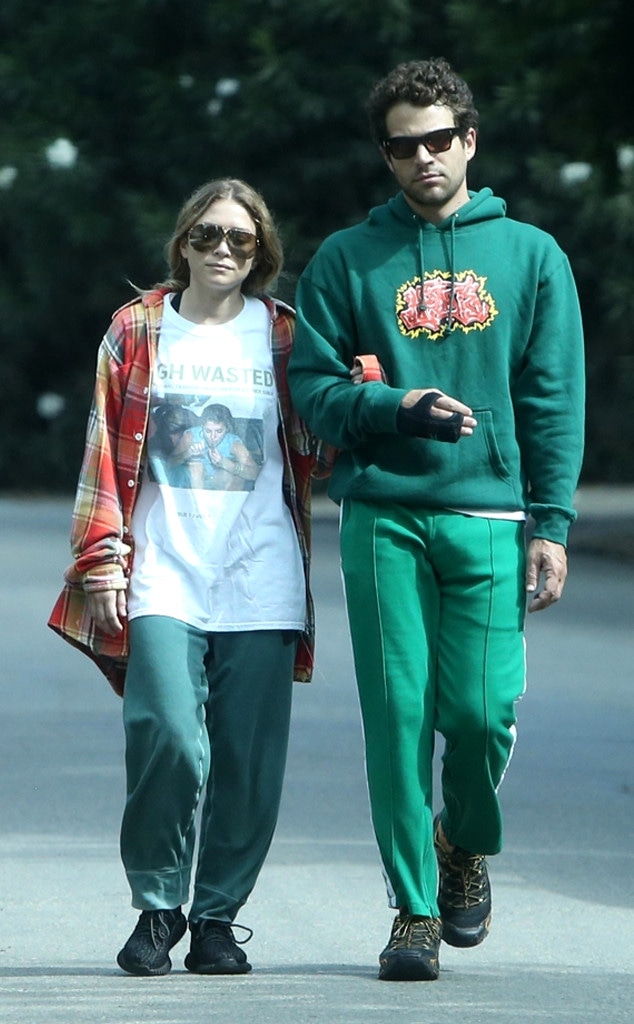 WCP / BACKGRID
Ashley Olsen was spotted in Los Angeles looking quite cozy with L.A.-based artist Louis Eisner, and it's not just because she was wearing sweats.
The designer and Eisner took a stroll around Bel Air on Tuesday in casual attire and dark shades. Ashley, who is known for her sense of style, sported a baggy t-shirt, orange flannel and turquoise sweatpants, with her blonde locks tied back. Eisner opted for green sweats and a green sweatshirt with shoes fit for the great outdoors.
A source told E! News, the two "seemed very comfortable with each other." And while on their walk around the famous residential area, Eisner "had his arm around her and they were talking the whole time."
Their PDA-filled stroll is the first time the rumored couple has shown affection since sparking rumors of a romance in October of last year. Most recently, the artists were seen together in June in Mayfair, London, where they had dinner together.
Presley Ann/Patrick McMullan via Getty Images
The older sister of the Olsen twins was last linked to financier Richard Sachs, but ended things in March 2017. At the time a source told Us Weekly Ashley ended things with the 59-year-old because "She wants to focus on her clothing line right now."
Her sister, Mary-Kate Olsen, shares the same devotion to their fashion company The Row, but balances her life as a businesswoman with her life as a married woman. After getting married in 2015 to husband Olivier Sarkozy, the fashion designer told The Edit, "I have a husband, two step-kids and a life; I have to go home and cook dinner."
She continued, "I ride horses on the weekends. You find the thing that helps you relax and if you don't have it, look for it. Or you get burned out and then you're not productive." 
I guess we could all use a Holiday In The Sun.