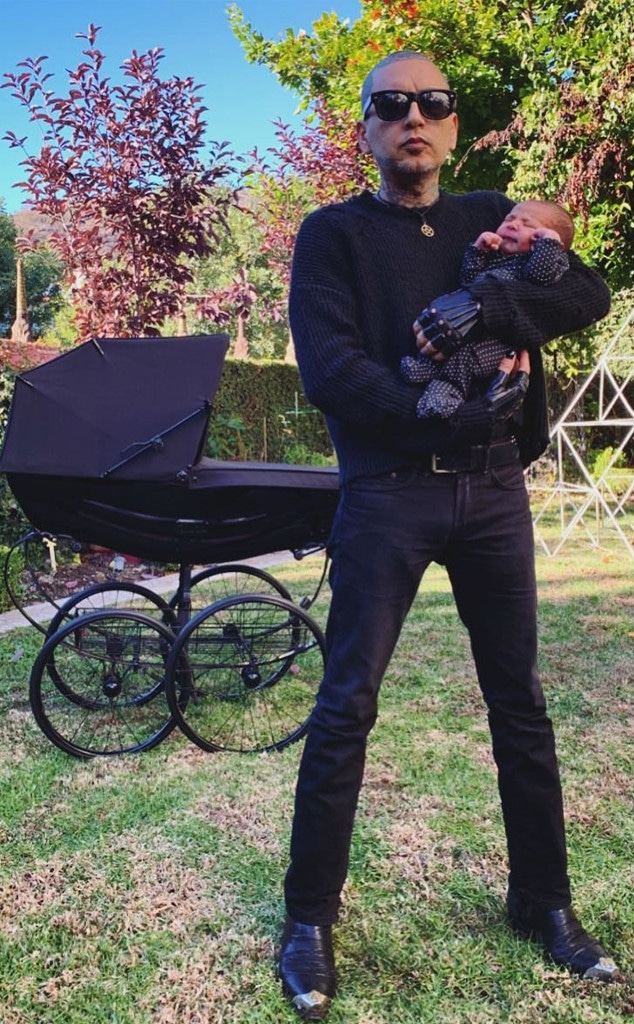 Instagram
Kat Von D is officially a mom! 
The 36-year-old celebrity tattoo artist and makeup mogul has given birth to her and 43-year-old husband Leafar Seyer's first child, a baby boy. Kat welcomed their bundle of joy into the world during a pre-planned home birth. 
She posted a photo of Leafar holding their newborn, who is named Leafar Von D Reyes. She said in her Instagram that she and her husband "want to take the next 40 days [4th trimester] to focus on the baby and our amazing relationship transitioning into amazing parenthood."
Kat and the musician married in February 2018, later gathering their family and friends for an elaborate, summer wedding ceremony held at the Beverly Hills Hotel. The bride wore a striking red gown and veil for the event. 
She and Seyer announced their pregnancy a month earlier with an artistic snapshot showcasing Kat's growing baby bump. 
In the months that followed, Kat didn't shy away from documenting her road to baby with fans. Kat revealed on Instagram that she planned on "having a natural, drug-free home birth in water with a midwife and doula," thus stirring controversy when she also shared her "intention of raising a vegan child, without vaccinations."
Following the swift backlash, she clarified her and husband's stance on the hot button topic, saying they don't necessarily align with the anti-vaccination moment.
Instead, Von D shared on social media at the time,  "What we have found is that sometimes it isn't always so black and white. While we believe medications, including vaccines, are not all bad—we also can't dismiss the fact that some may not be good for everyone."
As her due date approached, Kat said she was feeling "super awesome" and described her pregnancy as the "easiest, most comfortable" experience. 
In yet another emotional Instagram post, the celebrity gave a heartfelt shout out to fellow moms who have walked the path before her. 
"As a loner-by-default it's been such a beautiful/different feeling to connect with women from all walks of life in this way," Kat penned. "Yes, this pregnancy has brought my husband and I closer than we could have ever imagined [and we haven't even had our baby yet!] but it's also connected me deeply with all my fellow sisters in motherhood out there. Naturally, I've become more empathetic and understanding of other mothers regardless of how different our approach to birthing might be and I just feel so lucky to be able to experience all of this alongside you guys." 
Von D was previously married to tattoo artist Oliver Peck from 2003 to 2007. She was later engaged to Jesse James and DJ Deadmaus. 
Congratulations to the couple on their new addition!