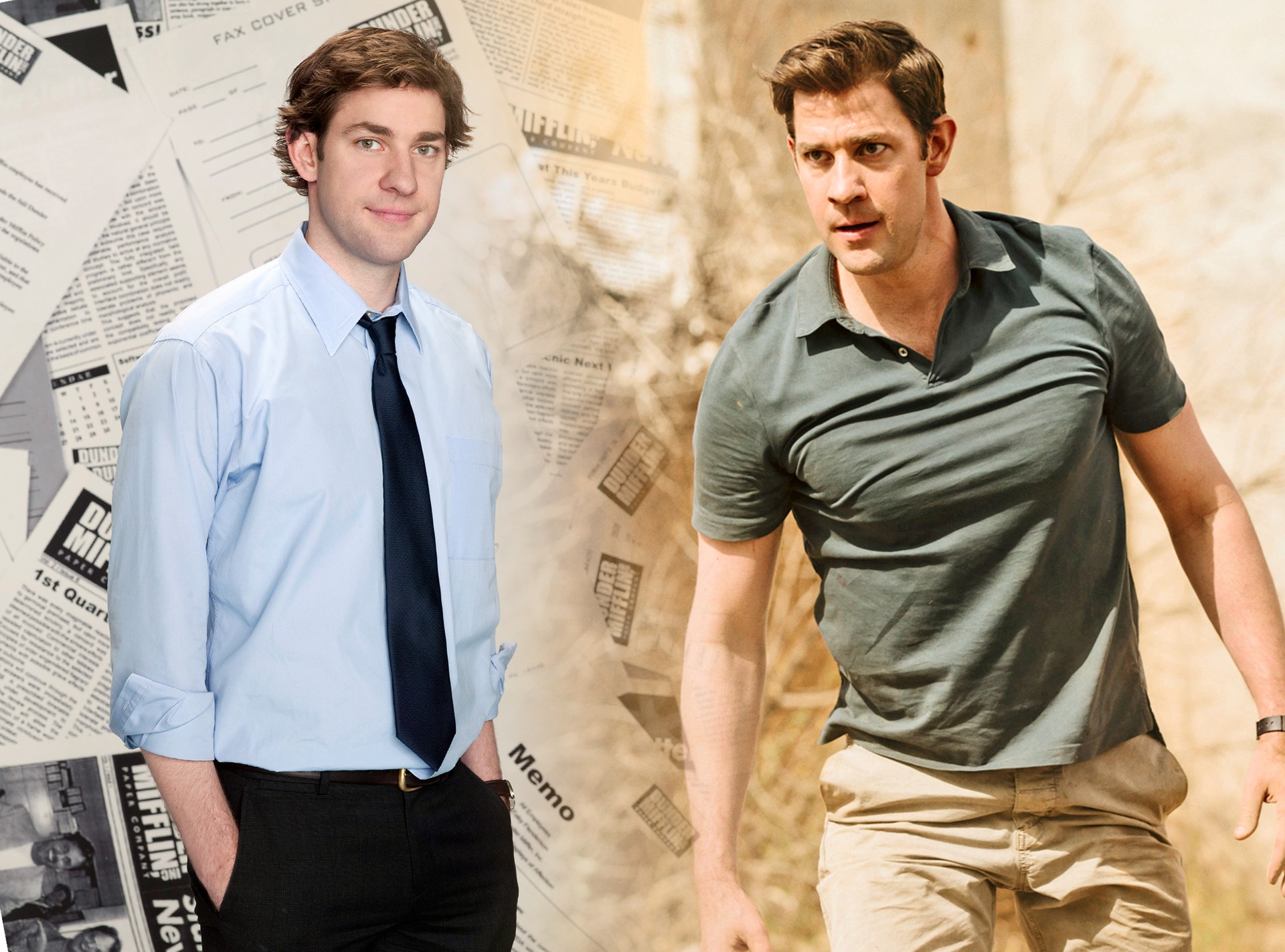 NBC/Amazon Studios
 Get ready for a new kind of superhero. 
John Krasinski has come a long way from his adorably goofy and somewhat dorky days as The Office's Jim Halpert, the role that made him one of TV's most beloved boyfriends. Now, five years after the iconic NBC sitcom ended its run (yet is still just as popular as ever), the Dunder Mufflin sales rep with a penchant for reaction shots is now one of the most versatile power players in Hollywood. And his latest role is his biggest and riskiest one yet.
Krasinski's Jack Ryan premieres today on Amazon, and finds the actor playing the titular role in the action drama based on Tom Clancy's popular CIA books. The 13-episode season cost $8 million per episode to make—one of the highest budgets for a TV series ever—and Amazon has already ordered a second season following the surprise success of A Quiet Place, Krasinski's directorial debut which he also co-wrote and starred in alongside his wife, Emily Blunt. 
So yes, the stakes are high and resting solely on the star and executive producer's broad shoulders. But Krasinski has been preparing for this for a long time. 
During the latter seasons of The Office, Krasinski had memorable roles in romantic comedies like Away We Go, It's Complicated and Something Borrowed, establishing himself as a reliable every-man audiences could immediately trust and depend on. He was the guy you just rooted for, much like Jim. And he was also making moves behind the camera, directing episodes of The Office and establishing a production company, Sunday Night Productions. 
And while he was part of one of TV's most iconic couples on-screen (Jim and Pam forever!), off-screen, he became one-half of one of Hollywood's most beloved couples, marrying The Devil Wears Prada's Emily Blunt in 2013, with the pair going on to have two daughters together and continuing to redefine #couplegoals throughout their relationship.
And now, as Jack Ryan, Krasinski is looking to become the next great (and somewhat unexpected) action star. 
Krasinski isn't the first actor to take on the legendary role, following in the footsteps of Alec Baldwin, Harrison Ford, Ben Affleck and Chris Pine—but he's the first to do so on the small-screen and marks his highly anticipated return to TV since The Office. 
The 38-year-old's transition from lovable sidekick to leading man has been a long time coming...with Krasinski almost landing the role of Captain America in 2011, eventually losing out, of course, to Chris Evans. 
"In my head I got the part," the star joked on Conan in 2016. "It was a big deal for me...when they asked me to test they actually allowed me to put on the suit, I was on a set...it was all very interesting." 
Michael Buckner/Variety/REX/Shutterstock
More recently, Krasinski revealed he received the bad news that he didn't land the coveted part on Emily Blunt's birthday. "My agent called and said, 'They're going to go with Chris Evans,'" Krasinski told Variety. "And I remember I said, 'Yeah, look at him. He's Captain America.'"
When Blunt offered to cancel their dinner plans Krasinski wasn't going to let a little thing like losing out on arguably the biggest role in the biggest movie franchise of all-time deter his wife's birthday evening. "I said, 'It's Chris Evans. Of course we're going to dinner,'" he said.
While he didn't end up in a stereotypical "superhero" suit, Krasinski does look at playing Jack Ryan as fulfilling his dream of playing a superhero. 
"I really loved the idea of playing a superhero whose only real superpower is using his brain, and his instincts," he said at the Monte-Carlo TV Festival. "It's very inspiring in the world of superheroes and capes and flying and shooting things out of your hands. It's nice to focus on real people and real heroes."
Just think of Krasinski as the thinking man's superhero, thanks to his effortless charm and relatibility...which is exactly why he was the only actor showrunners Carlton Cuse and Graham Roland even considered for the role despite the fact he wasn't looking to return to TV.  
"Jack Ryan's superpower is his doggedness, his determination and, more than anything, his brain. I think that John has that," Roland told Variety. "He's a very intelligent guy, obviously. That comes across in his performance. And he also is a leading man. He's got that relatability, that kind of Tom Hanks factor. He can play that classic hero that you can really see yourself in."
Amazon executive Jennifer Salke  added: "He elevates the role. It's an unexpected Jack Ryan. He brings so many qualities to the role that you wouldn't see in your average action hero. I love that he feels like an everyman. He has a boy-next-door quality. But then you're surprised to see the intensity that can come out of him."
It was the fact that Jack Ryan is probably the guy that you'd want to grab a beer with if he wasn't too busy traveling around the globe uncovering a growing terrorist threat against the United States.
"I think that there's an everyman quality to Jack that certainly my character in The Office [Jim Halpert] had, and I think that's what I connected to," Krasinksi told UK's The Independent. "There was a nerdy part of me as a kid that went, 'Oh, I could be Jack Ryan' whereas I couldn't be Superman. There is such an appeal to playing a guy who is a real person, that you might see in a bar – he's an actual superhero that could exist."
While he didn't land the superhero gig as Captain America back in 2011, Krasinski's transition into a full-blown action star officially began in 2016, when he took on the role of a CIA contractor and former Navy SEAL in 13 Hours: The Secret Soldiers of Benghazi, his first major leading role. 
Krasinski had said he trained twice a day, five days a week, for several weeks to get into shape for the role, and the results definitely paid off, as his muscular new bod and scruff made headlines and launched a thousand thirsty tweets. (We're guilty of a few, we won't lie!)
He revealed to  Men's Fitness that he went from have 26 body fat to just 5 percent within a few months, and admitted it wasn't easy. 
"I couldn't do one pull-up. I was like, 'How hard are these pull-ups, really?'" Krasinski joked to Stephen Colbert on The Late Show while promoting the film. (While the public loved his fit new bod, his wife wasn't exactly a fan. "She hates it," he said. "She would way prefer to have doughy guy back.") 
While 13 Hours, which was directed by Michael Bay, failed to perform at the box office, it did prepare Krasinski for Jack Ryan. 
"I think if you're going to be baptized by fire, it's more like being baptized by Bay," he said in an interview with Collider. "When I did a Michael Bay movie, I was ready and willing to take on the action world, no matter where it takes you."
For Krasinski, it's taken him to Washington, D.C., Morocco, South America and Europe over the course of 20 episodes so far as Jack Ryan, but he'd be just as happy to make a return to Scranton, Penn. and his sitcom roots should a revival of The Office ever officially happen. (Reports of a revival involving a mix of old and new characters surfaced in December 2017, though NBC never officially commented.)
"I would totally do it," he told The Independent. "I can genuinely say I've never been in anything like it. I remember bumping into people who'd been on other television shows and were like, 'So which year did you get sick of each other?' We never did. It kind of felt like we were in a repertory theatre together. We all look forward to the day we can do it again. Hopefully we can find a way."
He continued, "I'm pretty sure, at the end of my career, I'll be most known for Jim. And that would be an honor for me."
As Krasinski knows all too well, every superhero has an origin story. 
Jack Ryan premieres today on Amazon Prime Video.