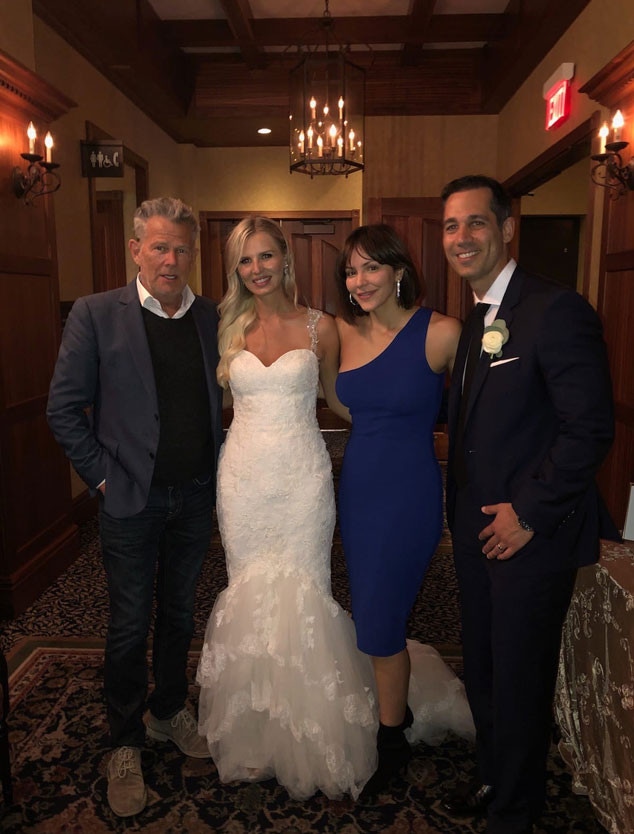 Getting ideas for their own wedding?
Katharine McPhee and David Foster crashed a wedding in Canada over the weekend. The 34-year-old actress and her 68-year-old music producer fiancé have been enjoying a getaway in Victoria, British Columbia for the past week. During their stay, the couple noticed a wedding taking place at their hotel and decided to check it out.
"We knew they were at our hotel because we had seen them earlier in the weekend. Actually, the banquet hall we got married in is called the David Foster Foundation Room," the bride tells E! News. "We got married in an outside area and at one point I looked up and saw David watching the wedding from his balcony."
She continues, "Flash-forward to later that evening at our indoor reception and we noticed them again – they were in the lobby area signing our guest book! We came over and they were super nice, they kept congratulating us."
It was just last month that McPhee and Foster got engaged while on vacation in Italy. So, when McPhee and Foster congratulated the bride and groom, they congratulated the couple right back.
"We said congratulations back and, being girls, we looked at each other's rings," the bride shares with us. "She said how beautiful mine was and I said the same thing to her."
She adds, "They were really nice and seemed very happy together."
McPhee and Foster's trip follows shortly after she wrapped up her four-month run in Waitress on Broadway. After sharing a photo of herself on the vacation, Foster's 36-year-old daughter, Erin Foster, commented, "FEELS LIKE I COULD HAVE BEEN INVITED ON THIS BEAUTIFUL TRIP." McPhee then replied, "Mommy and daddy need alone time."
E! News recently caught up with Sara Foster, 37, who called her future stepmom McPhee "wonderful."
"He's a real commitment, marriage kind of guy and I'm happy for him," she told E! News about her dad. "He's really happy."
Check out our gallery to see more celebrity wedding crashers!