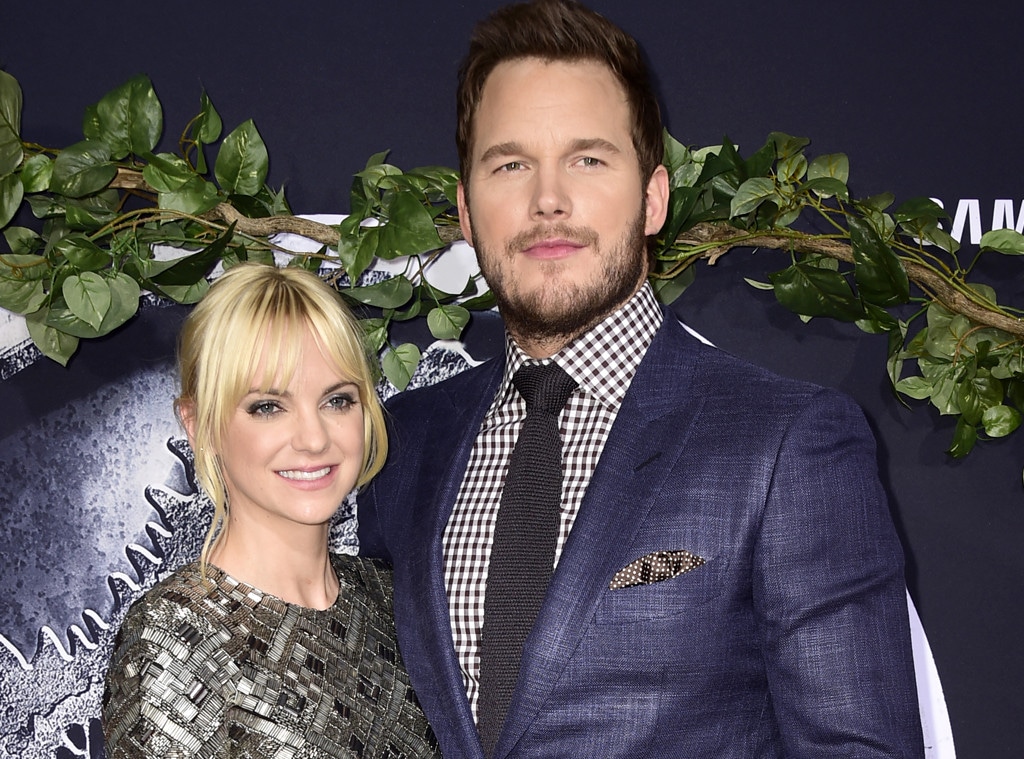 Frazer Harrison/Getty Images
"We still have love for each other, will always cherish our time together and continue to have the deepest respect for one another."
Those carefully chosen words—or the other similar sentiments that tend to make up the celebrity breakup statement—have been used before and will be used again. But each time they come across as just a wee bit hollow. Perhaps because for most of us, when we end any sort of romantic entanglement we're not feeling quite so charitable or entirely all that ready to praise the person that's left us feeling gutted. Nor are we super eager to commit to spending more time with an ex and having the reminder of what we once had staring us in the face. 
But in a post-conscious uncoupling world when delivered by Anna Faris and Chris Pratt, the living embodiment of #goals thanks to their sweet selfies and general likability? In reference to their decade-long romance? Well, the more hopeful among us wanted to believe they truly had a shot at remaining real friends. 
Not that it was easy just because they shared a laid-back sensibility, willingness to self-deprecate and a son they treasured above all else, now 6-year-old Jack. As Pratt succinctly put it to Entertainment Weekly this April, "Divorce sucks."
But at the end of the day, he continued, "we've got a great kid who's got two parents who love him very much. And we're finding a way to navigate this while still remaining friends and still being kind to one another."
Because here we are, barely a year removed from their separation, with an amicable divorce settlement on the horizon and an effective co-parenting plan in place. Each half of the former pair has moved on with new partners that appear utterly sensible, neither exuding even a trace of revenge romance vibes. And they both seem, dare we say, pretty happy for each other. Or at least cordial enough to come together to send Jack off to school. An insider reveals their recent outings were an example of their committed co-parenting as they joined up for their son's orientation and first day of school. "They both wanted to be there for him and to get him settled and it went great," the insider tells E! News. "They are both involved with Jack and have worked out a good system for him." 
So basically they did exactly what they said they were going to do. 
It was a point they drove home more than a few times in the wake of their heartbreaking split. With a book to promote, her half advice-half comedic memoir Unqualified, and a podcast of the same name, Faris was pretty much required to give her views on how to exist in and then gracefully exit a longterm relationship. 
At times she spoke with her trademarked humility, like when Stephen Colbert asked why she believed she was quote-unquote unqualified to give dating advice. "I mean, every-, ev-, everything," she started as the Late Show With Stephen Colbert host attempted to save her by suggesting that really no one is eminently suited to dole out such tips. "I think you're letting me off the hook with that question," she replied. "But I am definitely not qualified to give relationship advice. But, having said that...I enjoy it." 
Jesse Grant/Getty Images for Disney
She is, however, more than a little knowledgable when it comes to the subject of healthy co-parenting. 
"What Chris and I try to do is to communicate openly," she explained to Women's Health in April. "We reiterate that there aren't rules to this. We have a lot of love and friendship, and our big goal is to protect Jack." Doing so involves doling out discipline "when he's being a little bit naughty," she told E! News in January, but also constantly reinforcing what a great kid he is. "I think the key is surrounding him with a lot of joy and happiness, which he has a ton of."
Proving they were in lock step, when it came time for Pratt to hit the publicity trail, for June's Jurassic World: Fallen Kingdom, he backed her up, making sure to reiterate in his EW interview their commitment toward showering Jack with love and each other with kindness. "It's not ideal," he admitted of the situation, "but yeah, I think both of us are actually probably doing better."
And their words weren't just the stuff of feel-good sound bites. Sources told E! News they committed to counseling after their split so they could get some guidance on navigating this new normal with their son. "It's nothing to do with them as a couple—they are not trying to get back together or save anything," an insider said at the time. "Chris wants Anna to learn how to co-parent and how they can exist together with their son, while having separate lives. They don't want this to affect his life." 
As a result of the work they put in, she was able to truthfully proclaim to People just two months after their separation that they'll "always have each other and be incredible friends." She got while fans were so invested in them as a pair, holding them as the shining beacon of what a devoted couple should look like under the glaring spotlight, she added, "All I can say about that is it's all true—that we truly adore each other, and we love each other. I think it still comes through." 
It's an achievement that Faris is truly proud of. She admits she has some regrets about how she handled her divorce from first husband, actor Ben Indra. While she never overtly crossed the line, after meeting and becoming entranced with Pratt on the 2007 set of Take Me Home Tonight, there was certainly some emotional overlap. As she put it in Unqualified, "Sure, I get to proclaim I didn't f--k Chris before I left Ben, but what is there to celebrate in that? It didn't make me a hero. After all, I wanted to, desperately. And I had feelings for him, obviously, even if I wasn't honest with myself about what those were. So while I didn't cheat, I'm not completely innocent, either." 
But when she looks back on this split with Pratt, she'll be able to revel in how thoughtfully and maturely they both unraveled a shared decade of life. She and Pratt have "a great friendship now," she revealed on the Armchair Expert with Dax Shepard podcast. "I'm really proud of that, because I'm not sure I did that well the first time."
Of course, finding a new romance to throw yourself into takes a bit of the sting out of constantly revisiting the old one, butterflies and first kisses being a great antidote for heartbreak and all. And Faris got that first taste of medicine last fall when connecting with Michael Barrett, a cinematographer she met on the set of her Overboard remake. 
Her costars seem to approve. Eugenio Derbez teased in an interview with E! News "for some reason she looks better than me in the movie," a nod to Barrett's skills, and Pratt's Mom cohort Allison Janney told E! News, "I met him once, he seems really lovely." For her part, Faris was clearly taken enough to join him on a November trip to Italy and bring him along to check out houses in L.A. But she's playing this union a bit closer to the vest, having loved and learned and all that. She has yet to outright talk about him in interviews or share his likeness with her two million Instagram followers. "I think it's a lesson learned a little bit in terms of keeping relationships a little bit more private, potentially," she explained, "even though I pride myself on being a pretty open person." 
And while an insider says the duo are doing really well as they round the year mark on their coupling, Faris remains unsure if they'll ever take the ultimate pledge of fidelity. "I need to figure out what the purpose is. Like is it safety for your children? Is it convention? Is it so other people respect your relationship more?" she reasoned to Shepard when asked if she'd ever remarry. "For me, I'm just not quite sure where it fits, especially when it feels so easy, of course, to get married and then there's the untangling in terms of like the state being involved."
Meanwhile Pratt is exploring a new commitment of his own. Seeing author and lifestyle blogger Katherine Schwarzenegger since they were set up by mutual friends this summer (a source says her mom Maria Shriver played a role in bringing them together having made the acquaintance of Pratt through church-related gatherings and other pals), they've entered the exclusive stage of their romance. 
"Chris is still smitten by Katherine. He's genuinely really happy with where things are at," a source reveals to E! News of their series of dinner outings and church services, the latter being a strong factor in their connection. "Things are heating up faster now and they're definitely getting more serious."
So much so, that Pratt has started integrating Jack into their relationship. Schwarzenegger has started spending time with the grade schooler, says the source, and is "slowly staring to get to know him more and more." 
It's a move that was sanctioned by Faris, who's also introduced Jack to her partner. "She wanted to be honest with him and have Michael be a part of Jack's life," an insider shares. Because anyone interested in dating either Faris or Pratt has to know it's a package deal. "Luckily they are both dating people who love Jack and are very good with kids," says the insider. "Jack is going to be a big part of their lives and they wouldn't date anyone that didn't accept that." 
Not after they've worked so hard to get to this place, pushing past the pain and heartbreak to form a new type of partnerships. "So far they have the co-parenting down and it's going OK," says the insider. "They are both amenable if the other wants to take him on a trip or do something special with him. They try to be understanding and open-minded." 
Keeping that as a focus has allowed them to remain on good terms and to create a revised relationship structure that's every bit as worthy of the goals hashtag. 
"We have a great friendship, we really do and we always have," the actress shared in
an April interview
 with SiriusXM's
Hits 1 in Hollywood
. "And it's always tough to envision your future as one thing, but I think there is a lot of love."
Not to mention, as they once vowed, the deepest level of respect.