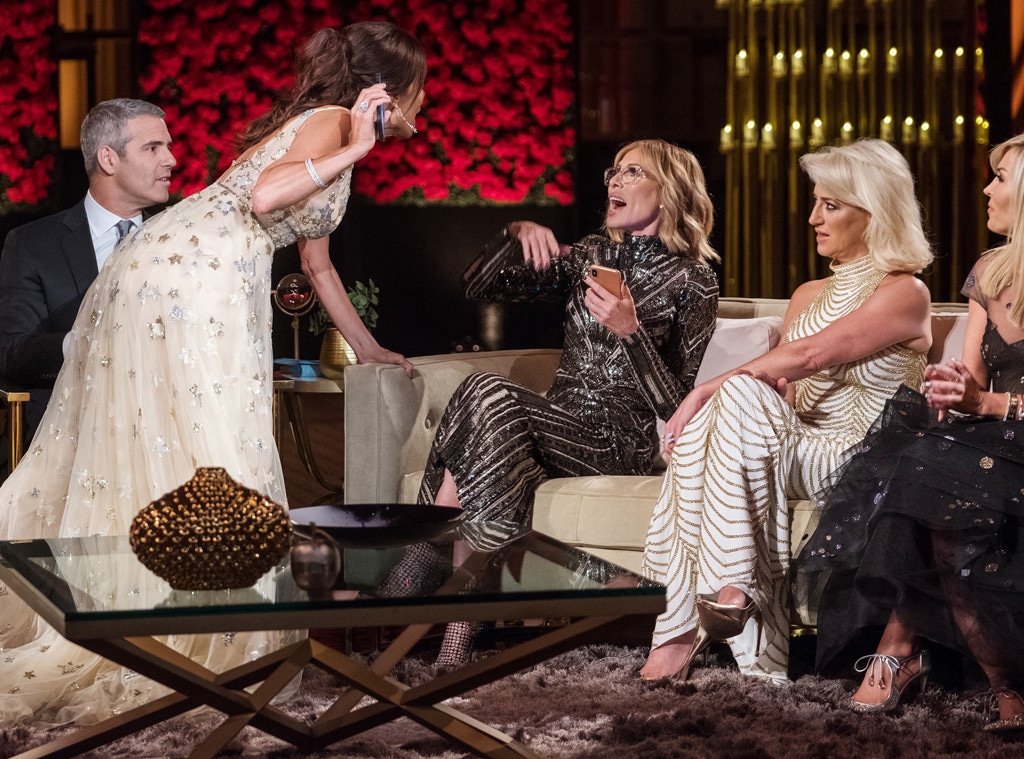 Bravo
Carole Radziwill was prepared to destroy Bethenny Frankel on the season 10 Real Housewives of New York reunion. 
Sure, Bethenny was the one who showed up with texts printed out and kept safe in a hot pink folder, but Carole had her glasses, her phone, and zero patience. She had every text convo she and Bethenny had had. She had a list of everything Bethenny had said about her on TV. She had Bethenny's career memorized in order to compare their careers. And Bravo had an entire half an episode (plus more time next week!) to dedicate to this fight alone, leaving the other women and Andy to just sit there, occasionally trying to get a word in Bethenny accused Carole of bashing her on the show, and Carole accused Bethenny of doing the bashing on the show. 
"You bashed each other on the show," Andy accurately pointed out. 
"You're so full of s--t, Andy," said Carole.
Tonight's argument painted a truly sad picture of a (former) friendship that felt like it belonged to two tweens rather than two middle aged women, especially based on those text messages Carole read aloud. One tween was going through some stuff and felt insecure about her friend not being her friend anymore, so she started freaking out. The other tween had started to get 2 cool 4 school, and found the desperate texts to be too much, and so she drifted away even more. Guess which tween is which. 
Bethenny was sad that Carole didn't invite her out with her friends. Bethenny thought Carole looked sad and wondered why she wouldn't talk to her. Bethenny worried Carole was shutting her out. Both of them didn't think the other person appreciated what they had done for them enough, and yes, both of them bashed each other on the show. 
And while it seemed at the beginning of the reunion that all of the women were Team Carole, there were certainly some moments during that fight when it seemed as if Bethenny was the one with more support, at least from Sonja and Ramona, who jumped in occasionally, when they could, only to be mostly ignored. 
The drama continues next week, and we'll get to see exactly what note Carole Radziwill leaves this show on. Will she totally burn that bridge, or are we in for an emotional farewell? Something tells us it's not gonna be the latter. 
The Real Housewives of New York airs Wednesdays at 8 p.m. on Bravo. 
E! and Bravo are both part of the NBC Universal family.