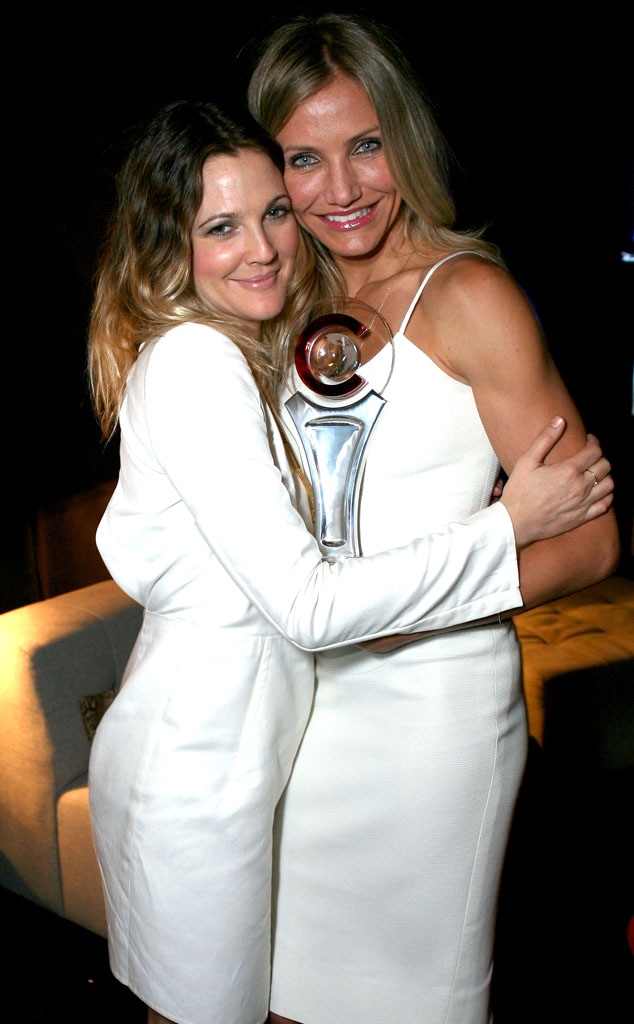 Ryan Miller/Getty Images
If Bravo or most tabloid reports from a movie starring more than one woman are to be believed, adult female friendships are hard to maintain over a long period of time, often coming to an end faster than the sets they are formed on are torn down at the end of production. Cameron Diaz and Drew Barrymore's friendship, however, is just one prime example of an enduring and lasting union that dispels that myth...and it all started over a cup of coffee in the '80s. 
Diaz, who turns 46 today, and Barrymore, 43, actually met almost 30 years ago, when The Santa Clarita Diet star was working at a Beverly Hills coffee shop and served a then-16 Diaz, who was modeling at the time.
While they maintained a casual friendship from that point on, it wasn't until Barrymore, who was serving as a producer on the Charlie's Angels film reboot in 2002, called Diaz to join her in the film and their unbreakable bond was truly was forged, with the women 
Since joining forces to say "Good morning, Charlie!" over 18 years ago, the women have formed a rare friendship that's lasted longer than most Hollywood marriages, with Diaz saying their time spent as co-Angels made them more like "sisters," a sentiment Barrymore has echoed.  
"We're like more than best friends, she's my sister," Barrymore told ET in July 2018. "We have much more of that kind of relationship; we're very honest with each other. We push each other. And we've had the majority of our lives spent side by side, really going through what real life is, which is an everyday high and low, and we just have each other's backs."
An offspring of the iconic Barrymore family, Barrymore's wild childhood was well-documented in the press, and the E.T. star has spoken about her troubled relationship with her family, including a long estrangement from her mother, actress Jaid Barrymore.
But in Diaz, Barrymore seems to have found that unconditional support and connection she lacked in her youth, telling Good Housekeeping, "My girlfriends are my first family, and they know that I would lie down and die for them. My love for them is unbreakable."
For Diaz, the feeling is mutual, revealing the women have "gone through a lot together" in their long friendship, especially growing up in Hollywood.
"We've been in this industry for a really long time together and that's a feat. To have people that you've known for that long–those are real relationships–it's real friendships, we've gone through a lot in life together," she told Andy Cohen on his SiriusXM radio show in 2016. "As you get older you start to lose people in your life and when you lose people in your life you have less of a purpose so it's really, really important to stay engaged."
Staying engaged for Diaz and Barrymore includes regular hang outs, whether they are taking cooking classes or indulging in girls' night in (face masks included!), along with promoting each other's projects and successes.
Barrymore shared a sweet selfie promoting Diaz's second book, The Longevity Book, in 2016, writing, "I am so proud of my dearest girlfriend. She is smart! Kind! Fun!" She also presented Diaz with the Female Star of the Year award at the 2011 CinemaCon Awards.
"The fact that she would come is really special for me," Diaz said of the gesture. She also has Barrymore's back, too, staunchly defending her best friend by cutting a radio interview short in 2014 when the hosts brought up Barrymore's "drug years." 
But the Hollywood icons don't just show up for the professional successes, they are right by each other's sides during their most personal milestones.
Diaz was by her BFF's side when she wed Will Kopelman in 2012, and Barrymore returned the favor in 2015, serving as a bridesmaid in Diaz's intimate wedding to Benji Madden.
And they weren't just present for the marital good times, as Diaz, mysteriously and amusingly nick-named "Poo Poo" by Barrymore, opened up about rallying behind her friend when she and Kopelman, who have two daughters together, announced their plans to divorce in 2016.
"Everybody pulls the wagons around, you know, our friends, whoever needs us at whatever point in time, even if it's like something that the public doesn't know about," Diaz told Andy Cohen. "Internally we're all going like, 'OK, who needs us now?'"
In the caption of a selfie of the duo, Barrymore, who admitted on Sunday Today to being in "a very dark and fearful place" following her split, said her friends "rejuvenate and confirm everything" for her, and wrote of Diaz specifically, "She has made me feel beyond beautiful. Always has. Always will."
The key to their lasting friendship is making their relationship and spending quality time together a priority, according to Diaz, with their girl gang also including A-listers like Gwyneth Paltrow and Nicole Richie, Diaz's sister-in-law. Paltrow recently interviewed Barrymore over the phone for InStyle, with Diaz making a rare and surprise appearance as the pair had just worked out together and were running errands while munching on cucumbers because Barrymore was on a cleanse. "You guys are so cute," Paltrow said (speaking for all of us, really). 
"We're like, 'OK, we need a girls night or a girls day or a getaway' and everybody's like 'yes!'" Diaz, who has said she has "actually retired" from acting after last appearing in 2014's Annie remake, told Cohen in 2016 of rallying the busy women together. "We find a date and everybody makes it happen because we know how important it is to stay connected."
Barrymore revealed that Diaz is, to borrow a phrase from Grey's Anatomy, her person in a 2016 Good Housekeeping cover story. 
"If you are in scary prison in the middle of nowhere, call Cameron," she gushed, with the magazine noting she lit up talking about Diaz. "She'll get you out. If you're looking for the best dinner-cooking partner and watching-TV-on-the-couch friend, call her. If someone is in a medical situation, call her! She's the most loyal, fierce, fun, cozy friend. We have incredible honesty with each other, and we work hard on our lives and our friendship."
Looking back on asking Diaz to join her and Lucy Liu as the trio to make up Charlie's new Angels, pitching it to her as a movie about women "who love each other and they are stronger together," Barrymore said, "We just went on some of the best years of our lives."
And almost 20 years later, they still are.