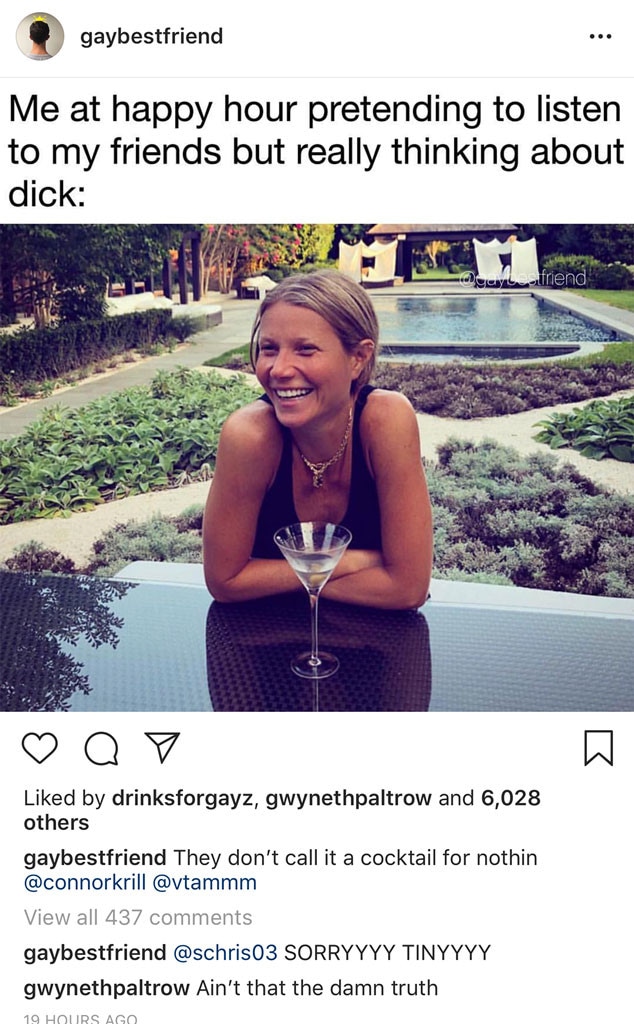 Instagram
Gwyneth Paltrow had the best response to a meme of her "thinking about dick." LOL, yes, you read that right.
On Tuesday, journalist Derek Blasberg posted an Instagram photo of the Oscar winner hanging by the pool in the Hamptons. The picture shows Paltrow sitting at a table, laughing, with a martini glass in front of her.
"Gulp, gulp, goop," Blasberg captioned the stunning photo of Paltrow.
After seeing the post, Instagram account @gaybestfriend made the picture into a meme and posted it on their account. Along with the photo of Paltrow, the meme reads, "Me at happy hour pretending to listen to my friend but really thinking about dick."
The meme then made its way back to Paltrow, who commented on the Instagram post, "Ain't that the damn truth." Her comment has received over 1,000 likes since she posted it on Tuesday.
"And here I thought you were fascinated by my witty banter," Blasberg hilariously replied to Paltrow's comment.
A day earlier, the actress took to Instagram to mark the end of summer vacation. Paltrow and her kids Apple Martin and Moses Martin, who she shares with ex Chris Martin, have been spending a lot of time in the Hamptons over the summer. On Monday, Paltrow posted a photo of Apple and Moses with the caption, "Noooooo summer don't go."
Photographer Group / Splash News
Paltrow kicked off the summer break at the end of June with a trip to Italy with her beau Brad Falchuk. The couple was spotted packing on the PDA on a yacht off the coast of the island of Capri, where they were hosted by Valentino co-founder Giancarlo Giammetti and his family.
"Gwyneth was so happy and relaxed the entire time," an eyewitness told E! News at the time. "She was dressed very casually and had no makeup on. She seemed very comfortable and just being herself with Brad."
Back in April, the couple celebrated their engagement with a star-studded party in Los Angeles.