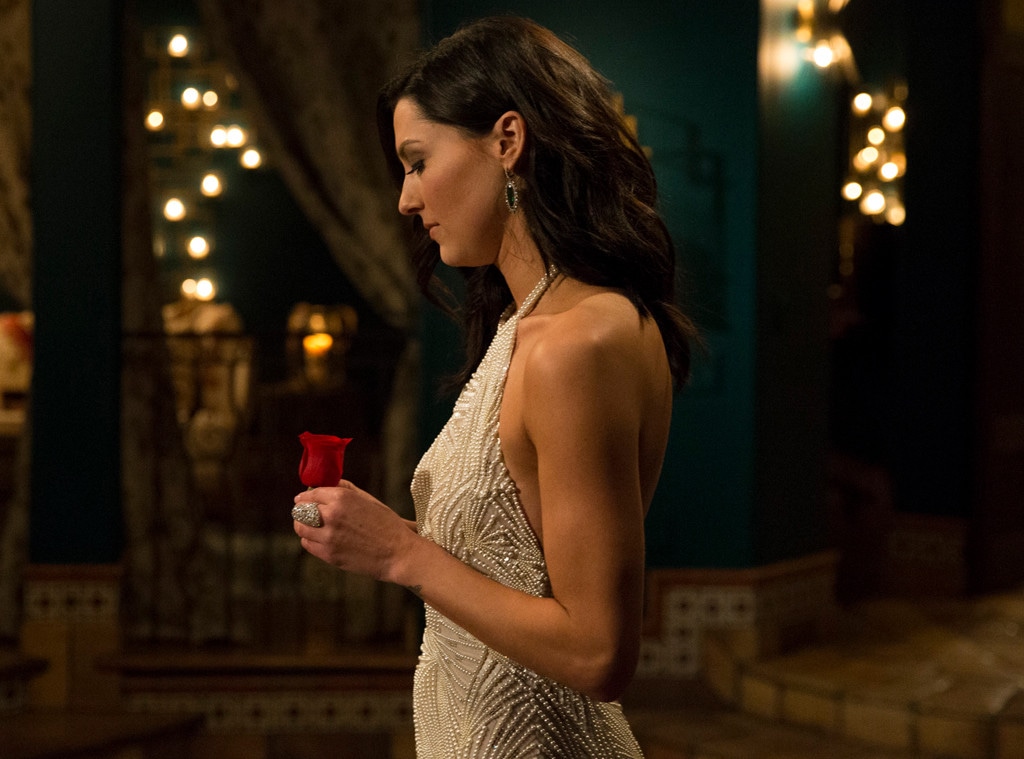 ABC/Paul Hebert
Becca Kufrin is done handing out roses, but she has someone in mind for who she would like to see doing the honors next.
E! News sat down with Kufrin at the Diff x Becca Kufrin Nala collection preview at Elephante in Santa Monica, Calif. to discuss her new eyewear line and more. The former Bachelorette star dished on why she would love to see Jason Tartick and his perpetually perfect slicked-back hair running the show next season. Becca told E! News exclusively, "He's such a sweetheart." 
The Minnesota native wishesd the best for the other 27 men who vied for her heart but ultimately lost to Garrett Yrigoyen. She said, "I want all of those guys to find somebody like what I found in Garrett, but Jason will always have a soft spot in my heart."
Kufrin credited Tartick's "exuberant personality" for why it would be "such a fun season to watch." She told E! News, "He'd go all in on every single date and make every girl feel comfortable."
The senior corporate banker gifted Kufrin with a scrapbook before he was booted off the show, but she still has the sweet keepsake. In fact, Kufrin has all the presents she received from her suitors, including but not limited to a compass, a journal and a bracelet. The publicist still owns her finale dress and shoes as well.
Now, the 28-year-old seems happy as can be with her fiancé. "It's been so wonderful," she said. "It's been fun to be normal, be out in public, be able to walk down the street or go grocery shopping. Its just a fun adventure. We're still obviously getting to know one and other and enjoying it but just like on the show, he just makes me laugh constantly."
Kufrin and Yrigoyen are currently scoping out Minnesota and visiting family there before heading to his hometown of Reno. "I'm loving Minnesota right now," he said.
The Bachelorette's friends have taken a liking to her fiancé, and have been "really nice and welcoming."
The couple will travel to Reno after spending time in Minnesota and attending lots of weddings, including her sister's. Kufrin said Reno will "definitely be different than what I'm used to at home," but she's eager to see the city.
On their fantasy suite date, which happened the week following hometown dates, the couple uncovered the other person's sleep habits, including snoring (Garrett) and sleep talking (Becca). Kufrin joked to E! News, "Every day we'll wake up and he'll be like, 'Becca you had a full blown conversation in the middle of the night.'"  She continued, "I feel kind of bad but I feel like I always wake him up sleep talking."
Neither Kufrin nor Yrigoyen has remorse about show. "I put everything out there, I have no regrets about anything... I was just myself one hundred percent of the time," he said.
Becca echoed similar sentiments. She told E! News, "I went into it wanting to be super mindful of the guys and knowing what it felt like to be in their position. I always wanted to treat them how I would want to be treated."
As for wedding plans, the happy couple doesn't have any just yet. According to Kufrin, they have bigger fish to fry: "We've got to figure out where we're going to live first!"