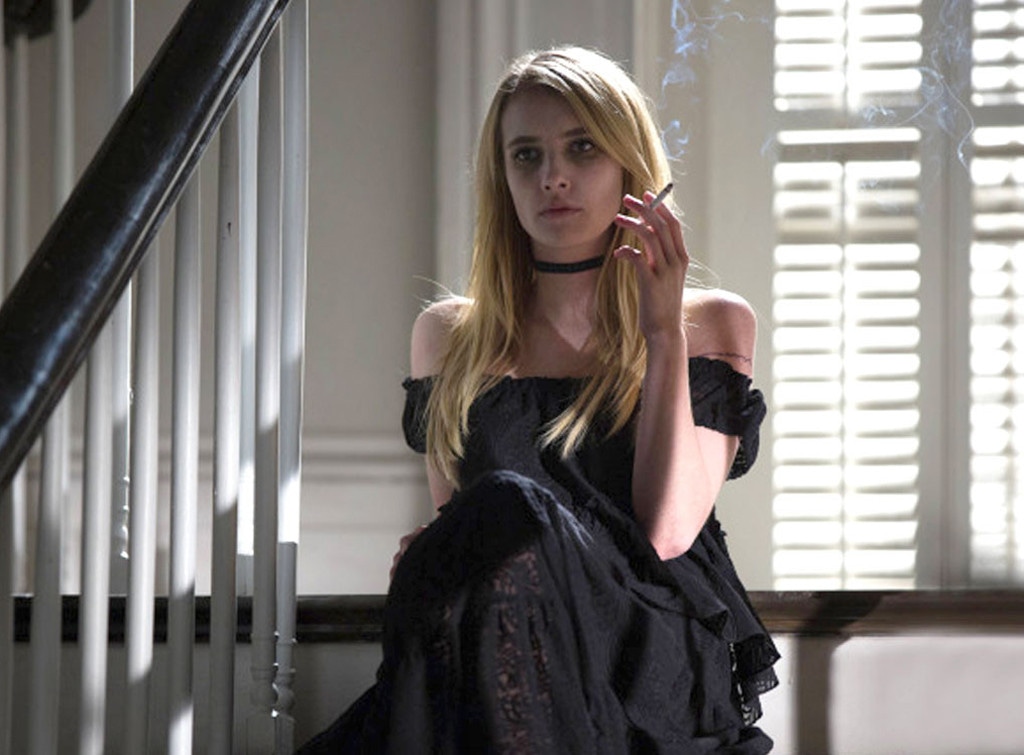 Michele K. Short/FX
Not even death could keep Emma Roberts' Madison Montgomery down. American Horror Story co-creator Ryan Murphy and Roberts both took to Instagram to share a behind-the-scenes photo of Roberts on set of American Horror Story: Apocalypse and it's an instant classic. There she is, amongst the "backyard bones" at American Horror Story's Murder House, looking as badass as ever. Why is she holding a feather duster? Who cares!
The new season features Roberts as her very meme-able American Horror Story: Coven character Madison Montgomery. Yes, the character did die in Coven, but she's a witch and it's the end of the world. Rules don't apply. And in case you were worried, there will be more meme-worthy moments for Roberts.
"Yes, a lot. I actually was told yesterday by the director to be bitchier, which I did not think possible then I was [Laughs.] So, it's delicious to get to play her again for sure," Roberts told press at the 2018 Television Critics Association press tour.
AHS: Apocalypse is the anticipated crossover season featuring characters from American Horror Story: Murder House and American Horror Story: Coven. In addition to Roberts, the cast includes Sarah Paulson, Jessica Lange, Connie Britton, Taissa Farmiga, Dylan McDermott, Lily Rabe, Frances Conroy, Evan Peters, Kathy Bates, Adina Porter, Billie Lourd, Billy Eichner, Cheyenne Jackson, Leslie Grossman, Gabourey Sidibe, Stevie Nicks, Cody Fern and Joan Collins.
American Horror Story: Apocalypse premieres Wednesday, Sept. 12 on FX.