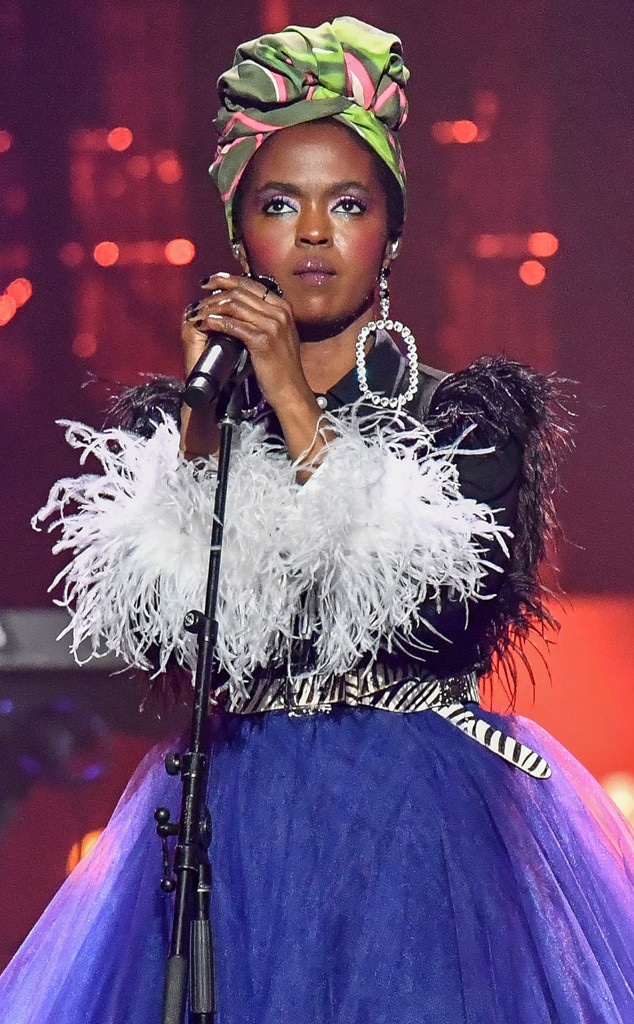 Jeff Kravitz/FilmMagic
Lauryn Hill has spoken.
In a candid interview for 97.9 The Box in Houston, award-winning pianist Robert Glasper called out the 8-time Grammy winner with controversial claims about her behavior behind the scenes. Glasper described working with the songstress in 2008 for a 20-minute show that he was hired for as the principal piano player. Glasper noted he refused to audition in person or on the phone for Hill considering he had an album out that she could listen to. He alleged that they rehearsed roughly 10 hours a day for a week in preparation for the show and further claimed that Hill changed the show every day they rehearsed. According to Glasper, on the last day of rehearsal before the show, Hill did not come and her manager told the band that she was "not really feeling the way you guys have been learning the music" and they were going to cut their pay. 
"She likes to fire bands," Glasper alleged in the interview. "She will go on tour with a band and in the city that they're doing a show, she'll hold auditions for her band."
Glasper left and said that someone came running after him to get him to come back. He said they could wire the money to his account before the show because he didn't trust them anymore and ended up performing the show. However, in telling the story, the musician made additional claims about Hill, including that he was instructed not to look her in the eye and to call her "Ms. Hill." He also alleged that Hill "steals music" and that her iconic album was made by other people who didn't get their rightful credit, referencing a 1998 lawsuit filed by a group of musicians that worked on the album who similarly claimed they were not properly credited. The musicians received a settlement out of court in 2001.
"Miseducation was made by great musicians and producers that I know, personally," he said. "The one thing you did that was great, you didn't do...She took the credit for making the classic album. Those songs were written by other people and they did not get their credit. She likes to take credit so she can become this super person."
More than a week later, Hill fired back at Glasper in a lengthy essay she penned and published on Medium on Monday. 
"The arrogance of presumption that allows someone to think that they could have all the facts about another person's life and experience, is truly and remarkably… presumptuous," she began. "People can sometimes confuse kindness for weakness, and silence for weakness as well. When this happens, I have to speak up."
The star went on to address a variety of topics, including the comments made about her band selection and alleged treatment of musicians, her process and her achievements. On a logistical level, the "Everything Is Everything" star denied ever telling anyone not to look her in the eye and that the instruction may have been what someone said out of assumption. She did confirm that being called "Ms. Hill" was "absolutely a requirement."
Theo Wargo/Getty Images for CBGB
"I was young, Black and female. Not everyone can work for and give the appropriate respect to a person in that package and in charge. It was important, especially then, for that to be revealed early," she wrote. 
Hill also responded to Glasper's comments about her not tuning her own guitar, stating that she "never held myself out as some accomplished guitar player," that she never had any real instruction and that she uses it as a "writing tool."
"Couldn't or didn't tune my own guitar? That sounds like an assumption," Hill retorted. 
She also rebuffed claims that she can't perform original versions of her songs, calling them a "myth." Instead, she explained that she remixes her songs live because she hasn't released an album in years and tries to keep her performances authentic. 
"There's no way I could continue to play the same songs over and over as long as I've been performing them without some variation and exploration," she noted. 
Leon Bennett/Getty Images for Essence
The star also addressed reports of her tardiness. "Me being late to shows isn't because I don't respect my fans or their time, but the contrary, It can be argued that I care too much, and insist on things being right," she wrote in the essay. "I like to switch my show up regularly, change arrangements, add new songs, etc. This often leads to long sound checks, which leads to doors opening late, which leads to the show getting a late start. This element of perfectionism is about wanting the audience to experience the very best and most authentic musical experience they can from what I do."
Hill shares a similar approach to her band. As she explained, the songstress looks for chemistry and a "particular 'something'" that not every band has. She hires the "best" musicians and auditions them not only for talent, but also for their "vibe" and understanding of her musical direction.  
"I am paying for a service, and looking for something SPECIFIC, which isn't up to someone else's interpretation or opinion. I have my own idea of what works for me. That shouldn't offend," she continued. In regard to Glasper's claim that she cut their pay, Hill said she has no recollection of it and if fees were confirmed without her knowing, she "may have asked for them to be adjusted." "I would never just cut a musician's pay arbitrarily unless I had a legitimate reason," she said. 
As for the comments about not giving proper credit for the songs on Miseducation, Hill said, "You may be able to make suggestions but you can't write FOR me" and "no decisions are made without me." She further explained that she wanted to create a level of comfort with the musicians at the time and "may not have established the necessary boundaries." In hindsight, she said she would have handled it differently and has since. "I may have been inclusive, but these are my songs," Hill wrote. 
The star pointed to Glasper nearly directly when she questioned why he was in her show at all. "I'm confused as to why such a principled musician, who thought I 'stole' from his friends, would show up to work for me anyway," she mused in the essay. "If that was hypocrisy or opportunism instead of genuine interest, it would further explain why an artist would feel the need to put his or her guard up."
She took further aim at the music producer, writing, "Who are you to say I didn't do enough? Most people are probably just hearing your name for the first time because you dropped MINE in an interview, controversially. Taking nothing away from your talent, but this is a fact."
"I appreciate everyone who was a part of [Miseducation], in any and every capacity," Hill wrote in conclusion. "It wouldn't have existed the way that it did without the involvement, skill, hard work, and talents of the artists/musicians and technicians who were a part of it, but it still required my vision, my passion, my faith, my will, my soul, my heart, and my story."
For Hill's full statement, visit Medium here.