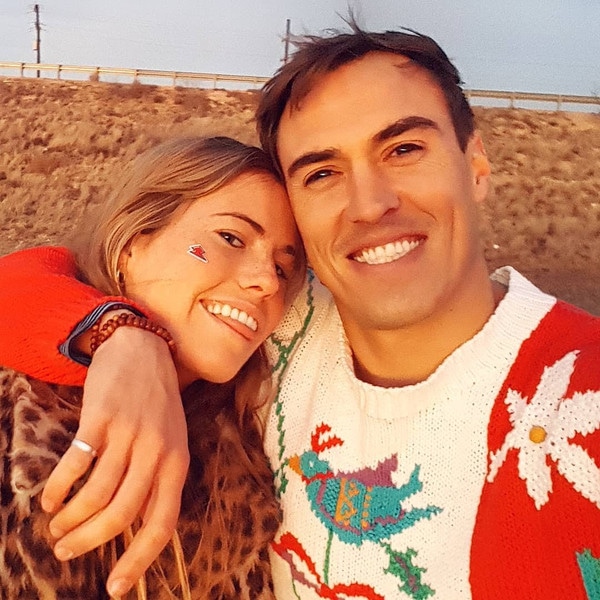 Instagram
It's the end of the road for Bachelor Winter Games fan favorites Lily McManus and Courtney Dober.
Both McManus and Dober announced their breakup in respective videos and lengthy posts on Instagram. McManus, who appeared on Season 3 of The Bachelor New Zealand shared a video of her now ex-boyfriend writing "Lily & Courtney were here" with a heart around it on a chalkboard. In her Instagram, she called Dober a "bloody good man" and "possibly the most high functioning man I have ever met for someone who has a diet of 98% street van tacos."
Their tributes to each other were filled with inside jokes and complete love for the other. The former Bachelor contestant said they broke up "on mutual terms."
Dober of The Bachelorette Australia fame, cited similar sentiments. "Lily and i have chosen not to end our relationship but to continue it as mates. We're best friends and its become clear to both of us that the emotional side of our relationship just doesn't allow us to be the best versions of ourselves," he wrote.
He mentioned that their getting together and crossing paths was fated. "I've always lived under the motto - 'Everything happens for a reason' and i have no doubt we were meant to meet," he said. Dober's video shows a conversation between them that fluctuates between serious and funny. He highlighted this moment because, "In my eyes this was the moment our relationship began, 8 months, 2 weeks and 2 days ago. Man time flies... I love ya kid."
McManus reflected those same feelings. She wrote in her Instagram, "I love Court with every ounce of my being, that long limbed f--k will be a part of my life for a very long time. You guys watched us fall in love and it was honestly just as magical as it looked in real life. I never thought I'd be the type of woman to fall in love on TV but now I am that b--ch."
In June, the couple celebrated their six-month anniversary. Dober posted a selfie of the two of them and said, "6 months with the crusty crab woman. Thanks for being the weirdest person I've ever met and making me feel remotely normal."
If their breakup feels like too much, just check out some Bachelor Nation shade directed at Bachelor in Paradise to ease the pain.