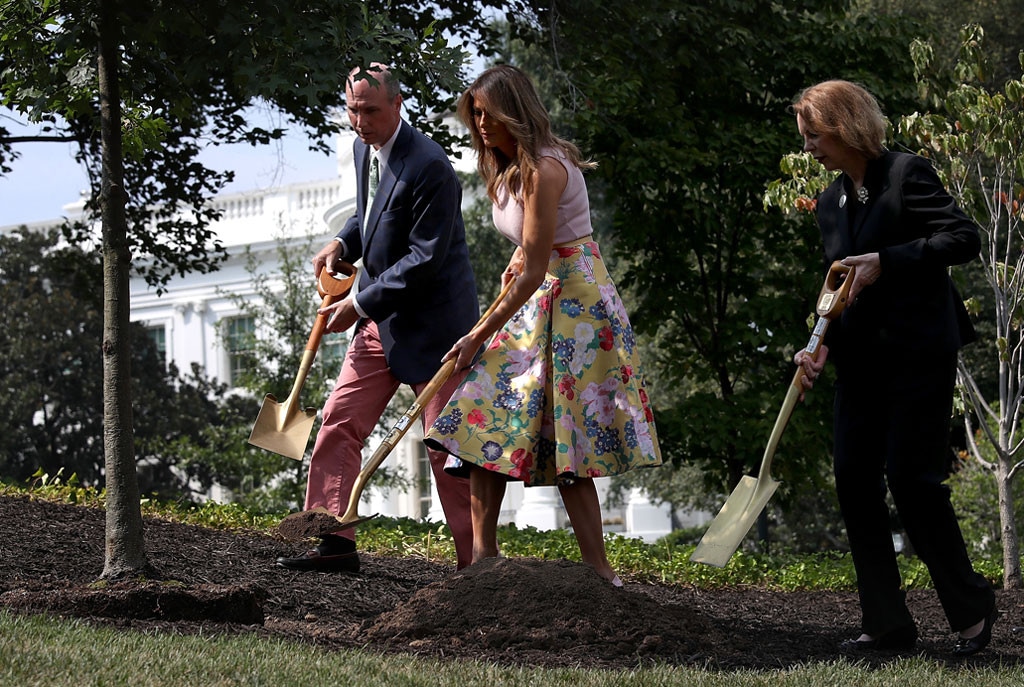 Win McNamee/Getty Images
First Lady Melania Trump planted a tree today at the White House and donned a floral print skirt while gardening.
Her yellow skirt with flowers on it came from Valentino's 2017 Resort collection, while her light pink shoes (that also matched her top) hailed from the house of Christian Louboutin. The First Lady shared a photo of herself planting the tree, which was reportedly a sapling from the Eisenhower Oak. She did the honors with descendants from other presidents as well.
The image of Melania standing on a dirt mound in stilettos immediately caught the attention of the Internet's favorite meme and reaction machine: Twitter. While some users praised her beauty and called her the "best first lady ever," others criticized her sartorial decisions.
Some people brought up one of Mrs. Trump's other clothing decisions that caused an uproar, namely her "I Really Don't Care, Do U?" jacket she wore while visiting immigrant children in Texas.
Overall, the Internet both poked fun at and praised the First Lady. "Yep that's how I dress when I garden," another tweet said. The reactions below signify just how polarizing her fashion choices are to many.
The First Lady and President welcomed President of Kenya Uhuru Kenyatta and his wife Margaret Kenyatta at the White House today. Mrs. Trump said she and the fellow First Lady spent time "discussing our shared concerns for children."