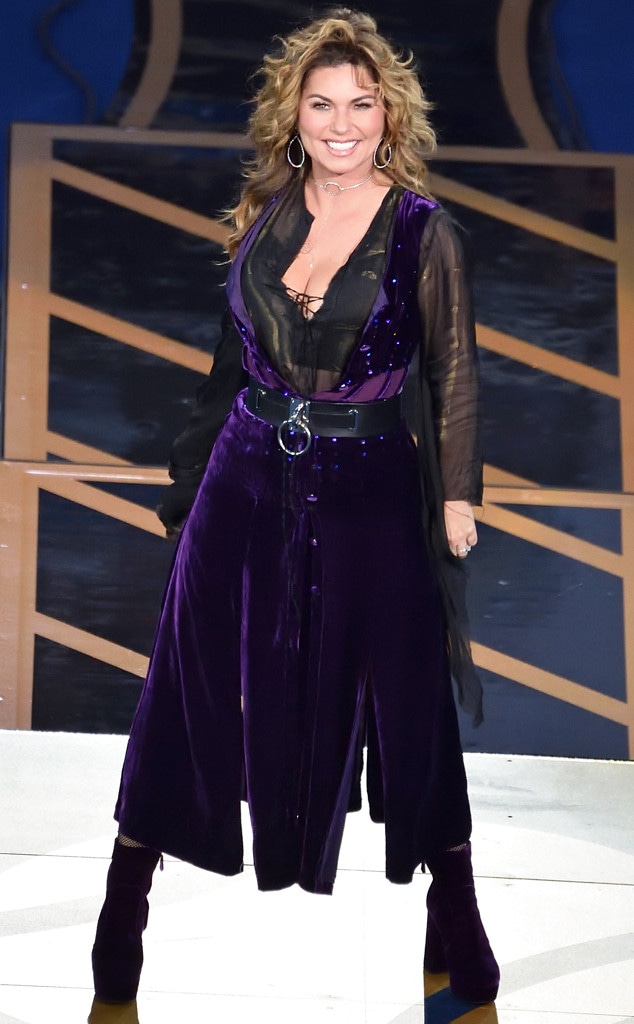 Ron Asadorian/Splash News
There's an old, sort of hack joke about country music that goes a little something like this:
What do you get if you play a country song backwards?
You get your dog back, you get your wife back, you get your job back...
It's a cliché, but as always, clichés exist for a reason. Country music, almost more so than any other genre of the form, is known for its spectacular exploration of the losses we endure in life; what they do to us, what we do after them, and what we would do if only we could turn back the clock to that time before.
If you tried to distill Shania Twain's life thus far into one of the songs her industry's best known for, even the creator of the most maudlin songs would look at you and wonder if you're pouring it on a little thick. That's because the superstar, whose celebrating her 54th birthday on August 28, has endured more loss in her half-century on this planet that most people will in their entire lives. And yet, she still became one of the best-selling and most enduring country artists of her time anyway.
How's that for survival?
To tell Twain's story properly, we must begin before anyone had ever even heard of her. Born Eilleen Regina Edwards in Windsor, Ontario in 1965, early life for the future superstar was not easy. Her parents, Sharon and Clarence Edwards, split when she was two, with Sharon moving her daughters to to Timmins, Ontario, leaving them to have no relationship with their father. She remarried Jerry Twain, an Ojibwa from the nearby Mattagami First Nation, who adopted Eilleen and her sisters Jill and Carrie Ann. Soon, half-brother Mark was brought into the world, followed by the adoption of Jerry's baby nephew Darryl, whose mother had died.
With that many mouths to feed, money was scarce. When you add in Sharon's depression and Jerry's alcoholism, things were often tense and violent. "I was worried about my father killing my mother," she recounted last year in an interview with The Guardian. "I thought they'd kill each other. My mom was quite violent, too. Many nights I went to bed thinking: 'Don't go to sleep, don't go to sleep, wait till they are sleeping.' And I would wake up and make sure everybody was breathing."
Despite the lack of food and the violence, which Twain admitted she was also the victim of in ways physical, psychological, and sexual, the young girl never turned her family in. "I did feel sorry for myself a lot as a kid," she told the publication. "It was either go to Children's Aid and get saved now or...I weighed it up and thought: 'If I go to Children's Aid, we'll all get separated,' and I just couldn't bear that, so we all stayed together for better or for worse."
Rather, she turned to music as means of escape, writing songs to distract herself from, well, everything. "Violent home. Tensions. Nothing to eat. When you're hungry you can't do anything about it but distract yourself from the hunger. And it really works," Twain admitted. "It's therapeutic. A lot of kids play with dolls and I played with words and sounds."
A clear talent, she began helping her family make ends meet by singing in bars at the tender age of eight. By 13, she'd performed on the CBC's Tommy Hunter Show and, after graduating high school in 1983, she made her way down to Nashville to record demos and take her career to the next level. And by 1987, it seemed like she was poised for a breakthrough when tragedy struck.
On November 1, 1987, Twain's mother and stepfather were killed in a car accident. With a sense of obligation and a clear desire to not see her family separated any further, she returned home to Timmins to take care of her younger siblings. And despite entertaining the idea of giving up her dream of singing all together—"I just didn't think I could do it all," she admitted in 2004 on the UK's Today with Des and Mel—there were still mouths that needed to be fed. So, she began performing at the nearby Deerhurst Resort to earn money, putting a pin in her dreams for six whole years, until all of her siblings were grown and living on their own.
For most, letting the wind out of their sails and stepping away from whatever minor momentum their nascent career had for over half a decade would be the end of their story. But Twain isn't most people.
Gareth Davies/Getty Images
She immediately got to work on recording a demo tape of her songs and soon after, a showcase was arranged for her to present her material to record execs. It worked. She was signed to Mercury Nashville Records in a matter of months. Around that time, she went about changing her name from Eilleen to Shania, which legend has convinced the world is an Ojibwa word for "on my way," despite there being little proof of its validity. An album, self-titled, was rushed to market that same year and though it failed to perform commercially, it garnered positive critical reaction, yielded a few minor hits, and caught the attention of producer Robert John "Mutt" Lange.
And then everything changed.
To give an idea of just how big a deal it was that Lange was showing interest in Twain's career, by 1993, he had produced the lion's share of legendary rock band AC/DC's hit albums in the late '70s-early '80s and had just co-written Bryan Adams' smash hit song "(Everything I Do) I Do It for You." He was a proven hit-maker with industry clout and he wanted to write for Twain. After many phone conversations, they finally met in person at Nashville's Fan Fair in July of that year. As they got the work writing music for her next album, the two grew closer and closer, falling in love quite quickly. They were married on December 28.
With Lange by her side as partner in life and in music, Twain's career soared to newer and newer heights. The Woman in Me was released early in 1995, netting the vocalist her first No. 1 of many on the Billboard Country Chart, a featured song on the Twister soundtrack, and a Grammy win for Best Country Album.
Two years later saw the release of Come On Over, an unforgettable album that unlocked for Twain the coveted pop crossover achievement thanks to hit singles like "You're Still the One," "Man! I Feel Like a Woman," and "That Don't Impress Me Much." The album stayed on the charts for two years, selling 40 million copies worldwide, making it the biggest-selling album of all time by a female musician, the eighth biggest-selling album by any type of artist, and the top selling country album in history. Four Grammys were won, a spot in the iconic line-up of VH1's first-ever Divas Live show was secured, and Twain's first-ever major concert tour was mounted.
After a bit of a break, during which time Twain and Lange welcomed son Eja (pronounced "Asia") D'Angelo into the world on August 12, 2001, the couple got back into the studio and her third album, Up!, was released in November of 2002. The album debuted at No. 1 atop the Billboard album charts, where it remained for five weeks. Twain headlined the Super Bowl halftime show the following January and spent the next handful of months touring.
And then the music stopped.
"I was on tour, so I almost fell off the stage every night," she recalled in a 2017 interview with the CBC. "I was very, very dizzy and didn't know what was going on. It's just one of those things you don't suspect." Though she kept it under wraps at the time, Twain had contracted Lyme disease from a fateful tick bite. And the Lyme disease, in turn, led to the development of dysphonia, a disorder that causes the constriction of the muscles around the vocal cords. Suddenly, one of the world's most popular vocalists could no longer sing, forcing Twain into extensive speech therapy and vocal training. 
"It's difficult work," she said. "It's like dealing with an injury. I'm just glad that it's not my heart or my kidneys or something like that. At least I can do something about it."
While Twain would keep her fans in the dark about her physical woes until much, much later, she couldn't hide the emotional troubles that came her way a few years later when, in 2008, she and Lange abruptly separated. As it turned out, he'd been carrying on an affair with Twain's best friend and personal assistant, Marie-Anne Thiébaud. Twain learned of the affair from Thiebaud's husband, Frederic. 
"It was Easter time, and we were two families spending the holidays together, is what I thought," she told Ellen DeGeneres on Ellen in 2011. "Fred and I did not have a one-on-one relationship at all. It was quite a formal relationship, really. He didn't have my personal phone number, for example, but he found out how to reach me. He said, 'I need to talk to you about Mutt and Marie-Anne. Can I come and see you?' He just basically explained that, 'I'd been waiting for a few weeks to tell you, I'd been hoping that they would tell you themselves, and I think you need to know,' and then he told me."
"For the first week after finding out about the affair, I was ready to die," Twain wrote in her 2011 book, From This Moment On. "To go to bed forever and never wake up. Or to hurt someone. I was ready to do something desperate. But in reality, there was nothing to do but to suffer through it. Fortunately when you're a mom, the responsibility of caring for your child can keep you going."
With fans still in the dark about her debilitating Lyme disease, Twain finally addressed the absence of new material in June of 2009, explaining that life had just gotten in the way. "Since then, I've been inspired by my pain to write and use writing as a therapy through the suffering," she wrote in a letter to fans on her website. "I truly wouldn't wish this on anybody as a means to get inspired, but it's been a productive period with so much emotion trying to find its way out. However, there is no telling how long it will take me to actually finish these songs and record them so they can get out to you."
Todd Williamson/January Images/Shutterstock
While Twain was mourning the death of her marriage and the potential end of her career, she relied on her past traumas to help her through. "I started peeling back the layers of pain I was in and all the other griefs and disappointments and challenges came to the surface," she told The Guardian. "And I thought: 'I've been through worse and it's time to put it all into perspective.' When my parents died, I experienced a much deeper grief than even the betrayal. I was just out of myself. When you add shock to grief, it does crazy things to your mind. And that really helped me through – this was not nearly as bad as my parents dying. I survived that and I don't want to give this so much credit."
It didn't hurt that slowly and somewhat unbelievably, she and Frederic were falling in love themselves. And for Twain, it was a much different sort of love than the one she'd once shared with Lange. "It's a passionate love on every level. I used to be very monotone in my relationships," she said, noting that her previous passivity had gone out the window. "Poor Freddy pays the price, because I'm like: If I'm ever getting married again, this is me. I don't think Mutt ever knew me. That's the difference."
They announced their engagement on December 20, 2010 and were married on New Year's Day. And as she sees it, she and her new husband came out on top. "Absolutely. We are happier individuals, even without each other," she said. "We are way more confident in our own selves."
With her love life back on track, it was time to mount a comeback. In 2011 alone, she released her memoir, chronicled her fight against both heartbreak and the dysphonia in an OWN reality series Why Not? with Shania Twain, returned to the stage at the CMA Music Festival in Nashville, released a new single, and announced a Las Vegas residency, Shania: Still the One, to begin at the end of 2012. Following her two-year residency in Sin City, she embarked on a world tour. The only thing still missing? A new album.
Despite the clear demand for new material from the artist, the time away and the absence of Lange, who'd been so clearly instrumental in shaping her sound and fostering her success, only amplified the pressure. After being away for so long, a return had to be grand. And, for Twain, it had to ignore her earlier discography entirely. "I told anyone getting involved musically to forget about my other records," she told Rolling Stone in 2017. "I didn't want it to be related to Mutt's productions at all. I wanted a more organic approach."
To achieve that, she set out to write every single track herself, reflecting on the "darkness" she'd endured. "It needed to be really pure and my own story and my own emotional journey," she told the publication. "I was now alone all of a sudden, and I didn't want to shy away from it. And that's not a collaborative thing; it's a very personal thing."
After many stops and starts, much heartbreak and what felt like an eternity—15 years is a long time in the music industry—Now was finally released on September 29, 2017. It debuted at No. 1 on the Billboard 200. Clearly, her fans hadn't gone anywhere. 
With a second Las Vegas residency set to kick off in December and a role in the 2020 Jeremy Camp biopic I Still Believe, it's evident that this comeback is only just getting started, however markedly different the artist taking the stage night after night may be. "I'm a different singer now," she admitted in that Rolling Stone interview. "There was a lot of coming to terms with that. It's been one of the obstacles in my life I've just had to learn to live with."
In her 54 years, Twain has had to learn to live with a lot. More than most should ever have to. But hers is one country song that does the unthinkable: It somehow found its way to a happy ending. Imagine that.
(This story was originally published on August 28, 2019 at 9:15 a.m. PT.)