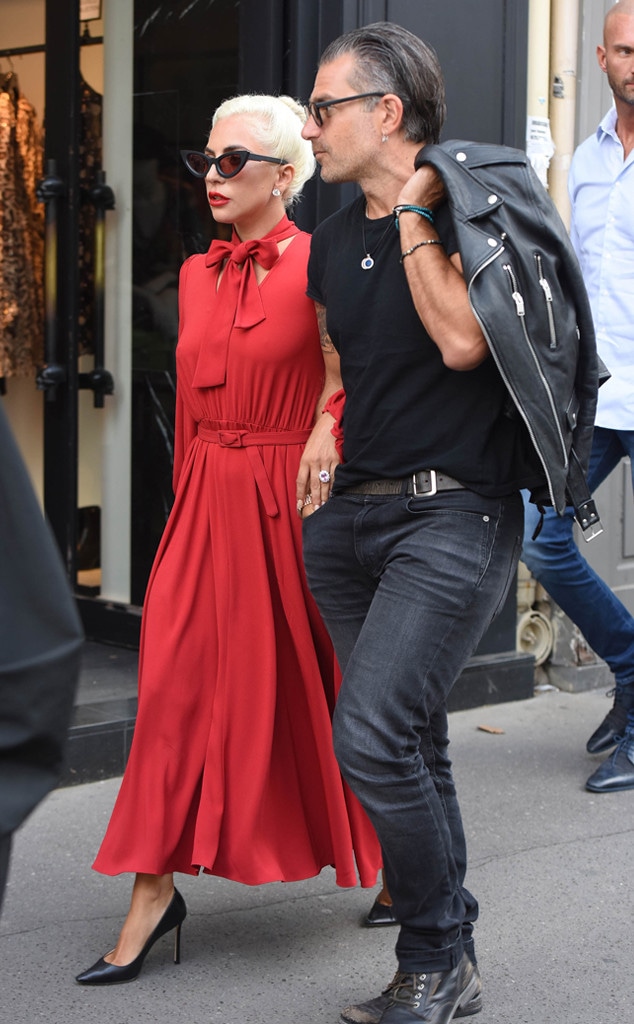 INSTARimages.com
There's no such thing as a "Bad Romance" when it comes to Lady Gaga and Christian Carino. 
The lovebirds, whose relationship first made headlines a year and a half ago, arrived in Paris on Monday for what's surely a romantic rendezvous before next week's 2018 Venice Film Festival. In just a few short days, Gaga will be joined by co-star and director Bradley Cooper for the premiere of their upcoming film remake of A Star Is Born. 
For their latest outing, the pop sensation channeled the glitz and glam of Old Hollywood by wearing a red midi dress from CO's Fall/Winter 2018 collection. She accessorized the retro-inspired ensemble with Lorraine Schwartz earrings, a pair of sunnies from Kuboraum and a black leather Balenciaga handbag. Gaga swept her newly dyed platinum blonde tresses into a sophisticated 'updo. 
Meanwhile, Carino stayed true to his rocker roots in a leather jacket and moto boots. 
Gaga documented her many style moments on Instagram, including one that featured a a fierce Alexander Wang trench coat. The "Million Reasons" songstress delivered some major Matrix vibes in the snakeskin number, which she complimented with a leather choker and rectangular sunglasses.  
Come Aug. 31, Lady Gaga will step out alongside the Italian coastline for her Venice Film Festival debut. 
Aside from the eyes on what's sure to be many showstopping outfits, film critics and pop culture fanatics alike will be looking forward to seeing Gaga on the big screen. 
In a recent interview with Entertainment Weekly, the 32-year-old revealed she and Cooper's onscreen chemistry sparked instantly. "Before I knew it," Gaga explained, "I was making him spaghetti and meatballs. It felt right. I was really kind of willing to do anything to show the studio and to show him that I had what it took to play this role."