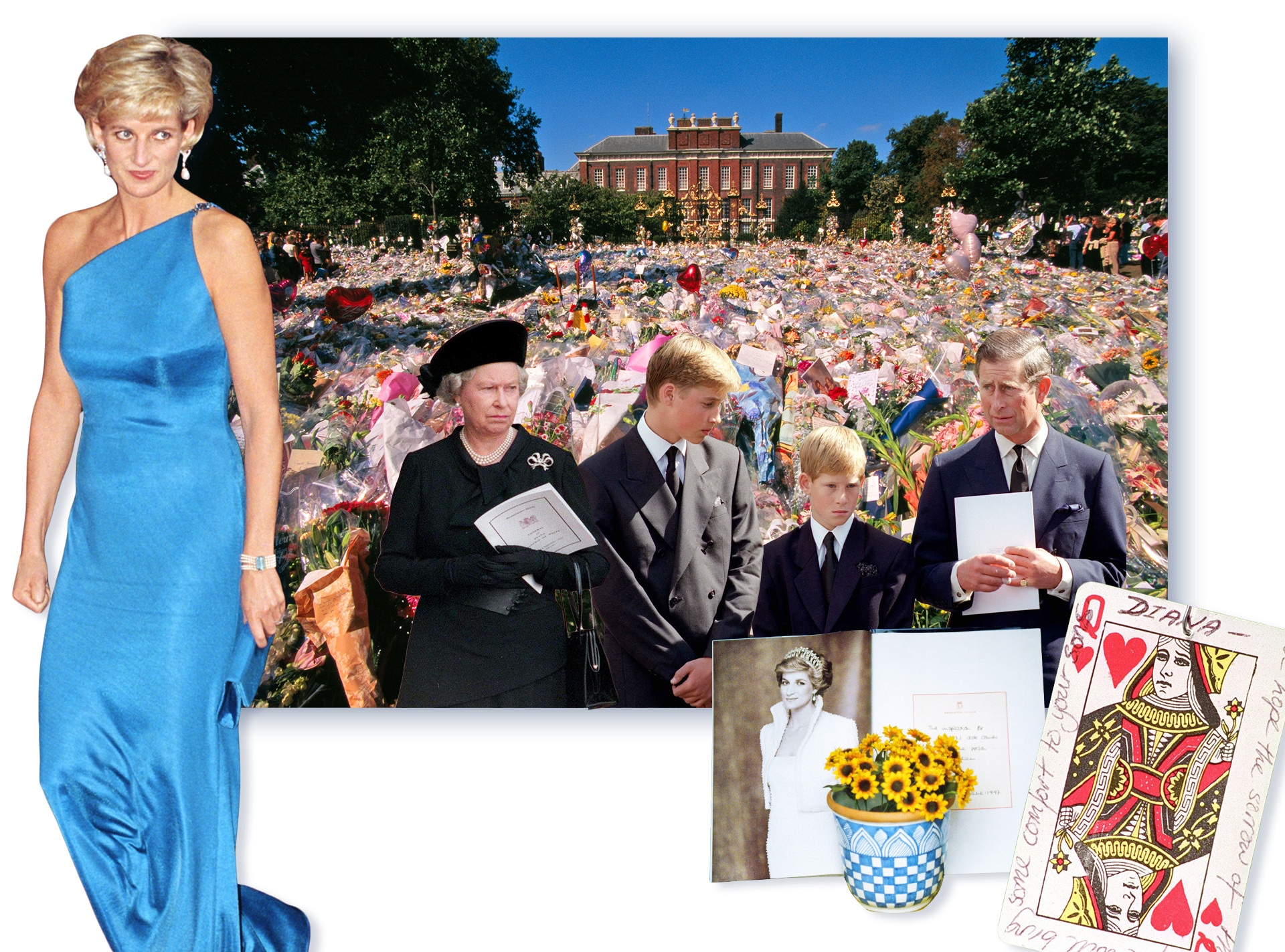 Getty Images; Melissa Herwitt/E! Illustration
Kensington Palace has belonged to Britain's royal family for 400 years, and has its share of ghosts.
Most palpably, however, it remains imbued with the spirit of one of the most famous figures of the 20th century—an essence that will linger at least as long as the descendants of the late Princess of Wales continue to make her former home their own. Or for so long as there are people around to remember her, to contribute pieces to the not altogether solved puzzle that is her story.
And earlier this summer, on July 1, what would have been her 60th birthday, a statue of Princess Diana began standing sentry in the palace's Sunken Garden.
It's been 24 years since Diana was killed in a car crash at only 36 years old, leaving behind a complex legacy that represents different things to different members of a family that had no choice but to carry on and put up a strong front in her wake.
To many, any reservation of feeling was seen as disrespectful, an affront to Diana, who in life was dubbed "the People's Princess" because of the effortless way she connected with a country that often found the royals lacking in substance and relatability, even as she struggled to find solid footing in the family she had married into and then, in their eyes, crossed in myriad ways.
At the time, the queen's unemotional—or at least inadequately emotional—behavior in the days immediately following Diana's death was one of the rare charges against the monarch that actually stuck in the court of public opinion. There has always been a faction that's fed up with the royals, and the family will forever have its critics, but that time in 1997 remains one of Queen Elizabeth II's few serious fumbles in the now 68 years she's been on the throne.
"SHOW US YOU CARE," screamed one of the tabloid headlines.
But while domestic morale is her stock in trade, the queen did have more important things to think about right away when her private secretary called her at Balmoral Castle in Scotland in the middle of the night to inform her about the crash in Paris. The queen was in such disbelief that she mused out loud, "'Someone must have greased the brakes,'" royal biographer Ingrid Seward reported in her 2015 book The Queen's Speech: An Intimate Portrait of the Queen in Her Own Words.
Watch:
Princess Diana's Lasting Legacy Lives on Through Her Sons
Diana was pronounced dead at 3 a.m., British Summer Time, on Aug. 31, 1997. Prince Charles, also at Balmoral with sons Prince William and Prince Harry, was told at 4:30 a.m. by the queen's private secretary (and Diana's brother-in-law) Robert Fellowes—following Fellowes' call to Pitié-Salpêtrière hospital for an update—that the princess had succumbed to her injuries.
"He was absolutely distraught. He fell apart," Tina Brown, author of The Diana Chronicles, said in the 2017 TV documentary Diana: 7 Days That Shook the Windsors. "He knew, instantly, that this was going to be a terrible thing, that...he will be blamed, that they will be blamed, for the death of Diana."
"They," meaning the royal family.  
The National Grid reported a record power surge, caused by the turning-on of televisions and, simultaneously, electric kettles, to make consolatory cups of tea. Broadcasters played the British national anthem every hour. And almost immediately, the waiting began for the royal family to release a statement—as well as their surely imminent return to Buckingham Palace.
But Scotland was where the queen remained, with Diana's sons, while London erupted in grief.
John Stillwell - PA Images via Getty Images
British Prime Minister Tony Blair addressed reporters that morning from his home constituency in County Durham, saying he was "utterly devastated," like the rest of the country. "Our thoughts and prayers are with Princess Diana's family, in particular her two sons, the two boys," he said, clasping and unclasping his hands together in front of him.
"Our hearts go out to them. We are today a nation, in Britain, in a state of shock, in mourning, in grief that is so deeply painful for us." Blair paused. "She was a wonderful, and a warm, human being. Though her own life was often sadly touched by tragedy, she touched the lives of so many others, in Britain, throughout the world, with joy and with comfort. How many times should we remember her, in how many different ways? With the sick, the dying, with the children, with the needy—when with just a look, or a gesture that spoke so much more than words, she would reveal to all of us the depth of her compassion and her humanity."
"You know how difficult things were for her from time to time, I'm sure we could only guess at, but the people everywhere—not just here in Britain, everywhere—they kept faith with Princess Diana. They liked her, they loved her, they regarded her as one of the people. She was the 'People's Princess.' And that's how she will stay, how she will remain, in our hearts and in our memories, forever."
In hindsight, it was a surprisingly emotional and personal public display from the leader of a nation that, as astutely or comically pointed out by many Brits themselves, isn't known for its outward warmth. Blair had only been prime minister for four months, and all eyes were on how he would handle his first major crisis.
Behind the walls at Balmoral, meanwhile, Charles and the queen had decided not to break the news to William and Harry until they woke up in the morning.
Jayne Fincher/Princess Diana Archive/Getty Images
Charles, who was almost 13 years Diana's senior and who had only been alone with her a handful of times when they married on July 29, 1981, was caught in a precarious predicament when it came to mourning the death of his ex-wife.
They had been officially separated since 1992 (the queen's "annus horribilis") and their divorce had just been finalized in 1996. In the process, Diana remained the Princess of Wales, but was no longer Her Royal Highness; she maintained her residence at Kensington Palace and access to the royal airplane and rooms at St. James's Palace for entertaining, while Charles resided primarily at Highgrove, his Gloucester estate (Clarence House didn't become his official London residence until 2003). They agreed on equal access to the children.
Meanwhile, Charles immediately wanted to take the royal aircraft to Paris to claim Diana's body. The queen initially said no, according to Diana: 7 Days That Shook the Windsors; Charles convinced her it was the right thing to do. Harry wanted to go with him, but his father didn't think the 12-year-old should have to bear the ordeal.
"One of the hardest things for a parent to have to do is tell your children that your other parent has died. How you deal with that, I don't know," Prince Harry reflected in the 2017 BBC documentary Diana, 7 Days, another of the numerous specials and retrospectives that marked the 20th anniversary of Diana's death that year, but one of few made with the cooperation of her immediate family. "But he was there for us. He was the one out of two left. And he tried to do his best and to make sure that we were protected and looked after. But he was going through the same grieving process as well."
Harry and William accompanied the queen to church that Sunday morning, as routine dictated, and under the royal family's direction there was no mention of Diana during the service.
Charles went to Paris with Diana's sisters, Lady Sarah McCorquodale and Baroness Jane Fellowes. On their way back to the airport, following the hearse carrying Diana's casket, Charles reportedly said in the car to Michael Jay, the British ambassador to France, "It all seems unreal."
Charles' instincts of how Diana should be treated in death were spot-on, but it wasn't long before the royals' stock took a dive in the devastated public's eye, as it became clear that the queen wasn't rushing back to London. Instead, she and Prince Philip were trying to keep William and Harry occupied. Visitors such as Mabel Anderson, Charles' long-retired nanny; the boys' former nanny Tiggy Legge-Bourke; and Princess Anne, who had brought her children, then-19-year-old Peter and 16-year-old Zara Phillips, also rushed to Balmoral to support the princes. 
"At the time, you know, my grandmother wanted to protect her two grandsons, and my father as well," Prince William, who would later propose to Kate Middleton with his mother's sapphire and diamond engagement ring, also remembered in the BBC film. "Our grandmother deliberately removed the newspapers, and things like that, so there was nothing in the house at all. So we didn't know what was going on."
UK Press via Getty Images
Not long before she died, William had argued with Diana after paparazzi photos were published of her and Dodi Fayed frolicking on the Al Fayed family's yacht. The 15-year-old, who had vacationed with his mother and brother at Dodi's St. Tropez home, wasn't a fan. He reportedly hadn't been interested in getting to know his father's longtime paramour, Camilla Parker Bowles, at the time, either. 
In retrospect William was thankful to have had "the privacy to mourn, to collect our thoughts, and to just have that space away from everybody." When they eventually returned to England, father and sons made the unprecedented move of flying together, usually a no-no for two future kings, but the queen approved the unorthodox travel arrangements. Regarding the queen, William said, "She felt very torn between being the grandmother to William and Harry, and her queen role. And I think she—everyone—was surprised and taken aback by the scale of what happened and the nature of how quickly it all happened."
But the fissures that had been forming since even before Charles and Diana's separation were about to bust wide open.
"This is not the time for recriminations, but for sadness," Diana's brother, Earl Charles Spencer, said in a televised statement from his home in South Africa—where Diana had even briefly contemplated moving to follow through with her plan (revealed to a Daily Mail reporter in a phone conversation hours before her death) to retreat from public life.
"However," Spencer continued, "I would say I always believed the press would kill her in the end." No less than every editor and publisher who'd profited from ill-gotten photos of Diana "has blood on his hands today."
"She had a very tetchy relationship with the media," her onetime press secretary Jane Atkinson told Vanity Fair in 2013. "There was a lot of mistrust about the information they received from her, and a lot of rivalry for stories."
Diana had mainly been trying to keep them off the scent, ultimately to no avail, of her romance with heart surgeon Hasnat Khan, whom she started dating in September 1995 and was said to still be in love with when she also seemed to be on the verge of getting engaged to Dodi Fayed—when really she'd only been dating the Harrods heir for six weeks and wasn't particularly serious about the flashy billionaire's son, according to people close to her.
Before they fatefully ended up at the Ritz in Paris on Aug. 30, Dodi took her to another of his family's properties—the former Windsor villa in the Bois de Boulogne. But Diana was in no mood to commune with the spirit of the twice-divorced Wallis Simpson.
JACQUES DEMARTHON/AFP/Getty Images
"I think one of the hardest things to come to terms with is the fact that the people that chased her, into the tunnel, were the same people that were taking photographs of her while she was still dying in the backseat of the car," Prince Harry also grimly observed in Diana, 7 Days.
He was a couple weeks shy of his 13th birthday when his mother died, and in recent years he has opened up to an unprecedented extent about the anger issues he suffered as a result of the trauma (he rather understandably scuffled with the paparazzi when he was 20 on one of the many occasions they swarmed him outside a nightclub), and how they went unaddressed for over a decade until he sought counseling. 
After she died, any animosity that the press or the people (some of whom had lost their illusions once Diana confirmed that Charles wasn't the only one who strayed in their marriage) ever felt toward Diana in the last couple years of her life went out the window, instantly replaced by antagonism toward the royal family over their chilly response to the tragedy.
With bouquets and makeshift tributes carpeting the grass outside Kensington Palace and people visibly weeping in the streets—while the Royal Standard flag at Buckingham Palace remained stubbornly absent (it's not usually raised to any height, including half-mast, when the queen isn't there)—there was no love lost for the absent family.
Jeff Overs/BBC News & Current Affairs via Getty Images
The backlash was felt in Balmoral, so on Thursday, Sept. 4, the queen dispatched her press officer to publicly defend the family in a televised statement, to let the people know that they were "hurt" by suggestions that they were "indifferent" to the nation's sorrow. The priority was caring for William and Harry, the statement insisted. 
At the same time, the queen relented with regard to the flag, allowing the Union Jack to fly, not just at half-mast, but at Buckingham Palace for the first time ever. Charles' younger brothers, Prince Andrew and Prince Edward, were asked to go to Buckingham Palace and visibly walk by the increasingly impatient crowd milling outside.
That evening, William and Harry, with their father and grandparents, ventured outside the Balmoral gates for the first time all week to see the pile of flowers and messages left outside.
The family finally returned to London on Friday, Sept. 5, the day before the funeral and a day earlier than planned—and the monarch proceeded to level with her subjects as best as she could in her first live broadcast in 50 years.
"Since last Sunday's dreadful news, we have seen throughout Britain and around the world an overwhelming expression of sadness at Diana's death," Queen Elizabeth II, dressed in black, said in a national televised address from Buckingham Palace. "We have all been trying in our different ways to cope. It is not easy to express a sense of loss, since the initial shock is often succeeded by a mixture of other feelings—disbelief, incomprehension, anger and concern for those who remain. We have all felt those emotions in these last few days. So what I say to you now, as your queen and as a grandmother, I say from my heart."
The royal continued, "First, I want to pay tribute to Diana myself. She was an exceptional and gifted human being. In good times and bad, she never lost her capacity to smile and laugh, nor to inspire others with her warmth and kindness. I admired and respected her—for her energy and commitment to others, and especially for her devotion to her two boys. This week at Balmoral, we have all been trying to help William and Harry come to terms with the devastating loss that they and the rest of us have suffered."
"No one who knew Diana will ever forget her. Millions of others who never met her, but felt they knew her, will remember her."
The queen remained perfectly composed, but tenderness could be heard in her otherwise measured tone.
Ian Stewart/REX/Shutterstock
She also expressed appreciation on behalf of their entire family for the outpouring of support, and said she hoped the following day would be one of togetherness as the nation united in spirit to pay its respects to the people's beloved princess.
Neither son initially wanted to walk behind his mother's casket in the funeral procession to Westminster Abbey, but their grandfather Prince Philip—who, like his wife, also had a complicated relationship with Diana when she was alive—encouraged it.
"If you don't walk, you may regret it later," he told William, according to Sally Bedell Smith's 2017 biography Prince Charles: The Passions and Paradoxes of an Improbable Life. "I think you should do it. If I walk, will you walk with me?"
William and Harry solemnly joined Philip, their father and their uncle Charles in the procession as it passed St. James's Palace, making for one of the most memorable news images of all time.
"I don't think any child should be asked to do that under any circumstances. I don't think it would happen today," Prince Harry told Newsweek in 2017. But he also said in Diana, 7 Days that he was "glad" to have done it, whether it was right or wrong.
"But I have to say," William added, "when it becomes that personal as walking behind your mother's funeral cortege, it goes to another level of duty."
Charles Spencer told BBC Radio 4 in 2017 that he had objected strongly to the idea of his nephews taking that long, public walk, calling it a "very bizarre and cruel" thing to be asked to do. "Eventually I was lied to and told they wanted to do it, which of course they didn't but I didn't realize that," he said. 
"It was truly horrifying, actually," he further recalled. "We would walk a hundred yards and hear people sobbing and then walk round a corner and somebody wailing and shouting out messages of love to Diana or William and Harry, and it was a very, very tricky time." 
Also on that day, Spencer memorably seized the opportunity to unload in no uncertain terms on the forces that, from his perspective, had unofficially collaborated to wring the life out of his sister.
In the eulogy he delivered at Westminster Abbey, Spencer said, "It is a tribute to her level-headedness and strength that despite the most bizarre life imaginable after her childhood, she remained intact, true to herself...I don't think she ever understood why her genuinely good intentions were sneered at by the media, why there appeared to be a permanent quest on their behalf to bring her down. It is baffling."
"My own and only explanation is that genuine goodness is threatening to those at the opposite end of the moral spectrum. It is a point to remember that of all the ironies about Diana, perhaps the greatest was this: a girl given the name of the ancient goddess of hunting was, in the end, the most hunted person of the modern age. She would want us today to pledge ourselves to protecting her beloved boys, William and Harry, from a similar fate and I do this here, Diana, on your behalf. We will not allow them to suffer the anguish that used regularly to drive you to tearful despair."
The Spencers would respect royal tradition, he continued, but Diana's "blood family" would "do all we can to continue the imaginative and loving way in which you were steering these two exceptional young men, so that their souls are not simply immersed by duty and tradition, but can sing openly as you planned."
Antony Jones/Julian Parker/UK Press via Getty Images
Spencer told BBC Radio 4 that somebody he knew very well asked the queen what she thought of his speech and she had replied, "'He had every right to say whatever he felt. It was his sister's funeral.' So that's all." (Tina Brown speculated in The Diana Chronicles that Spencer was trying to exorcise his own guilt, knowing Diana had been mad at him when she died for not giving her a cottage at Althorp—the Spencer family homestead where she was eventually buried—during her most embattled times.)
The queen's public words about Diana were sincere, as a private letter to her aide Lady Henriette Abel Smith—made public in 2017—that she wrote after the funeral seems to confirm. "It was indeed dreadfully sad, and she is a huge loss to the country," the queen wrote. "But the public reaction to her death, and the service in the Abbey, seem to have united people round the world in a rather inspiring way. William and Harry have been so brave and I am very proud of them." She was replying to a message from Smith, adding, "I think your letter was one of the first I opened—emotions are still so mixed up but we have all been through a very bad experience!"
After the funeral, which was reportedly watched by an estimated 2 billion people around the globe, Charles and his boys sought privacy at Highgrove House, and the Prince of Wales made no appearances for two weeks.
In the meantime, the natural progression of Charles and Camilla's relationship, then only recently out in the open despite being no secret beforehand, was delayed for months by Diana's death. Charles admitted a year later, according to Bedell Smith, that, while deeply upset himself, he was startled by the public outpouring of grief, saying, "I felt an alien in my own country."
That was one of those famous stiff upper royal lips talking. But Charles has always been known as a more demonstrably sensitive sort than either of his parents, and when he returned to the public eye two weeks after the funeral, his response to a well-wisher who told him to "keep [his] chin up" was to say, "That's very kind of you, but I feel like crying." As images of him as a doting single father began to emerge in the ensuing months, the public's impression of Charles—always the villain when it came to his dysfunctional relationship with Diana—steadily became more favorable.
Anwar Hussein/Getty Images
At the same time, a schism formed between Charles' camp and the rest of his family, according to Bedell Smith, in that the Prince of Wales' deputy private secretary at the time, Mark Bolland, was quietly making sure that reporters heard that the queen hadn't want to send the royal plane for Diana's remains, or give her a public funeral.
The queen's press office issued a rebuttal statement denying she had ever opposed her son on those plans. A Palace source told the Daily Telegraph, "This is not a game where one member of the royal family gets more credit than the other." Mother and son's relationship wouldn't thaw out for awhile, due to her tacit disapproval of Camilla—communicated in instances such as the queen and Philip skipping the 50th birthday party Camilla threw for Charles at Highgrove in November 1998.
But on a more expansive front, the world seemed to be warming to Charles. As part of his overall mission to mend fences with his public, Charles and the other Charles, Diana's brother, also seemingly buried the hatchet during a trip the Prince of Wales took to South Africa with Harry in November 1997, when Spencer stood up and applauded his ex-brother-in-law's remarks during a state banquet hosted by Nelson Mandela, their first time seeing each other since the funeral.
"The bonds between our peoples, of which I have spoken, demonstrated themselves most clearly after the tragic and untimely death of Diana," Prince Charles said in his address. "I would like to take this opportunity to convey my sons' and my own gratitude to all those South Africans who took the time and trouble to express there condolences."
After the event, Earl Spencer said in a statement, "I have an understanding relationship with the Prince of Wales. My family is united in doing everything we can to help in the raising of William and Harry."
Queen Elizabeth II, now 95 and the longest-reigning British monarch ever, remains the most popular member of the royal family—but there was a lot to unpack after the days when outwardly it looked as if she might be taking Princess Diana's death in stride.
Helen Mirren won an Oscar for her portrayal as the conflicted royal in Peter Morgan's 2006 film The Queen, and then added a Tony to her trove for playing QE2 again on Broadway in The Audience, about the queen's interactions with a dozen British prime ministers over the years.
Heaven knows what the queen really thinks.
"I've met the queen on a couple of occasions—usually, quite public occasions with a lot of other people there—and she has always been incredibly gracious, but she never mentions my playing her," Mirren told Playbill in 2015. "I think that's absolutely appropriate. 
"The royal family—and the queen, in particular—have always very liberal because we come from a country that has free speech. There have been films mocking them and suggesting they were Nazis and abusing them in all kinds of different ways, and, through it all, they have never said a word. They just let that happen. They don't defend themselves. They don't say anything. In a sense, it's not their role to critique that particular world. Likewise, it applies to a film that I know was appreciated by the people around the queen—but the queen herself would never say anything."
In The Queen, Prime Mister Tony Blair (played by Michael Sheen) calls the queen at Balmoral and asks her if she doesn't think that an immediate return to London would be in the people's best interest.
"I doubt there is anyone who knows the British people more than I do, Mr. Blair, nor who has greater faith in their wisdom and judgement," Mirren's queen replies. "And it is my belief that they will any moment reject this... this 'mood,' which is being stirred up by the press, in favor of a period of restrained grief, and sober, private mourning. That's the way we do things in this country, quietly, with dignity. That's what the rest of the world has always admired us for."
Count just how wrong the queen was on that occasion as another way in which Diana forever changed what it meant to be a royal.
(Originally published Aug. 31, 2018, at 3 a.m. PT)