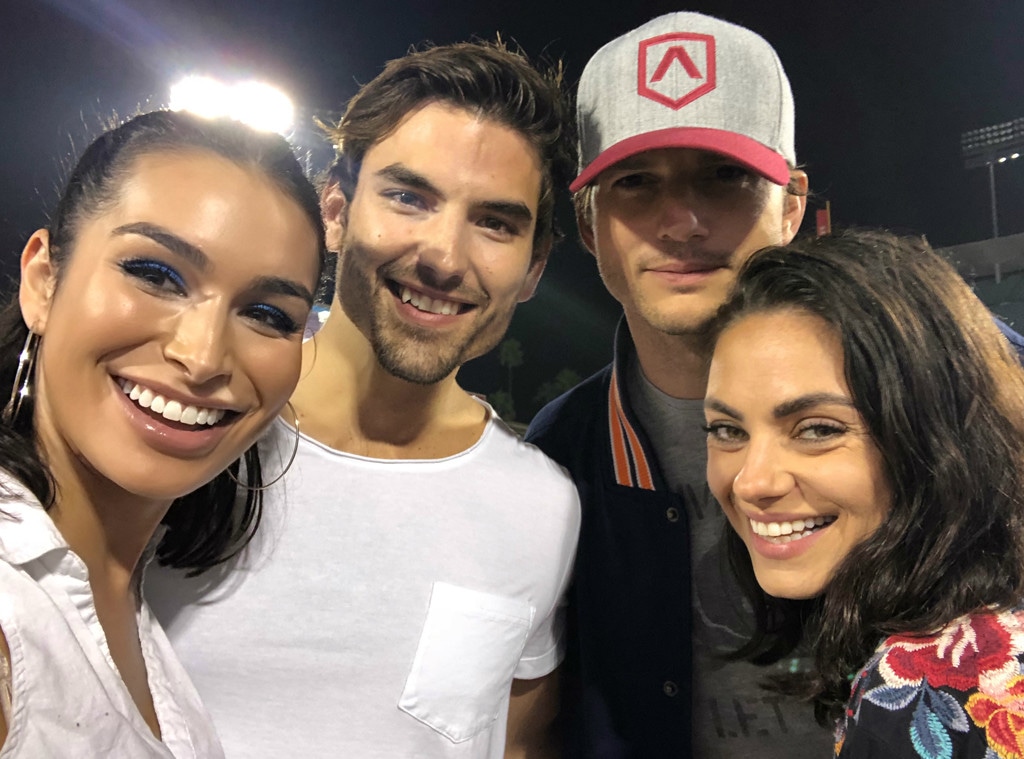 Courtesy of Los Angeles Dodgers
Jared Haibon has finally met his doppelgänger Ashton Kutcher.
On Sunday, the Bachelor in Paradise star posted a picture of him smiling next to his celebrity look-alike on Instagram. The photo, which was snapped at Clayton and Ellen Kershaw's sixth annual Ping Pong 4 Purpose charity event, also featured Haibon's fiancée, Ashley Iaconetti, and Kutcher's wife, Mila Kunis.
Fans have noticed an uncanny resemblance between Kutcher and Haibon for years.
"In 2015, Ashton Kutcher tweeted a side by side photo of our faces," Haibon captioned the photo. "In 2017, he said he got into watching The Bachelor because a guy named Jared looked like him. In 2018, we met and bonded over marrying our best friends."
Haibon's timeline was certainly accurate. In 2015, back when Iaconetti and Haibon were on season two of Bachelor in Paradise, Kutcher tweeted a picture of him standing next to a TV still of Haibon's face.
"I'm trying to figure out why mila is making me take this picture," he wrote at the time. "@ashleyiaco who are you? And who is this guy?"
The striking similarity caught Kutcher's attention and, in 2017, he admitted The Bachelor programs were his "guilty pleasure." 
"Monday nights for us are...white wine, vodka tonic and turn on The Bachelor or Bachelorette," he said on Good Morning America. 
In fact, Kutcher and Kunis even appeared on an episode of The Bachelorette during Rachel Lindsay's season.
Kutcher and Haibon share more than their looks. Even their love stories are somewhat similar.
While Kutcher and Kunis didn't find love through the Bachelor franchise, their relationship did start on TV. Both celebs appeared on the hit sitcom That 70's Show. Even though their characters dated, the two were just friends and both found love with other people. Kunis started dating Macaulay Culkin in 2002, and Kutcher started dating Demi Moore in 2003. It wouldn't be until about a decade later that the two would call it quits with their significant others and find romance with each other. They've now been married for over three years.
Similarly, fans watched Iaconetti and Haibon's roller coaster romance play out over two seasons of Bachelor in Paradise. While the two weren't able to make it work during the actual program, they found a lasting love after the show and are now engaged.