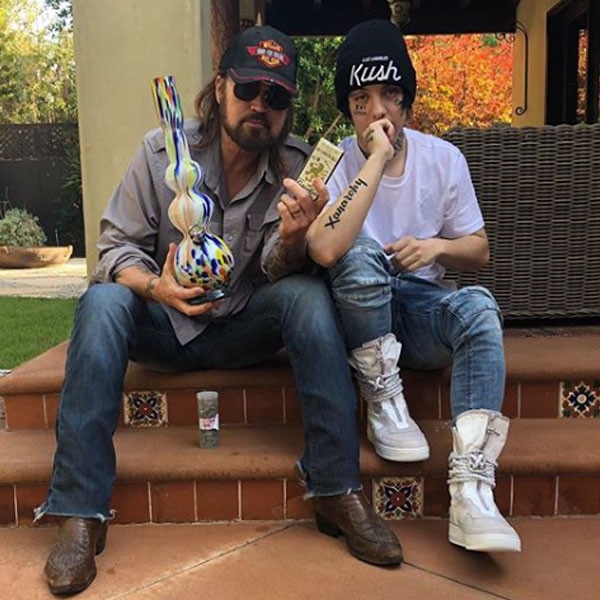 Instagram
Here's a headline you don't see every day. 
Billy Ray Cyrus celebrated his 57th birthday on Saturday and, as such, the country crooner celebrated his special day with his longtime wife Tish Cyrus and some of their famous kids, among them Noah Cyrus and her new boyfriend, Lil Xan. 
The birthday festivities included quality time at home with the fam, blowing out the candles on his birthday cake and...being gifted a birthday bong by his daughter and her new boyfriend. "Happy Birthday Daddy!" the songstress wrote on social media along with home video of their gathering. "(The bong was my gift to him)," she noted. 
"Thank you for showing me the meaning of true love! youre the King of my world forever. i love you sooo much," the star continued online in tribute to her famous father. 
It seems her 21-year-old rapper beau was feeling at home with the Cyruses. "Had to get dad a present ya dig !" he captioned a photo of him with Billy Ray and the bong. "Happy B Day."
Watch:
Lil Xan Slid Into Noah Cyrus' DMs!
While their romance hasn't been long, it looks like Lil Xan has joined right in with the most important people in Noah's life. 
"My family wants whatever makes me happy and I'm so happy," she previously shared with E! News at the 2018 Teen Choice Awards. 
E! News confirmed at the start of August that the two were seeing each other. However, as Noah revealed to E! News on the red carpet, Lil Xan had come into her life months earlier. 
"Xan slid into the DMs. It works people," Noah explained to E! News' Tamara Dhia. "Actually, it didn't work. He DMed me like in February and I didn't see it for months and then I saw that he was following me and I was like, 'Lil Xan, cool, he's following me. I'll follow him back.' And then I saw his DM and we're just hanging out making music."
In fact, the couple just debuted their first track together last week—a duet titled "Live or Die."
We just have one question: what did you think of Lil Xan's present, Billy Ray?