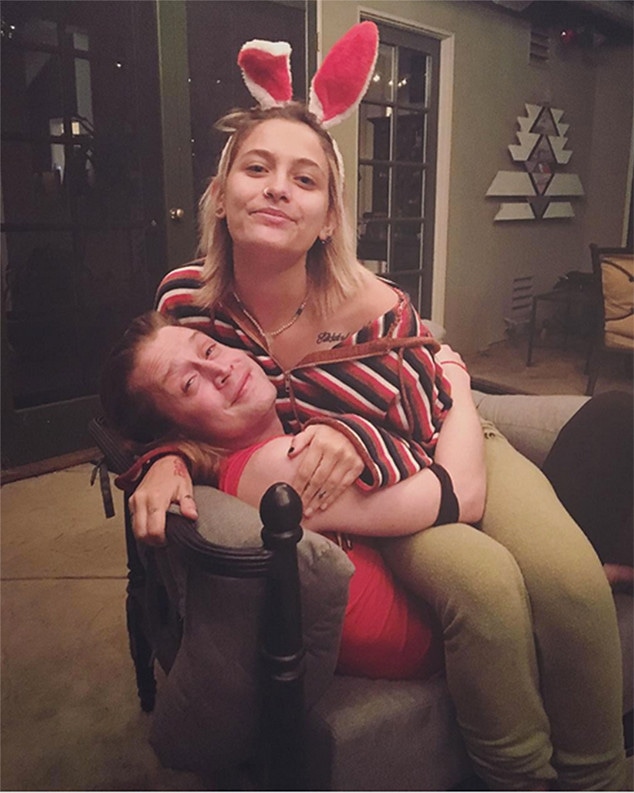 Instagram
Happy birthday, Macaulay Culkin!
The Home Alone star and former child actor, one of the most famous in the world, turned 38 on Sunday. His goddaughter Paris Jackson, the 20-year-old daughter of his friend, the late Michael Jackson, honored him with a sweet tribute on Instagram.
She included several throwback photos, including a pic of the two cuddling, with him wearing bunny ears, and an image of them displaying the matching spoon tattoos they got last year and a photo of the two .
"Happiest of birthdays Mack Attack," Paris wrote. "I love you so so dearly and keep you very close to my heart. Always ♥️♥️."
Paris included a photo of Macaulay and his girlfriend Brenda Song posing in front of the Louvre Pyramid in Paris. The actor, who rarely acts and mostly lives off the millions of dollars he made as a child star, had lived in the city for several years up until this year.
Paris also included a pic of Macaulay as a child with Michael on the set of the singer's iconic 1991 music video "Black or White."
"I am close with Paris," Macaulay said on Marc Maron's WTF podcast earlier this year. "I'm going to warn you now I am very protective of her so just look out," said Culkin. "I am a very open book when it comes to things but like with her, she is beloved by me."
Macaulay talked about his birthday on his Bunny Ears podcast.
"I spend birthdays by myself. I'll be just like stoned or drunk, like in bed, kinda like, 'Yeah, this is what I want,'" he joked.
"This year, same thing as last year, Medieval Times," he added. "My special lady friend, she made me go to Medieval Times last year. She couldn't go. She made me and 12 of my friends [go]."
Macaulay later said, "I'm 38 now, look at me. I'm old."