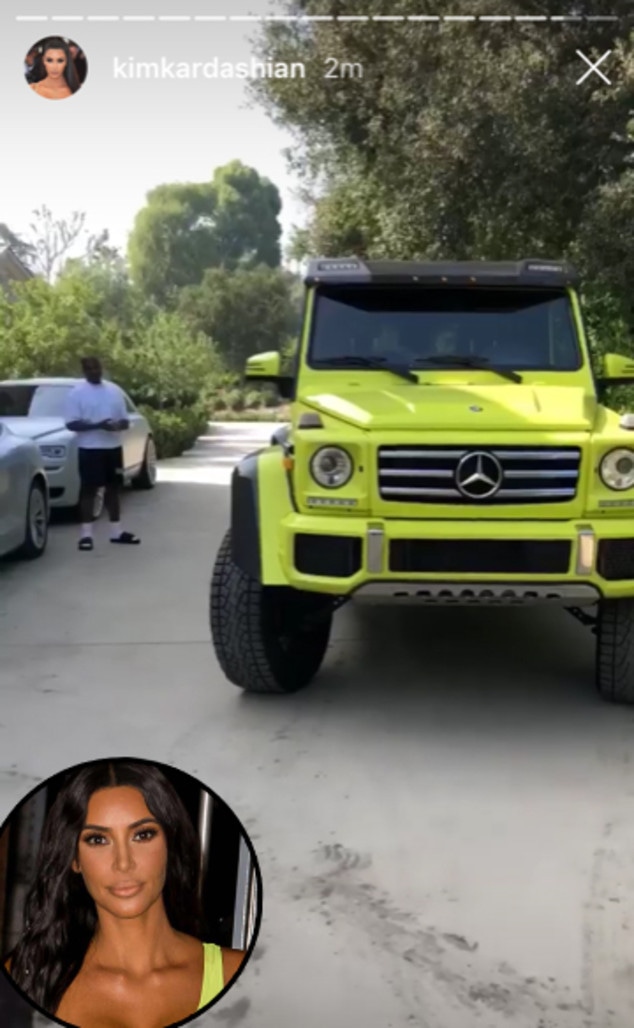 Instagram
Kim Kardashian has a new "baby"!
Not that kind of baby, although having a fourth child with husband Kanye West doesn't seem to be out of the question.
On Saturday, the rapper surprised his wife with a neon green 2018 Mercedes G550 4×4 SUV—the same make and model of one of two neon green vehicles they had rented during a family trip to Miami last week, when they attended 2 Chainz' wedding. Kim showcased two neon green outfits while driving and riding in the car. And Kylie Jenner has the same vehicle in neon orange! The sisters are practically twinsies now!
"Oh my gosh, I just got out of the gym and was surprised by this new baby," Kim said on her Instagram Story, in a video showing the new Mercedes parked in her driveway. "I loved it so much in Miami and kept on talking about it."
"Oooh look who surprised me with this baby, you guys," she said, as her and Kanye's second child, 2-year-old son Saint, walked by. "I got the truck of my dreams 'cause I was so excited in Miami. I'm so excited."
Kim then met up with Kylie.
"When you just pull up to your sister's house to say 'Good morning,' and you guys have matching neon trucks," Kim said. "Alright Ky, where are we going? Where are we going? Where are we going today?"
She later said Kylie was schooling her about a stool she needs to get so she can reach the seats without any "mishaps."
In Miami, Kanye had to lift Kim bridal-style out of the SUV.
Kanye appeared in another video, walking in a pair of Yeezy slides and socks, the same look he sported at 2 Chainz's wedding, which raised many fans' eyebrows.
"The real question is, do those fit? That's what everyone wants to know," Kim teased him. "What size are those?"
Watch Keeping Up With the Kardashians on Sundays at 9/8c only on E!