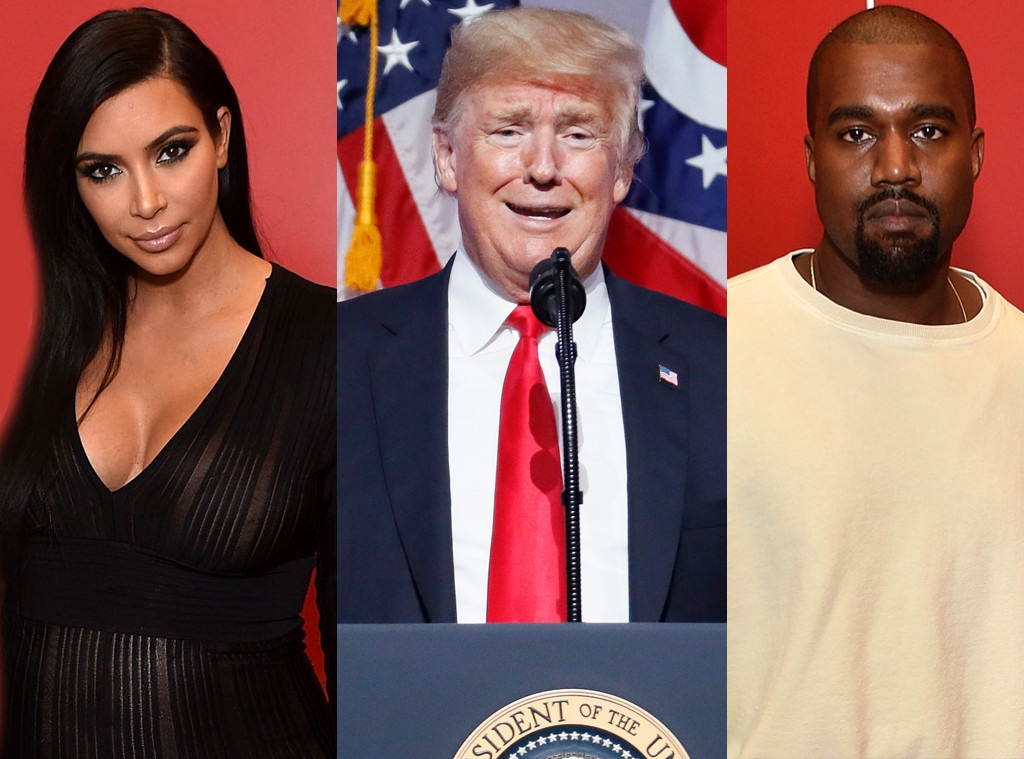 AP/Getty
President Donald Trump wants his base to know he is a big supporter Kanye West and his wife Kim Kardashian, who he had met months ago in the White House.
The U.S. leader praised the couple while speaking at a fundraising dinner for the Ohio Republican Party in Columbus on Friday.
"Now we're doing great and Kanye West liked me and that really lifted my- Kanye West has some real power!" Trump said.
Kanye has met the President before and has occasionally taken to Twitter, where he has more than 28 million followers, to voice support for him, while the U.S. leader has praised him back online. He talked about his support for Trump in an interview on Jimmy Kimmel Live! earlier this month.
"He's got a good wife too, in Kim, I'll tell ya. She really is," Trump continued in his speech on Friday.
In June, Trump commuted the life sentence of 63-year-old Tennessee woman Alice Marie Johnson for a first-time drug offense, after Kim lobbied him over the cause and met with him to discuss the matter at the White House.
"She did a great thing. She did a great thing. The person was in jail on a very strange thing. She was there for 22 years and it was based largely on a phone call that they were listening to and she had another 24 years, she was about 62 or 63 and I gave her a pardon," Trump told his supporters. "And she came out of that jail after all of those years and the way she hugged and kissed her family and the way they loved her so much."
"She had some grandchildren, some sons, some grandchildren that were so beautiful, they were grabbing her and it was just a beautiful thing to see, and she was in there for 22 years and that was through Kim Kardashian, so I think it was terrific," Trump said. "I don't know if you saw that. Did you see that? The scene of her coming out of that jail. That was pretty, pretty good."
During his speech, his only public event on Friday, Trump made no mention of Sen. John McCain, whose family announced earlier that day the he has decided to end his treatment for terminal brain cancer.
"He likes his personality and how he made it to be President when everyone really underestimated with him," she said. "It's not political, so he doesn't really dig deep into what's going on. I always knew that, and I always knew what he meant. I have nothing bad to say about the President. He has done something amazing, so I'm very focused."
"But," Kim added, "I don't agree with everything, either."
Kim had criticized the U.S. leader in 2017, telling Harper's Bazaar Arabia that "anyone," including her and Kanye's eldest daughter, 5-year-old North West, would be able to run the U.S. better than Trump.
In 2013, Trump had body-shamed Kim in a Howard Stern Show interview. She was pregnant with North at the time.
Watch Keeping Up With the Kardashians on Sundays at 9/8c only on E!