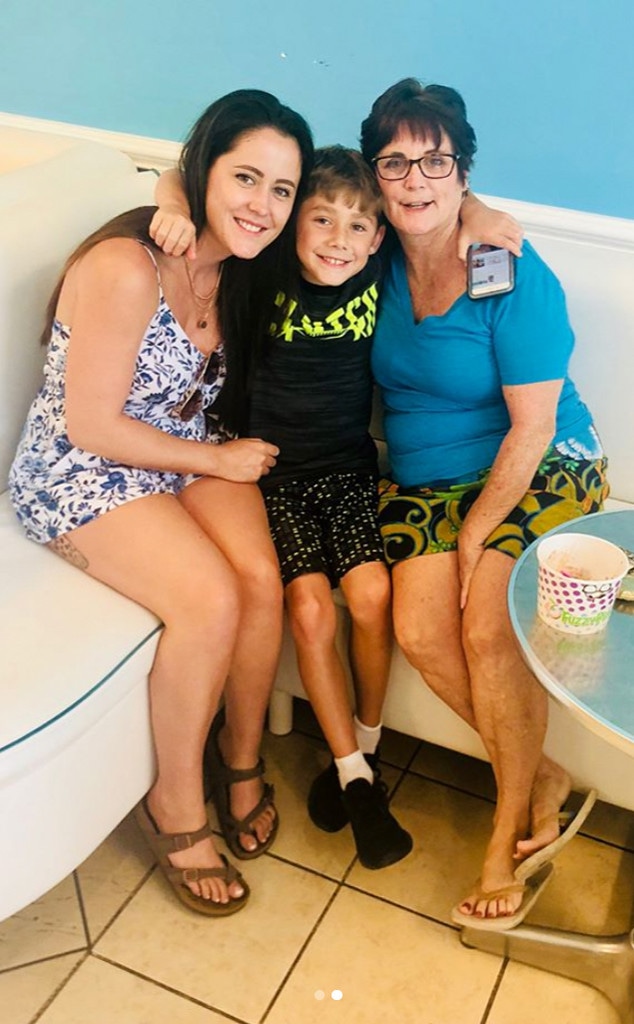 Jenelle Evans/Instagram
Jenelle Evans is back on better terms with Barbara Evans following years of conflict.
Much to the surprise of Teen Mom fans, the reality star recently spent time with her estranged mother and son Jace Evans (who Barbara has primary custody of) during an end-of-summer trip to get ice cream. 
In the heartwarming snapshot shared to Jenelle's Instagram, 9-year-old Jace poses with his arm's around his proud mom and grandmother, who look surprisingly content in each other's company. "Whatever makes him happy," Evans, 26, captioned the photo, adding the hashtag "#FamilyTime." 
So when did things between Jenelle and Barbara turn a corner? According to a recent tweet, all signs point to Barbara and Jenelle's husband, David Eason, having improved their relationship. 
"Guess who gets along now? Babs and David," Jenelle tweeted earlier this month. "That took forever. #Annoying." 
(Barbara was famously banned from attending her daughter's 2017 wedding to David, who she shares a 1-year-old daughter with.)
Things between Jenelle and Barbara are consistently up and down. Just two months ago, the MTV mainstay slammed her mom after Jace described Jenelle and David as "pieces of s--t" during an episode of Teen Mom 2. 
She fired back on Twitter, "If Jace lived with me he wouldn't have ever spoke those words about ANYONE. Thought me and my mom were actually building our relationship lately and now it's two steps back."
In May of last year, the mother-daughter pair finally reached a custody agreement over Jace, the eldest of Jenelle's three children. While Barbara continues to maintain primary custody of Jace, Jenelle is allotted time with him on the weekends, holidays and during the summer season.
"I'm really happy we could get to a decision for Jace but it doesn't change my feelings towards my mom," she shared with E! News at the time. "She still isn't giving up my son to me but I will fight again in the future when the time is right. I'm happy but devastated at the same time that I didn't take it to trial. But in the world of Jenelle, you learn to pick and choose your battles."