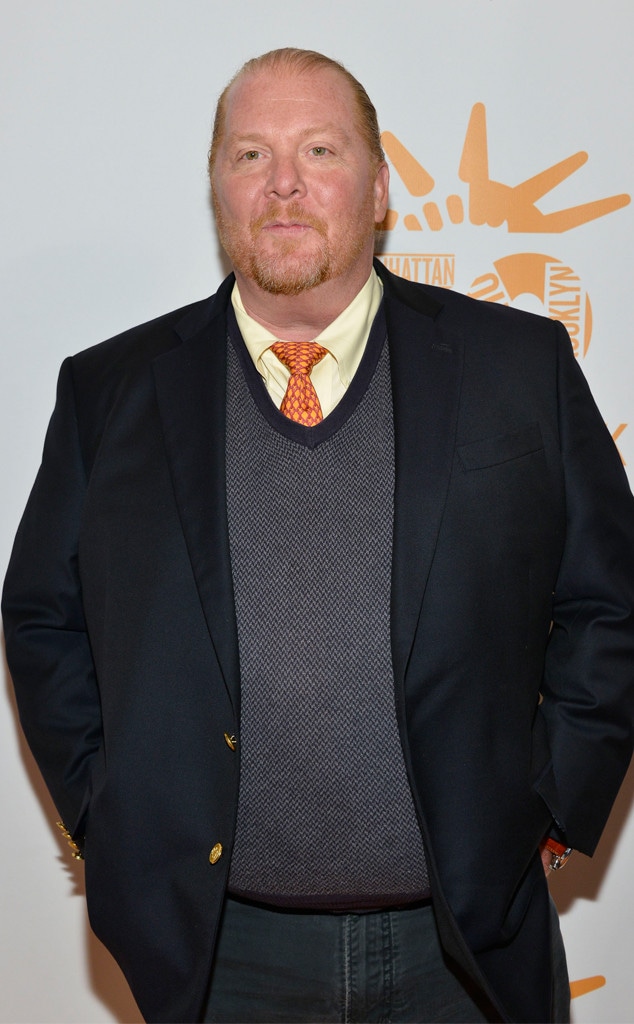 Eugene Gologursky/WireImage
UPDATE: In a Boston courtroom today, Mario Batali pleaded not guilty to a charge that he allegedly kissed and groped a woman at a Boston restaurant in 2017. He was released without bail and is not required to appear at the next court hearing, which is scheduled for July 12.
______
A 28-year-old woman filed a lawsuit against Mario Batali on Wednesday and accused the 57-year-old celebrity chef of assault and battery, intentional infliction of emotional distress following the alleged sexual assault and violation of Massachusetts general law chapter 12 section 11I. 
The lawsuit was brought forth by Natali Tene of Middlesex County, Mass. and is in regards to an incident that allegedly took place in April 2017 at Towne Stove and Spirits—a Boston restaurant near Batali's establishment Eataly.
Tene alleged she saw Batali at Towne Stove and Spirits and took a picture of him with her phone. She claimed the former star of The Chew noticed her taking the photo and offered to take a selfie with her. In court documents obtained by E! News, Tene alleged she was "familiar with Batali's career" and was "excited to be in a photograph with a celebrity." So, she claimed she walked over to him.
According to her filing, Batali then "grabbed and kissed Ms. Tene's face, rubbed her breasts, grabbed her buttocks, put his hands between her legs and groped her groin area, and kept forcefully squeezing her face into his as he kissed her repeatedly."  Tene claimed these actions were performed without want or consent and made her feel "shocked and highly uncomfortable." She also described the alleged public actions as "dehumanizing and humiliating." 
Massachusetts general law chapter 12 section 11I grants a private right of action for "any person whose exercise or enjoyment of rights…has been interfered with by another person, such as through threats, intimidation or coercion." In her filing, Tene alleged Batali's  demand for sexual conduct interfered with her right to be free of sexual assault and inappropriate touching in public places. In addition, she claimed he "intimidated and forced" her into receiving the alleged sexual contact to stay present in Towne Stove and Spirits.
Tene is asking the judge to favor her on all three counts and to award her compensatory and punitive damages in an amount to be determined by the court. She also asked the court to grant her other forms of relief as deemed fit.
E! News has reached out to Batali's rep for comment.
Tene brought forth her accusation in May in an article published in Eater. She was one of seven people to accuse Batali of inappropriate touching during incidents that allegedly took place between the mid-'90s and last October. Batali declined to comment for the article.
Earlier that month, 60 Minutes broke the news that the New York Police Department had launched a criminal investigation into Batali following separate accusations of sexual harassment or assault that allegedly took place at The Spotted Pig—a New York restaurant in which Batali invested. While the culinary star "vehemently denied" an allegation of sexual assault presented in the 60 Minute segment, he admitted his "past behavior has been deeply inappropriate" and said he was "sincerely remorseful" for his actions. 
"I am not attempting a professional comeback," he stated at the time. "My only focus is finding a personal path forward—a path where I can continue my charitable endeavors—helping the underprivileged and those in need."
Still, these weren't the only allegations he faced. Back in December, Eater published an article in which four women accused him of inappropriate behavior.
"I apologize to the people I have mistreated and hurt," part of Batali's statement to E! News read at the time. "Although the identities of most of the individuals mentioned in these stories have not been revealed to me, much of the behavior described does, in fact, match up with ways I have acted. That behavior was wrong and there are no excuses. I take full responsibility and am deeply sorry for any pain, humiliation or discomfort I have caused to my peers, employees, customers, friends and family."
The Washington Post also published a report about Batali's alleged inappropriate behavior that month. It included a claim from Holly Gunderson, who accused Batali of making inappropriate comments and grabbing her in the crotch. In a statement to The Post, he said, "I apologize profoundly to the people I have mistreated and hurt."
Batali has stepped away from his businesses and lost his role on The Chew following the series of allegations.
(This story was originally published on Friday, August 24, 2018 at 2:07 p.m. PST.)