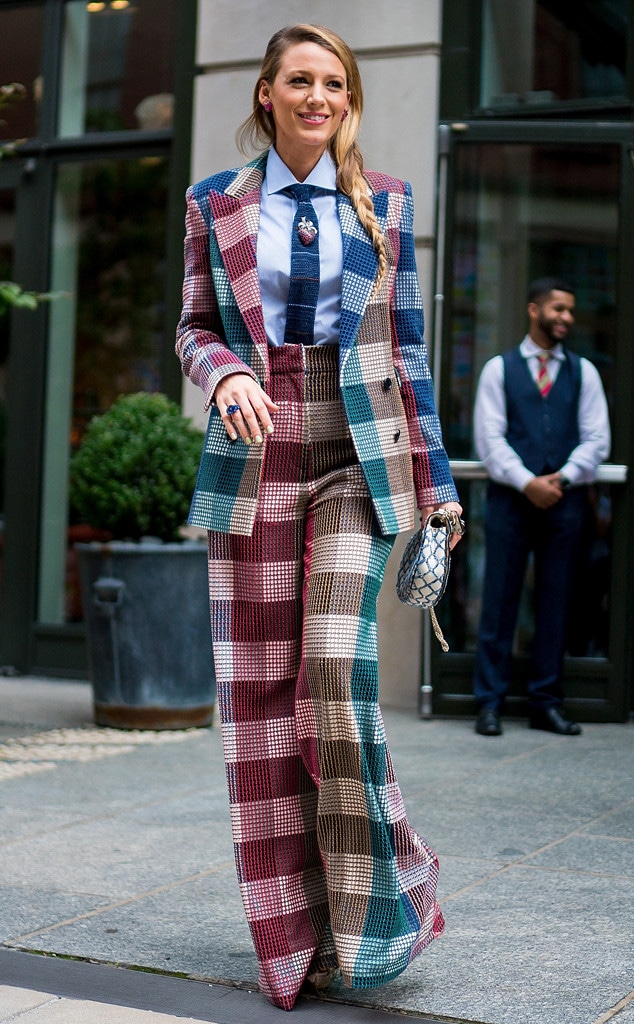 Gotham/GC Images
Blake Lively is back at it again.
On Friday the actress shared a photo of herself making the sidewalk her runway in a chic and eccentric pantsuit, captioning the Instagram pic of the bold outfit: "Picnic anyone? I'll bring the tablecloth." However, one Instagram user didn't find the colorful ensemble to be that stylish and carefully advised the Gossip Girl star to "please hire a stylist or fire the one you're currently with."
Lively remained classy as ever and thanked the critic for his advice, but said, "Alas, I've tried to fire @blakelively so many times. But that b--tch just keeps coming back. She won't leave me alone." Awkward!
Her latest clap back comes just a week after the actress trolled herself in response to an Instagram user who called her out on a minor typo. "I'm crying at her and the fact that she doesn't know she needs to put a space after an emoji for the tag to work," the critic commented.
In good humor, the mother-of-two joked back, "Good point! @blakelively is so dumb!!!!"
Luckily for Blake, she and husband Ryan Reynolds share the good sense of humor and frequently roast each other on the social media app.
In May, the Simple Favor star teased Reynolds about his bromance with Hugh Jackman. "Is the extra distance between you supposed to convince me that you DON'T love him more than me?? Nice try," she joked.
Not that the Deadpool star doesn't get his fair share of digs in at his wife. On the day of her 30th birthday, the prankster shared a photo of himself and his wife, however, the birthday girl was largely cropped out of the photo.
He captioned the funny moment: "Happy Birthday to my amazing wife."
Well, that is all for this week's edition of Blake Lively clap backs. See you next time!