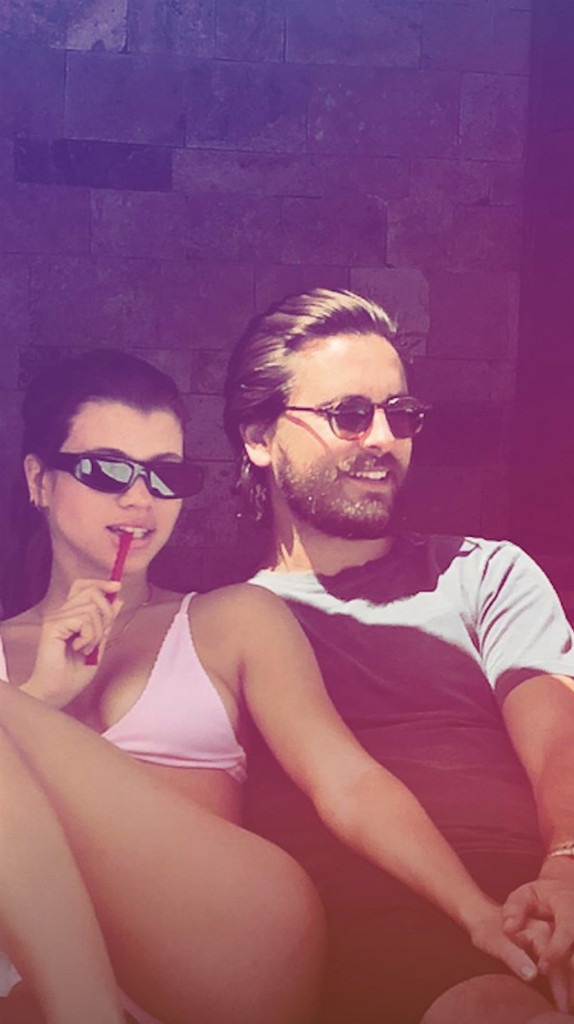 Snapchat
Scott Disick and girlfriend Sofia Richie celebrated her 20th birthday early with a trip to Mexico.
This week, the two stayed at his family friend and Girls Gone Wild creator Joe Francis' private beach side estate, Casa Aramara, in Punta Mita, E! News has learned. Scott, 35, and Sofia, who turned 20 on Friday, had also vacationed there in January.
On Wednesday, they went boating and visited the Marietas Islands, where they did some snorkeling and enjoyed the private beach, a source told E! News.
Scott appeared to have been joined on the trip by his and ex Kourtney Kardashian's two older kids Mason, 8, and Penelope, 6.
Scott posted on his Instagram page on Thursday a photo of Mason standing on the steps to a private jet, writing, "Lil lord."
Scott also shared on his Instagram Story a photo of Mason and Penelope sleeping inside the plane.
Scott and Sofia have been dating for a year and have traveled together abroad several times, including with his kids. Mason and Penelope joined the couple on a trip to Cabo San Lucas, Mexico in March.
Scott and Sofia have not commented on their recent vacation or shared photos of each other. On Thursday, Sofia posted a photo of herself wearing a bright red bikini. 
"I'm like goddamn bitch, I am not a teen choice #20," she wrote, quoting The Weeknd's 2016 track "Reminder."