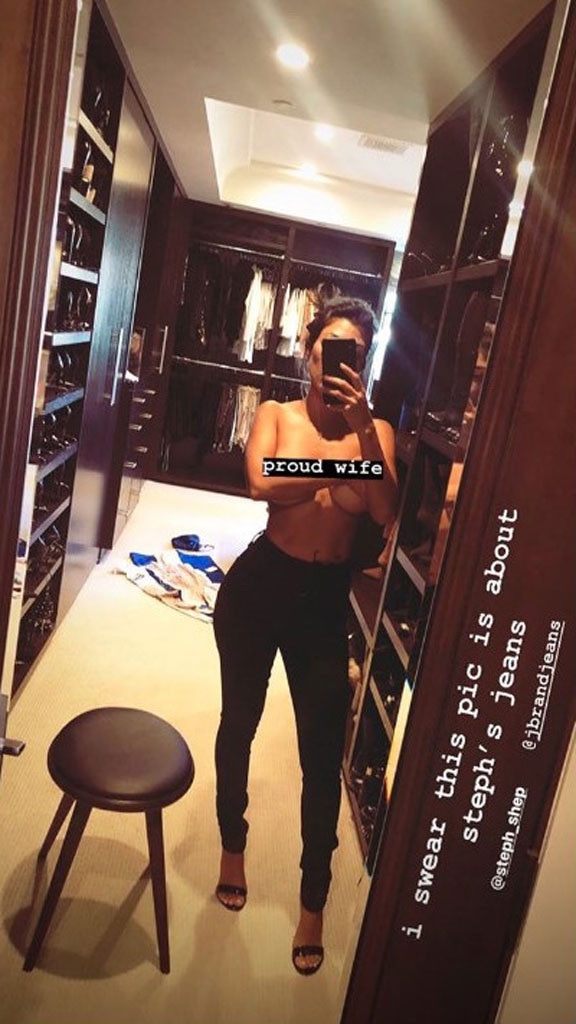 Instagram
Revenge body? Check! 
Not that Kourtney Kardashian needs any help with her physique, but fans couldn't help but notice how fit and fabulous she's looking in a racy photo shared to her Instagram Stories on Thursday. The E! reality star snapped a topless photo of herself while trying on a pair of jeans for Kim Kardashian's former assistant's Stephanie Shepard's denim line with J Brand. 
Nothing but the words "proud wife" and Kourtney's hand covered her chest while she struck a pose in front of the mirror inside her seemingly massive closet. "I swear this pic is about Steph's jeans," the cheeky E! reality star added in her caption. 
Since breaking things off with boyfriend Younes Bendjima earlier this month, the 39-year-old mom of three hasn't let the split cramp her style one bit. 
From enjoying spa days with her famous sisters to nights out with her girl squad, Kourt continues to prove she's living her best life. 
"She knew [the breakup] was coming and was already mentally preparing herself," a source previously shared with E! News. "They have been having issues for the past month and had already agreed to take space apart."
Yet another reason to believe Kardashian may be better off without Younes? Hours ago, the 25-year-old former boxer made headlines for attacking a man in a newly resurfaced video taken by security footage at West Hollywood hot spot Delilah. According to TMZ, the fight broke out after an employee "talked smack" while opening the door for Bendjima and his entourage. 
Kourtney is on to the next one, and looking good while doing it!