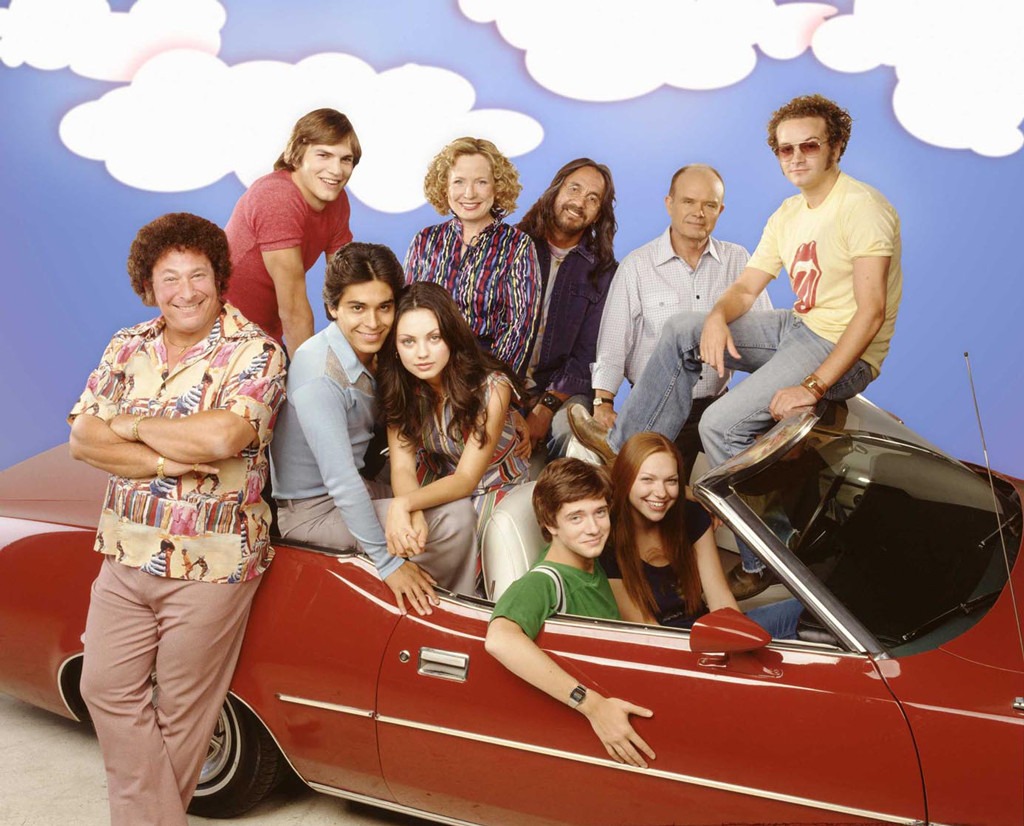 FOX
Can you believe it's been 20 years since That '70s Show made its debut?
That's right! The series, starring Ashton Kutcher, Mila Kunis, Wilmer Valderrama, Topher Grace, Laura Prepon and Danny Masterson, first premiered on Fox on Aug. 23, 1998. And in celebration of the anniversary, the show's stars are taking to social media to reflect on their time on the hit series.
Along with a number of cast photos, Valderrama, who played Fez on the show, wrote on Instagram, "August 23, 1998.. this was the first picture we ever took together, 20 years ago today... We had just met and had no idea what was ahead of us, or if it would even last.. but we knew it was gonna be fun. We spent 8 years and 200 episodes together, we traveled the world... we grew up together. We were a family, and will always be."
"From our director David Trainer, our creators Bonnie and Terry Turner, and Mark Brazil, and our producers Tom Werner and Marcy Carsey.. our writers, our crew.. thank you for believing in these young hooligans," he continued. "To our beautiful fans who followed and went on this wild ride with us, THANK YOU, you changed our lives."
The actor then thanked his co-stars, writing, "And to my brothers and sisters... you know... umm the cast.. like uuuh.. the kid who had the two scenes in Traffic, the cat with the curly hair that was in Dracula 2000, that Russian girl who said she was 18 but was actually 14 in the pilot.. the chick on Orange is the New Black, the guy who hosted Punk'd and the bad ass who played the main villain on Robocop.. the Italian guy who did a great Tom Jones, our very own Bond Girl, our Chong Smoke Machine and of course Debra Jo Rupp who played Kitty (who can forget her) I love you guys always, you guys made me who I am today.. and we will always have each other."
Grace, who played Eric Forman on the show, also paid tribute to the series on social media Thursday. "Ultimate #tbt - Hard to believe That 70s Show premiered 20 years ago today," he tweeted along with a cast photo. "Few people can say they owe everything to one small group, but in my case it's true. To quote the '78 Point Place High yearbook 'What a long strange trip it's been... in Forman's basement' #hellowisconsin."
Prepon, who played Donna Pinciotti, also shared a throwback picture with fans on social media.
"#ThrowbackThursday to the first press tour for #That70sShow - we were all blown away when we saw this bus!" Prepon wrote. "Can't believe the show came out 20 years ago today…such a special group of people. So lucky to have been a part of it. I think Hyde is taking the pic!"
Be sure to check out where the cast of That '70s Show is now in our gallery!