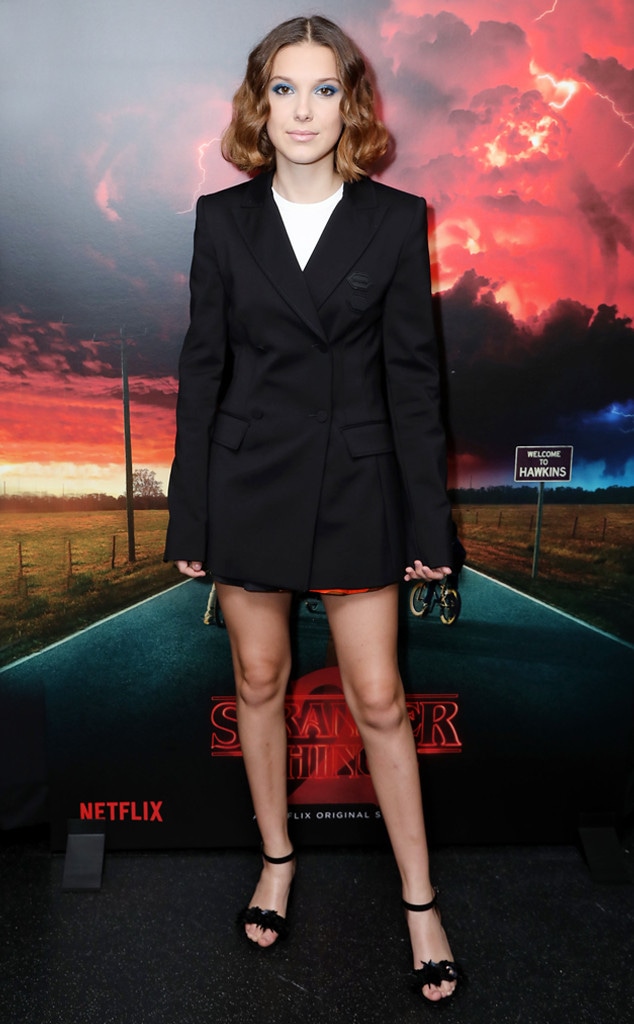 Patrick Lewis/Starpix for Netflix/Shutterstock
Millie Bobby Brown's fashion is ahead of her time.
For a screening of Stranger Things in New York City, the 14-year-old star wore an outfit that looks very familiar. She wore a white T-shirt and multicolored shorts—a look that typically too casual for Hollywood events. Then, the actress (with help from her stylist, Thomas Carter Phillips) layered an oversized blazer on top, which could also be worn as a dress. Off-White, Virgil Abloh's celeb-loved streetwear, designed the top, shorts and jacket, which she paired with Tabitha Simmons heels.
With her sparkling blue eyeshadow and wavy lob, the overall look is a modern take on menswear, which we've seen a lot of recently. This week, we've spotted Blake Lively (a true master of the style), Model Squad's Devon Windsor and Maria Menounos also wearing menswear-inspired garments. And, it's a trend that's growing on the red carpet and in street style.
Estrop / Catwalking / Getty Images
We're not surprised, however. Oversized blazers were a major trend on the Fall/Winter 2018/2019 runway. Fendi revealed an oversized blazer, layered over a logo-baring turtleneck and textured mini skirt (similar to Millie's look, but the jacket was left unbuttoned). Emporio Armani went for a more monochrome style, adding an oversized jacket fit for an executive. And, Bianca Spender made the style look sexy, opting out of a top under her white oversized blazer.
In all of the examples, the models bared their legs, pairing their look with heeled sandals or ankle boots. 
It's a style that's easy to recreate, and the oversized jacket is a piece that you can wear a thousand ways. We know this because while it's a current trend, we've seen the look before. 
Ron Galella, Ltd./WireImage
In fact, it was Julia Roberts' go-to style in the 1980s, when oversized blazers and shoulder pads reigned. The Pretty Woman actress sported menswear with ease, appearing at the Golden Globes 1991 in a full suit. On numerous occasions, she was spotted with an oversized blazer with her look or blazer-inspired dress (See: her 1989 ensemble to the left). Along with her voluminous curls and slim figure, the style gave her a gender-crossing edge that transformed her into a style icon on and off the red carpet.
Now, more than 20 years later, her style is back and better than ever.