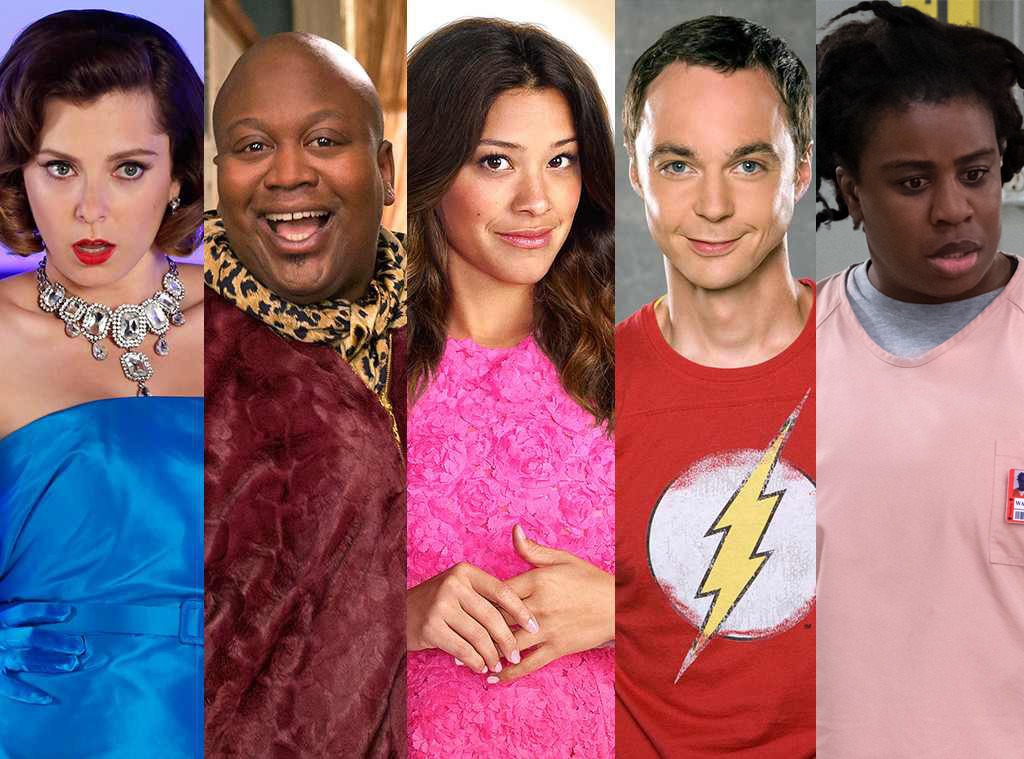 The CW/Netflix/CBS/HBO
Netflix is mounting a prison break. The streaming service announced the upcoming seventh season of Orange Is the New Black, which was ordered in February 2016 as part of a three-season renewal, will be the last.
"During production of season one, everyone involved with Orange Is The New Black felt like we knew a special secret we couldn't wait to share with the world. Since then, we have laughed, cried, raged, and roared with the women of Litchfield, and every moment spent with them felt like borrowed time—too good to last forever," Cindy Holland, Netflix's vice president of original content, said in a statement. "We will be sad to say goodbye but we will definitely be going out on a high. We are grateful to Jenji Kohan and her groundbreaking vision; to her supremely talented team of writers and producers; and to a once-in-a-lifetime cast and crew for creating a truly special work of art that has inspired conversations and connected audiences around the world."
Orange Is the New Black isn't the only show coming to an end during the 2018-2019 year. It's just one of many veteran programs that are coming to an end, most on them are saying goodbye on their own terms. See which shows are saying goodbye below.
The Big Bang Theory
End date: May 2019
Why: Isn't 12 seasons enough? No? CBS boss Kelly Kahl said the network was in talks with producer Warner Bros. TV about more Big Bang…so what happened? Series star Jim Parsons was ready to move on and the show wouldn't continue without him. However, Parsons is still an executive producer and narrator of Young Sheldon, so he's not going very far.
Orange Is the New Black
End date: Summer 2019
Why: Netflix renewed Orange Is the New Black for seasons five, six and seven back in 2016. Many assumed the seventh season would be the last, but the streaming platform didn't confirm until October 2017. While series creator Jenji Kohan hasn't explicitly said why she wanted to end the show after seven seasons, the story does seem to be coming to an end. Piper (Taylor Schilling) was originally only sentenced to roughly a year in prison and Season six ended with her finally getting released. "After seven seasons, it's time to be released from prison. I will miss all the badass ladies of Litchfield and the incredible crew we've worked with," Kohan said in a statement. "My heart is orange but fade to black."
Timeless
End date: Holidays 2018
Why: Fans saved the show not once, but twice, and this series finale wrap-up movie is for solely because of them. They may be a vocal fanbase, but they're not the largest. "While we wish we could've made another dozen seasons of Timeless, this is the next best thing," series creators Shawn Ryan and Eric Kripke said in a statement. "We're thrilled to take the Lifeboat out for one last spin and bring closure to our story. The studio, network, cast and crew are all doing this for one reason only: the fans. Because they deserve it. Because the fans made this happen and we thank them for their passion, support and helicopters. So? You guys want to get Rufus back or what?"
Unbreakable Kimmy Schmidt
End date: January 25
Why: The second half of season four will be the last episodes for Kimmy, Titus and Jacqueline…unless the rumored movie comes together for Netflix. In an interview with The Hollywood Reporter, co-creator Robert Carlock said the team originally envisioned a five-season run and saw the split season four as shortened fourth and fifth seasons. "We were never quite sure what the life of the show wanted to be," he said. "When we split up this fourth season into kind of a fourth and a fifth — just in the boring, most practical way, you could think of them as two short seasons — one wouldn't be coming out until 2019, so it just felt like the right time to pull up stakes since we were kind of pushing ourselves into next year."
Jane the Virgin
End date: 2019
Why: Executive producer Jennie Snyder Urman said she originally thought the show, which stars Gina Rodriguez, had four seasons of story to tell. But that changed during season two.
"…I thought, 'We have enough to take us through five seasons.' We started to have those discussions in season three. The studio and the network were always really supportive. Mark Pedowitz told me early on, 'Tell me when it ends. Just give me enough notice.' I was really grateful to have that, because you don't often have that leeway and confidence, and the foresight to be able to plan your ending. Gina and I are creative partners, and we talk about everything, and we were on the same page," Snyder Urman told The New York Times. "It's the ending I pitched when I pitched the show. I couldn't have pitched them a million of the details that have happened along the way, and it doesn't have to do so much with the plot and with all the twists and turns. But the overall structure and what I wanted to say about certain things — structurally, that's built into the ending."
Crazy Ex-Girlfriend
End date: 2019
Why: Series creators Rachel Bloom and Aline Brosh McKenna have maintained the show was always going to be four seasons, in fact they plotted out the arc that way when they began work on the show. "It's four at most. It's a series that lives in being finite," Bloom told E! News ahead of season two. "It's because Aline is a screenwriter. She was like, 'I just want to map out the whole series.' We spent months just marinating the characters and really mapping it out. Our ratings aren't amazing, so I don't think CW would be like, 'Please give us 10 seasons!' It works to our advantage in that sense."
iZombie
End date: 2019
Why: The CW series has pretty much been a bubble show year after year, but a vocal fanbase and steady viewership kept it around for one last hurrah. "I have to admit, I have never been in this position before. It's kind of nice to know," series creator Rob Thomas told E! News about actually knowing a season of one of his shows would be the last.
Veep
End date: 2019
Why: Selina Meyer (Julia Louis-Dreyfus) hasn't been the vice president for some time. Plus JLD ran out of space for Emmys. JK. "It became clear that this season should be the last season," Louis-Dreyfus told THR about the decision to end with the upcoming seventh season. "We don't want to repeat ourselves or wear out our welcome. The story has a finality to it that feels end-of-series."
"It was just a very natural thing," executive producer David Mandel said. "We don't want to repeat ourselves or be boring. It's bittersweet but it's right."
Being Mary Jane
End date: 2018
Why: After four seasons, Gabrielle Union's Being Mary Jane is getting the chance to wrap up storylines.
House of Cards
End date: November 2, 2018
Why: The Netflix drama's upcoming sixth season was almost completely derailed following allegations of Kevin Spacey's sexual misconduct. Production was shut down and Netflix and producer MRC severed ties with Spacey and announced the sixth season would be the last and focus on Robin Wright as Claire Underwood. The production company and Netflix maintain the sixth season was always planned as the last.
Game of Thrones
End date: 2019
Why: Executive producers D.B. Weiss and David Benioff said they always ended for Game of Thrones to be a finite series. "We're trying to tell one cohesive story with a beginning, middle and end. As Dan said, we've known the end for quite some time and we're hurtling towards it…The thing that has excited us from the beginning, back to the way we pitched it to HBO is, it's not supposed to be an ongoing show, where every season it's trying to figure out new story lines. We wanted it to be one giant story, without padding it out to add an extra 10 hours, or because people are still watching it. We wanted to something where, if people watched it end to end, it would make sense as one continuous story. We're definitely heading into the end game now," Benioff told Deadline at the end of season six.
Shadowhunters
End date: Spring 2019.
Why: To quote ABBA, "money, money, money." It came down to finances. "We are very proud of Shadowhunters, a series that broke new ground in the genre world and became a fan favorite," Freeform said in a statement. "However, along with our partners at Constantin, we reached the very difficult decision not to renew the show for a fourth season. But as big supporters and fans ourselves, Freeform insisted on and championed the filming of a special two-part finale that would give devoted fans a proper ending. The 12 episodes will air in spring 2019. We want to thank our talented creators, producers, cast and crew along with our colleagues at Constantin for their hard work and dedication and to Cassie Clare for her incredible book series. We look forward to the final chapter of this breakthrough drama."
You're the Worst
End date: 2019
Why: According to FX Networks boss Nick Grad, the decision to wrap up the stories of Gretchen (Aya Cash), Jimmy (Chris Geere), Lindsay (Kether Donohue) and Edgar (Desmin Borges) was a mutual one with creator Stephen Falk. "Making You're The Worst has been an incredible experience and FX Networks have been dream partners," Falk said in a statement when the ending was announced. "I am thankful to have the opportunity to be thoroughly judged whether or not we 'stick the landing'—which is a thing people say now that stupid Breaking Bad had to end so damn perfectly."
Gotham
End date: 2019
Why: Dipping ratings plagued the Batman prequel series, but fan support got the series a victory lap for midseason. Look for young Bruce Wayne (David Mazouz) to transform into the caped crusader.
Transparent
End date: 2019?
Why: Another show rocked by allegations of sexual misconduct, Transparent will continue (probably) without star Jeffrey Tambor. "Hopefully it sets the Pfeffermans up with some sort of beautiful reclaiming," series creator Jill Soloway said. "I think we're going to get there with some time."
Homeland
End date: 2019
Why: How many more conspiracy boards can Claire Danes' Carrie Mathison make while delivering that cry face? Danes previously hinted that the eighth season would be the show's last and Showtime made it official at the 2018 Television Critics Association press tour.
"Homeland has been the most joyful and rewarding experience of my career.  Not many have been as lucky as me — partnered with the miraculous Claire Danes, supported to the ends of the earth by Fox and Showtime, and working in the company of some of the most gifted writers, actors, and filmmakers in the business.  I am sad to see the journey coming to an end, but it is time," executive producer Alex Gansa said in a statement.
The Affair
End date: 2019
Why: The relationship drama starring Maura Tierney, Dominic West, Ruth Wilson and Joshua Jackson dipped a bit in popularity in recent years, but according to Showtime it was always planned for five years. "We love the intimacy, the nuance and the emotional honesty of The Affair's subjective examination of both infidelity and fidelity," Gary Levine, president of programming at Showtime, said in a statement. "Sarah Treem has always envisioned this as a five-season series, and we will be fascinated to see where she takes her talented cast and all of us next year in its climactic season."