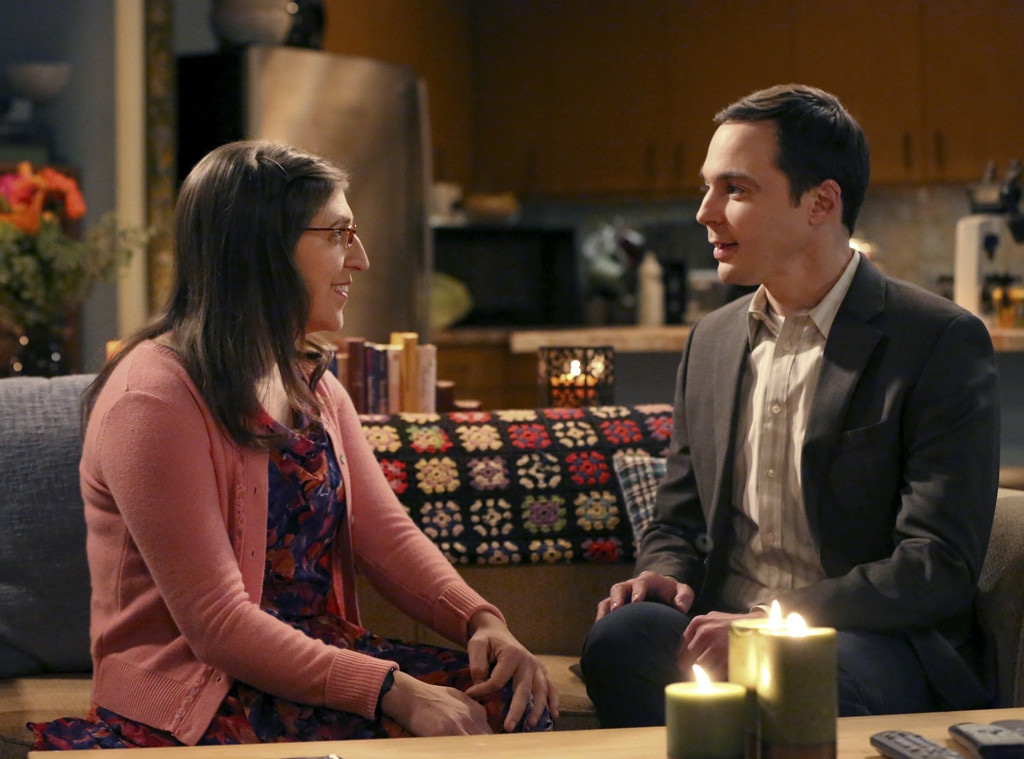 CBS
The Big Bang Theory is ending, and just like most viewers Mayim Bialik isn't happy about it. The CBS comedy will end after the upcoming 12th season, the network and producers Warner Bros. TV and Chuck Lorre Productions announced on Wednesday, Aug. 22. On her personal blog, Bialik opened up about her feelings regarding the end of the show she's called home since season four.
Her day started with a parking ticket, an "intense" therapy session and her youngest son tried soccer for the first time. "And, also, I found out The Big Bang Theory's upcoming season 12 will be its final one. Life, as my mentor says, is in session," she wrote. "Am I happy? Of course not. This has been my job since Melissa Rauch and I joined the cast as regulars in season 4. I love my job. I love my castmates, and I feel such appreciation for our incredible crew, our brave writers, our entire staff, and our amazing fans. So many people are a part of our Big Bang family."
"This is hard," she wrote. "I love coming to work and pretending to be Amy. She's a riot. She's me, and I am her. And soon she will not be mine to create."
Bialik, who shot to fame with her series Blossom, is a mother of two, which is her "most critically important job," she said. But her paying job is The Big Bang Theory, and "it's very sad."
"I fear it's going to be very hard to not cry every day for the next 23 episodes! But, as a cast, we love bringing joy to our viewers and we will continue to do that to the best of our collective ability," she wrote.
On Tuesday, the day before the end date announcement, the cast taped the first episode of what will be the show's last season. Bialik went on to thank the fans for "loving us hard enough to keep this train going for 12 years." Now, she said, she will start to figure out what her next steps are.
In a joint statement, Warner Bros. Television, CBS and Chuck Lorre Productions announced the end of The Big Bang Theory, despite CBS previously saying they were in talks to continue the series. "We are forever grateful to our fans for their support of The Big Bang Theory during the past twelve seasons. We, along with the cast, writers and crew, are extremely appreciative of the show's success and aim to deliver a final season, and series finale, that will bring The Big Bang Theory to an epic creative close," the statement read.
Bialik stars opposite Rauch, Johnny Galecki, Jim Parsons, Kaley Cuoco, Simon Helberg and Kunal Nayyar in the popular CBS comedy. Cuoco and Nayyar have shared their feelings on social media as well.
"This ride has been a dream come true and as life changing as it gets. No matter when it was going to end, my heart would have always been broken in two. Drowning in tears, we promise to bring you the best season yet. To the fans, our crew, families, Chuck Lorre, Warner Brothers, CBS, and everyone who has supported us for so many years, thank you. We are goin out with a bang," Cuoco said on Instagram.
The final season of The Big Bang Theory premieres Monday, Sept. 24 at 8 p.m. before moving to its regular time period on Thursday, Sept. 27, also 8 p.m. on CBS.