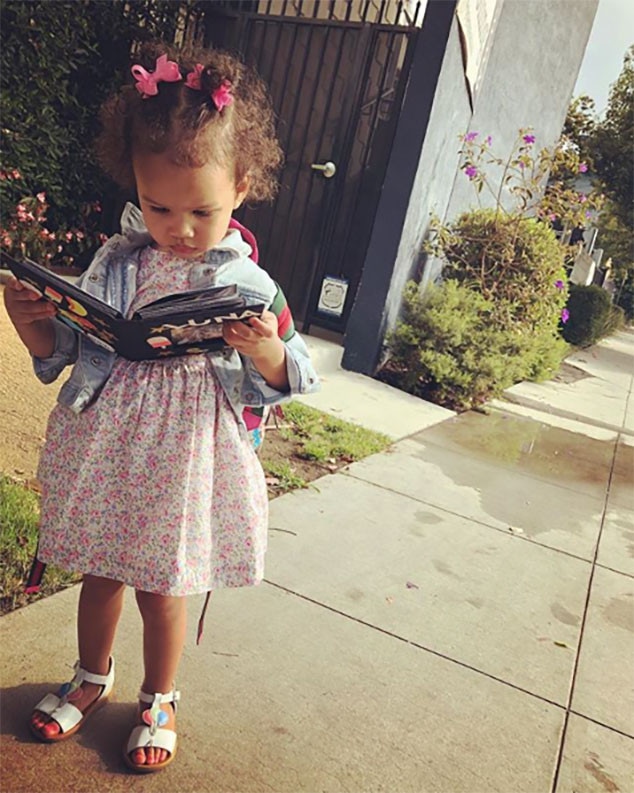 Instagram
Chrissy Teigen and John Legend are officially experiencing the interesting new world of preschool through their famous daughter. 
The couple's 2-year-old firstborn, Luna Simone Stephens, officially headed off to her first week of school and, as it sounds, it was certainly one for the books. Things kicked off sweetly as Teigen shared a snap of her 2-year-old youngster, backpack on, looking intently at a photo album.
"First week of school," the new mom of two wrote to fans. "They had us make a little family photo album she can look at when she's sad or upset. she loves it. my heart ksosksodododosksidojsjskodmskzh."
Once the tot was back at home, she offered up a progress report. "Luna, what happened today?" Teigen asked. 
"I fall down my forehead," Luna responded. 
Except, that wasn't this week. "No, that was in Bali. What'd you do today?" her mama continued. "I pushed," the tot answered simply. 
"Who did you push?" the Lip Sync Battle co-host further inquired. 
"I pushed a boy," Luna added, matter of factly. 
"You did..." Teigen confirmed. 
Naturally, the answer sparked a flurry of amused responses from fans and famous friends alike. Ever the good sport, Teigen didn't hesitate to make fun of herself when one fan made a sarcastic observation.
"I hate when my kids only remember what they did in Bali," the person commented. 
"I know I felt like such a douche saying it," the star responded. "She also left her letter L block in Beijing and I have to tell her that too. i want to punch myself."
Teigen also offered some more insight about Luna when one fan asked if the tot had reached her biting stage yet. "Biting was so 8 months ago," she candidly replied. "Now it's all about licking."
As for the mom herself, the star wasn't shy about sharing her own mishap at the school's orientation. "Im sorry I projectile puked caffeine upon arrival, couldn't open my eyes and had the noisiest newborn in the room. (not a joke, very sorry, see you tomorrow)," she tweeted on Monday. "Oh no it was not first day of school jitters. It was last night's wine and Korean bbq and jet lag combo."
Thanks for always keeping it real, Chrissy.