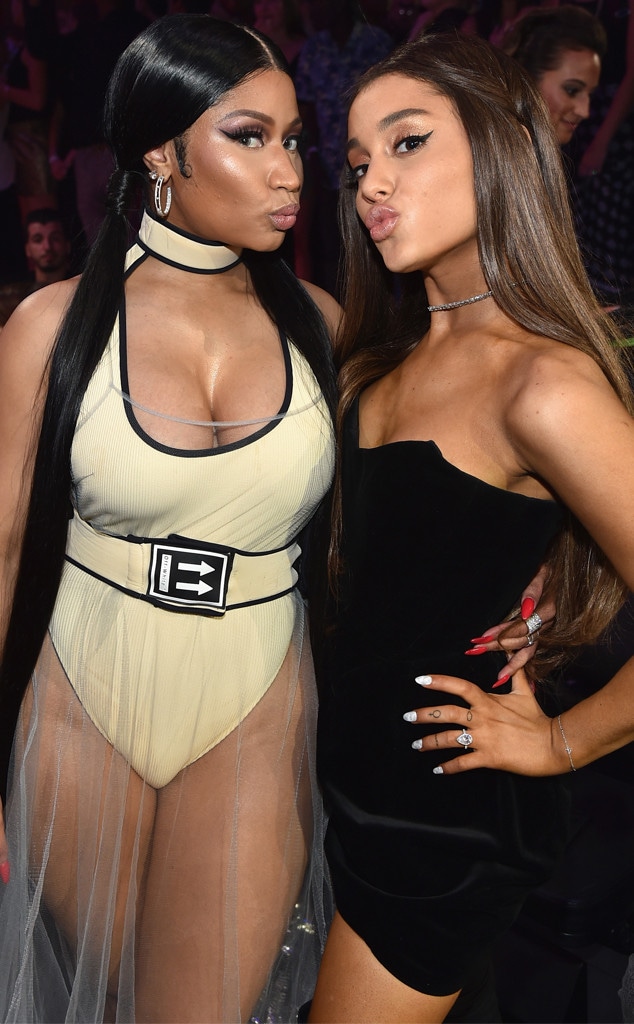 John Shearer/Getty Images for MTV
Ariana Grande and Nicki Minaj are thick as thieves.
During a Sweetener Session at The Vic in Chicago Wednesday, Grande joked about Travis Scott, who's been the target of numerous attacks by Minaj on both Queen Radio and Twitter. Grande's manager, Scooter Braun, predicted onstage that her album would "100 percent" debut at No. 1. "We got three days left," Grande said. "You don't know what Travis could pull!"
Around 2 p.m. Thursday, Grande posted a series of tweets, reiterating she was only kidding. "i adore travis & kylie and i love the astroworld album a joke issa joke watch the video, stop using me for clickbait so i can come online n celebrate my number one too pls! hip hip hooray! i'm over the moon thank u. also everything literally almost everything i say i say for comedic effect and am never serious .... like i'm always 'on'.... if ever u think i'm being shady i'm jus goin for the laugh ..... if i'm being fr shady you'll know i'm a v loving lil babe. anyway i jus had to say that bc i love everyone a lot n that ain't accurate or journalism," the pop princess tweeted. "ok love u."
Minaj first dissed Scott after his album, ASTROWORLD, beat her album, Queen, holding on to the No. 1 spot for the second week in a row, with the equivalent of 205,000 albums in the U.S. According to Nielsen, Scott sold 78,000 complete albums and had 167 million streams. Queen, by contrast, debuted with 185,000 equivalents, including 78,000 sales and 129 million streams.
Minaj accused her rival of using his girlfriend, Kylie Jenner, and his daughter, Stormi Webster, to promote his music, while also arguing his merch bundles and concert tickets contributed to inflated album sales. Minaj accused Spotify of suppressing promotion of her album to "teach me a lesson" for playing Queen on Apple Music's Beats 1; a rep for Spotify denied the rapper's claims. "I spoke to him," Minaj told her followers over the weekend, referring to Scott. "He knows he doesn't have the #1 album this week. I love my fans for the #1 album in AMERICA!"
Neither Jenner nor Scott have publicly responded to Minaj's tirades.
On Tuesday, four days after Queen was first released as a 19-track album, Minaj added an additional track: "Fefe," a collaboration with the rapper 6ix9ine that came out in July. The "Chun Li" rapper also included copies of her album with merch sales and concert ticket bundles. Minaj delayed her tour this week, promising to reschedule North American shows in 2019.
Grande is featured on "Bed," the sixth track on Queen, while Minaj is featured on "The Light Is Coming," the third track on Sweetener. Minaj's album was originally slated to drop in June, but it was delayed until Aug. 10 due to her "perfectionism." In late July, while attempting to clear a Tracy Chapman sample used in one of her songs, Minaj asked fans whether she should push back her album release until Aug. 17—the same date Grande was releasing Sweetener, her highly anticipated four studio album. Rather than view Minaj as competition, Grande laughed off their rumored rivlary on Twitter. "That's my f--king sister. She's clearing a sample," she wrote on Twitter, in part. "These numbers don't mean as much to the artist as they do to y'all."
Similarly, Minaj tweeted, "I love this woman. Can't wait for the fans to benefit from all the hard work on both ends. We love your passion. You guys will be VERY happy. Trust. That's all I'll say."
Grande and Minaj—who previously collaborated on the songs "Bang Bang," "Get on Your Knees" and "Side to Side"— were seated next to each other Monday at the 2018 MTV VMAs. The rapper avoided a run-in with Scott, who arrived after she left Radio City Music Hall (and later took her seats). But Minaj did cross paths with Jenner as she walked outside of the venue.
Like Scott, Grande has been bundling copies of her album with limited edition merchandise, including backpacks, enamel pins, eye masks, fanny packs, fragrances, hoodies, socks and tees.
(Originally published on Thursday, Aug. 23, 2018, at 5:05 a.m. PT.)