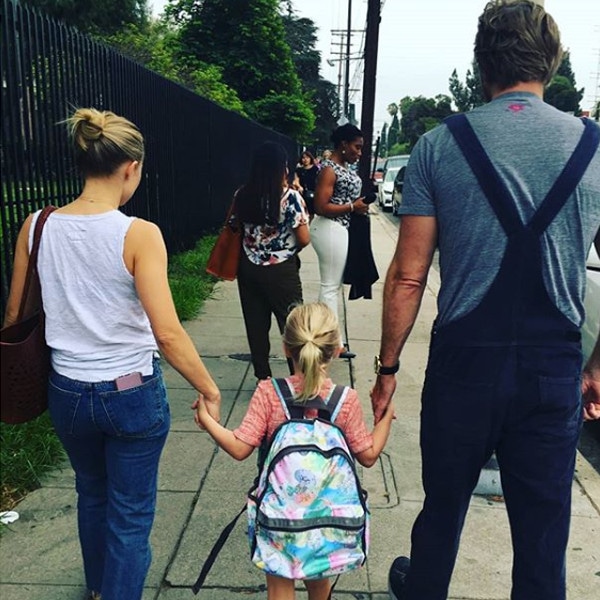 Instagram
Letting go is never easy on the first day of school.
As millions of Americans say goodbye to summer vacation and hello to school season this week, Kristen Bell and Dax Shepard quickly reminded parents that they aren't alone in the struggle of saying goodbye to their kids.
In a new Instagram posted Wednesday morning, The Good Place star shared two photos of daughter Lincoln's first day of kindergarten.
What came next was a whole lot of feelings so many moms and dads can relate to this week.
"Nerd alert!!!" Kristen captioned the post as mom and dad held their daughter's hand on the sidewalk. "The team Shepard loves school!!"
The second photo included Dax embracing Lincoln with a huge hug before she entered class for the day. "My goodness this is adorable!" Jenna Dewan shared in the comments section after Vanessa Lachey, Anna Faris, Jeremy Renner and more famous friends "liked" the post.
While Dax has yet to post any photos, he couldn't help but look back on a special summer with his family including a memory from their vacation to Austin.
"5 years-old. Driving the boat last week," Dax wrote on Instagram while keeping his daughter's face private. "First day of kindergarten today. Life is damn sweet."
Earlier this month, Kristen documented Lincoln's preschool graduation ceremony. The Frozen star posted on her Instagram Story videos of herself tearing up as she watched her eldest daughter sing "I've Got Peace Like a River" with her classmates.
"Don't worry guys, I'm having a GREAT time at preschool graduation," she wrote. "I'm not a mess or anything. Ok I was lying before. Please send help."
But during the summer, Kristen revealed how she was preparing for her daughter's new chapter as a kindergarten student.
"I feel great. I mean, it has nothing to do with me, I'm just sort of here for her and I've shown her the school," she explained to E! News. "They have like play dates during the summer where the kids can actually meet each other, so the environment is slightly more familiar and I have just told her, 'It's gonna be a new school and it's your school,' to give her a sense of ownership, and just be there for whatever she needs."
Well done, mom and dad!